Thanks to Feedback from Dealers / Customers on our prints
Feb 20, 2015
Posted by Forno Bravo
To the Forno Bravo faithful, we appreciate the feedback and suggestions regarding our print layouts for our wood fired oven kits.  Many of our technical support calls over the years have been because our prints were more about oven use, then install.  That is changing!  We are in the process of updating all our drawings to provide Architectural views for Designers / Installers as well as key component parts.
We are confident that our customers and their contractors will find this new format much friendlier and, as always we welcome input / suggestions.  Just email us at support@fornobravo.com.
When each oven family's prints are ready, we will keep you posted with Forum announcements.
The Casa and Premio series ovens are all done and ready on our website.  They are under the "Dimensions" tab on the main site.
We are working on the Giardino ovens now and then the commercial products.
For a quick peek, check out the Casa 90 print.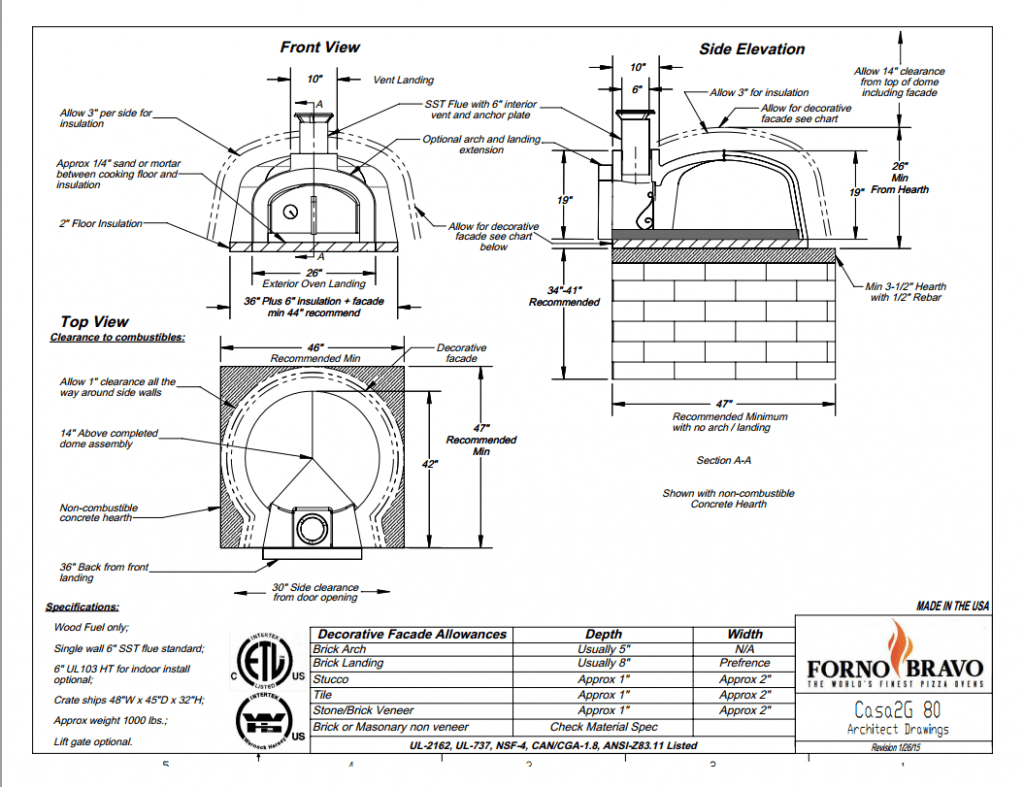 Key improvements include:
A nice clean visual of the Front, Side and Top view of the oven with all the installed components layered.  This came from all our customers suggestions;
We added the minimum recommended footprint for the installation.  This assumes that your pizza oven install is going to use stucco and not a thick structure to enclose it.  Thank you to Home Pizzeria Ovens of Florida / New Hampshire for that suggestion.
Insulation and Flue specifications are clearly identified.
Ship weight and crate size are listed in the bottom left to make planning for a delivery easier courtesy of Outdoor Pizza Ovens in Canada.
Minimum clearances to combustibles are clearly identified in the top view thanks to The Arch in North Carolina;
Hearth specification is listed for convenience so you don't have to refer to the install guide when planning;
A Decorative Facade Allowances chart is included to give you an estimate on how different appearances may increase your footprint.
Designing the World's Finest Pizza Oven into your home keeps getting easier.
Thanks again and have a great Spring planning your project!
Forno Bravo Operations Team