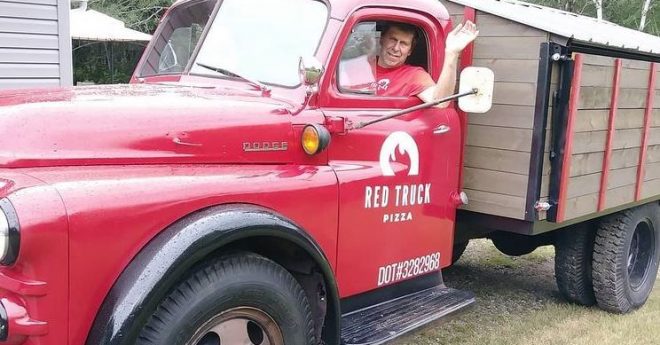 Revving in the New Year with Red Truck Pizza
Jan 19, 2021
Posted by Forno Bravo
Meet the Caines
Retired teachers, Boni and Mark Caine of Forest Lake, MN combined Mark's love of old cars and Boni's love of food science to create Red Truck Pizza. They bought a Forno Bravo Viaggio Mobile Drop-In oven, put it into a 1952 Dodge farm grain truck, and creatively turned the old truck into a food truck. They have been having a blast with it ever since! By starting slowly, and building their skills and business together, they have created a loyal following of hungry, happy fans. (In a fun twist, all of their pizzas sport the names of classic cars to really keep with their theme of making the old new again!)
"We love to go to car shows, graduation parties, wedding venues, and even our own driveway and sell pizza! We love how perfectly the oven cooks the pizzas and we love hearing the reviews from our customers."
Meet this special pair by clicking the video below. You can also learn more about their build process, and their next pizza stops by following them on Instagram or on their website.
The Build
This build took over a year and was a true labor of love. First, the truck was stripped down to just the base frame and refurbished. Then a flatbed was added, along with a welded steel structure. Next, came the installation of the firewall and the Viaggio oven. The backing board, a steel countertop, ingredient trays, custom roof, and overhang were added as well. In the end, she drives like a dream and is exactly the baking and serving space they imagined.
The Oven
The Viaggio is a pre-assembled wood fired oven that comes in your choice of 7 stucco colors and 3 sizes. It is capable of baking from 4 – 10 10″ pizzas at a time, depending on the model. The Viaggio features generous, ultra-premium insulation, steel strapping over the dome, and a strong tray to easily connect it to a food truck or trailer, and to withstand the rigors of the road. LEARN MORE.