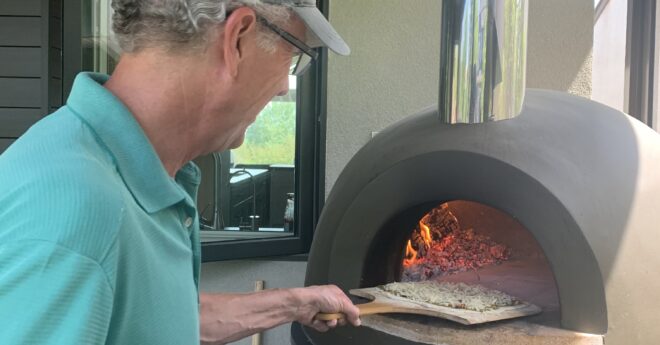 Primavera Wood Fired Feast
Dec 09, 2022
Posted by Forno Bravo
Paul Lessard is cooking up a storm in his custom-colored Primavera70! Check out his story and sample photos of his delicious creations here.
Wood Fired Inspirations
Currently hailing from Calgary, Alberta, Canada, Paul shared,
"I'm sure I was Italian in my previous life! Since traveling to Italy many times, and especially, our latest Tuscany family bike and wine trip in 2017 at a restored 500-year-old farmhouse, complete with a Forno Oven, I've imagined our next home having our very own Forno. Come possession day, October 2nd, 2019, and voila…the Primavera-70 is next to our BBQ!"
This personalized Primavera70 boasts an upgraded double-wall stainless steel venting system and the "Barnwood" custom paint color.
Food-a-poloosa
"We've enjoyed using it 2-3 times a week and have mastered pizza. (Sample Pizza: pear, pesto, pine nuts, mozzarella, and arugula.) We've also made muffins, bread, lasagna, steak, chicken supreme, cheesy potatoes, risotto, berry crisp, and much more!"
Investing in Fun and New Skills
"We never feel too far from Italy. Our deck is screened and heated for year-round use of this amazing wood fired oven, and I keep a number of recipe cookbooks from Forno experts close by for reading and cooking enjoyment! We hope you can experience a bit of our "living the dream" through these pictures and words… Ciao!"