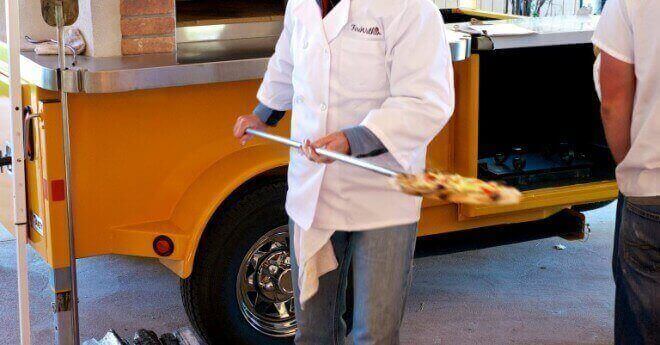 Mobile Pizza Oven Catering Craze
Apr 07, 2015
Posted by Forno Bravo
Have you ever been to a festival or farmer's market where there was a pizza vendor using a wood fire oven?  Most likely there was a swarm of people lined up to buy a hot, crispy pizza as fast as they could come out of the oven which makes pizza oven mobile catering a successful business venture.  This success has led to a mobile pizza oven catering craze!  A Forno Bravo partner, The Fire Within, provides a turnkey solution for people who are interested in developing a mobile catering business using Forno Bravo wood-fired ovens.  This month they will be holding their 28th workshop in Broomfield, CO.  The "Getting Started" workshop has taught hundreds of people a method of starting a mobile pizza catering business that helps to eliminate common mistakes a startup can often make.  A unique benefit of the workshop is the continued support attendees have from other participants as they share their experiences and knowledge of mobile catering.
Using Forno Bravo ovens, these soon-to-be pizzaiolos gain hands-on oven training and learn the intricacies of pizza dough making, the details of business operations and how to leverage effective marketing strategies.  Their proprietary business plan, "Rolling in the Dough", can be purchased by itself, but anyone interested in this business model would do themselves a favor by attending the workshop.  It's three days of non-stop business planning and wood-fired cooking.  Not only do you go through the business plan, but you get hands-on experience with the actual equipment you will be using.  They even bring in practicing wood-fired caterers for a Q & A session so you can learn from their experiences.
The Fire Within isn't a franchise; they teach the business model for people to create their own individual business identity.  Brava, Texas Pizza Wagon, Epicurean Catering, Firevine, Jack's Famous, Touched by Fire and Pizza Amore! are just a few of the names owners have chosen.
Not only does The Fire Within teach the mobile wood fire oven catering business, they also sell the pizza oven trailer using Forno Bravo ovens.  Depending on the individual's business plan, they offer an extensive selection of standard oven trailers all the way up to a fully customizable 16 ft. for high-end caterers.  The oven trailers meet all safety and sanitary requirements with Intertek, NATM, NSF and UL certifications.
If the thought of creating your own mobile pizza oven catering business has crossed your mind, look into the Getting Started Workshop from The Fire Within at www.firewithin.com.  What will you call your mobile pizza business?