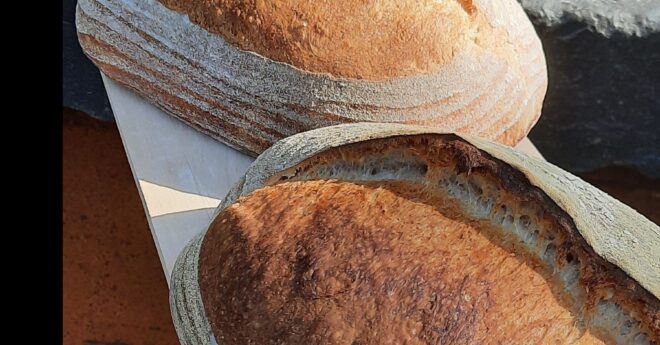 Introducing Andrea Colognese and the Jamestown Bread Project
Aug 31, 2023
Posted by Forno Bravo
Baking your own fresh bread is a wonderful benefit of a wood-fired oven. The smells— the taste— the perfect crust— Oh, my! Andrea Colognese is a baking expert and he has launched the Jamestown Bread Project to help chefs learn to make the best bread in their wood-fired ovens at home. We will be releasing many of his delicious recipes and helpful instructions over the coming months as we all learn together to improve our wood-fired baking skills! 
Meet Andrea Colognese
Born and raised in Verona, Italy, a love of fire and for building things by hand has followed Andrea Colognese most of his life. He began his career as a machinist in Italy, and went on to add furniture artistry, baking, and business owner to his repertoire as well. Feeding his love of travel, culture, creativity, and design, he has explored the world through many years of travel on three continents. On one memorable hiking trip to Nepal in the 90's, he met the woman who would become his future bride, Doriana Carella.
Settling in Jamestown, RI, Andrea and his wife launched a small wood-fired bakery in 2002. They had a shared passion for good food, an affinity for hard work, and twin toddlers in tow. For two decades, their 6'x8' wood-fired hearth was at the center of their bakery, from which they produced upwards of 400 loaves of bread per bake cycle, along with countless pizzas and pastries. 
Now, with more than 20 years of professional baking under their belts, and his 5th wood-fired oven project recently completed, Andrea offers group lessons and tutorials on wood-fired baking from home under the Jamestown Bread Project, while also running his furniture business, Element Modern Design.
Andreas and Doriana still prefer doing everything themselves— from hand-milling grains to chopping wood for the oven to raising chickens for eggs, and more. They love combining pure, good food with beauty and the visual arts, and sharing that love with others.
Jamestown Bread Project Overview
The Jamestown Bread Project endeavors to maintain old-world traditions by teaching the craft of wood-fired Artisan Bread Baking to the next generation of would-be bakers. Their mission is to help others master the technique of artisan baking, as well as an intuitive understanding of what it means to yield the best flavor from the most fundamental food made by just about every culture in the world –bread!
Collaboration with Forno Bravo
In collaboration with Forno Bravo, Andrea constructed a massive Forno Bravo Modena 140 masonry oven in his backyard.  This is a commercial oven, but functions similarly to Forno Bravo's residential models, just MORE! (Thicker refractory dome, larger floor, thicker insulation, etc.)
While commercial ovens require a longer initial heat-up time, the benefit of their greater mass is the chef's access to more residual heat over a longer time, and the ability to handle higher volumes of pizza and bread simultaneously. These ovens can be used to provide support to bread-baking projects for the homeowner or for anyone interested in starting a small, wood-fired related business.
Andrea explains,
"The heat retention is fantastic, even better than I imagined.

We did a couple of free pizza workshops with kids. It was a lot of fun, and both the kids and parents were very excited!

The following day at around 2 pm the temperature was still 500 degrees. I baked some bread, while experimenting with ideal temperatures for other consecutive loads. On the morning of day 3, it was a perfect 350 degrees for baking pastry.

I'm very pleased with the results of various breads in this oven, such as sourdough rustic loaf or baguettes, which are notoriously tricky to bake in a brick oven."
While Andrea is a big proponent of wood fire, he feels that the Forno Bravo gas-fired ovens are also an efficient and convenient alternative for achieving similar results.
See the Oven (and Andrea) in Action
Recipes
You can check out Andrea's simple recipe for Wood-Fired Veggie Quiche by clicking HERE.
Watch for the launch of Andrea's wood-fired sourdough and yeast bread recipes, and baking techniques coming to the Forno Bravo website and Community Cookbook soon!