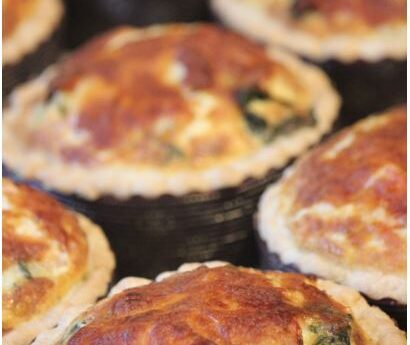 Wood Fired Veggie Quiche
Aug 31, 2023
Posted by guestchef
Print
Andrea Colognese of the Jamestown Bread Project has created this wood fired veggie quiche that is magically rich and flakey, but light at the same time. It is a great way to use garden fresh vegetables and the residual heat from your oven the morning after a pizza party.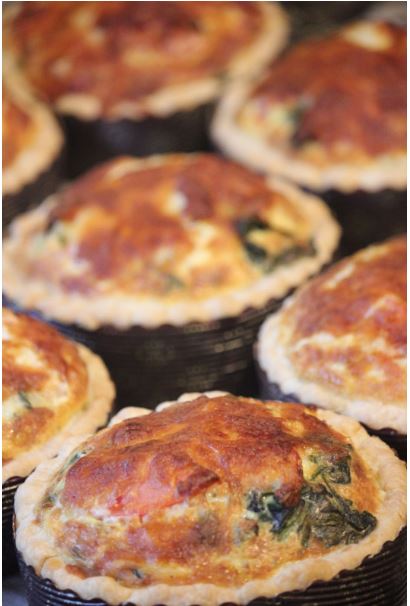 Wood Fired Veggie Quiche
Fresh veggies, delicious cheese, and a light, flakey crust make this a wonderful morning or lunchtime meal.
Ingredients
Shell / Crust
10 oz Butter - Cold and cut into cubes
1 lb 4 oz AP Flour
1 Tbsp Sugar
1 tsp Salt
1/2 Cup Cold Water
Egg Batter
7 Eggs
3/4 Cup Heavy Cream
Dash Salt/Pepper
2 Tbsp Flour
Filling (Choose Veggie Combination of Choice - Enough to make 3 cups total when roasted or sauteed)
Zucchini - Diced/Chopped
Spinach - Diced/Chopped
Asparagus - Diced/Chopped
Onion - Diced/Chopped
Potato - Diced/Chopped
1 Cup Cheddar Cheese - Freshly Shredded
Instructions
Filling
Prepare 3 cups of favorite roasted and/or sauteed veggies in a cast iron pan (i.e. zucchini, spinach, asparagus, onion, potato -- your choice)

Mix all egg batter ingredients together; set aside.
Shell / Crust
Combine flour, sugar, and salt

Work butter into flour mixture with a food processor or pastry cutter. Add water and combine until just blended. (Do not overwork the dough) Split the dough into 2 balls of roughly the same size.

Roll out dough, and place into quiche molds (2 x 9" molds). Trim top edge flush with mold edge.
Finish
Sprinkle each bottom with cheddar cheese. Divide a 1/2 cup of cheese between the two molds.)

Fill each mold with veggies, then pour the egg mixture over each equally.

Sprinkle remaining ½ cup cheddar cheese over each (divided.)

Bake at 350F for 30-40 minutes or until golden and domed.