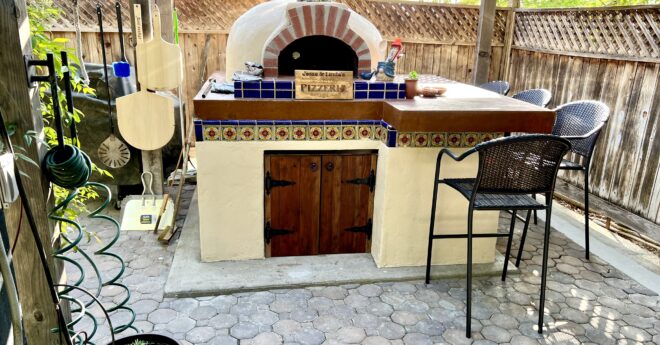 Home Pizzeria with a Casa2G Pizza Oven
Dec 02, 2022
Posted by Forno Bravo
Jesse and Linda Diaz from central California love to cook and entertain. They crafted an outdoor kitchen and dining space at their home that has become a full-on residential pizzeria! With prep space, cooking space, plenty of dining space, and even its own sign, their design makes it easy for guests to get involved in the whole wood fired pizza-making and pizza-eating process. Check out their build below and glean some tips to enhance your own future projects.
Inspiration from the Early Days
"Our inspiration was to have a centerpiece for gathering family and friends, and to be able to enjoy each other with good food and drinks! Both my wife and I love to cook, and using a piece of equipment that is old school was very attractive to us. Every time we use it, there are different feelings and emotions as we get to know our oven."
Later Additions and Experiences
"Since we initially finished our oven, we have prepared so many types of food other than pizza, and that to us, is the best part of the oven. The taste is incredible, and all who have tasted the dishes coming out of this oven have stated it was the best food they have ever had. What we really love is that all our friends and guests like to be part of the cooking process, and quite a few love to get their hands dirty, so to speak, and help out with the cooking."
More about the Featured Oven
The Casa2G100 modular pizza oven comes to you curbside from Forno Bravo as an all-inclusive kit. It contains the oven core, cooking floor, optional real brick arch, ultra-premium insulation, high-temperature mortar, steel door, and top-quality venting to match your space. All that the owner needs to provide is a little chicken wire, anchors, sand, and the labor to put it all together. The homeowner (or their mason/installer) will also create the base and complete the oven finish of their choice for either a stand-alone oven, or an integrated piece that blends in with the whole kitchen design.
The Diaz family chose to finish their oven in a classic dome shape with a warm, cream-colored stucco. They then highlighted the counter area with beautiful cobalt blue and artisan tiles, a wooden storage compartment door, and an eat-in counter for their guests. They also added a pergola, decorative stone pavers, a pizza peel hanger, plus potted plants, and other pretty things to finish out the space. …and did we mention their custom pizzeria sign? It's just one of those little details that make this space perfectly their own.