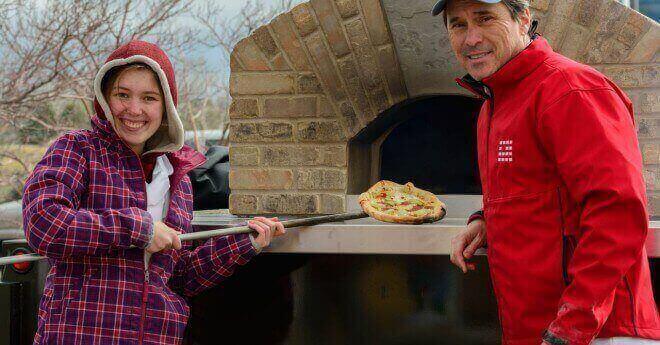 The Fire Within Mobile Pizza Conference – Day 1
Jul 20, 2015
Posted by Kylie H
The Fire Within mobile pizza Conference, attended by guest blogger, Kylie before the dragon wagon was born.
Day 1 of 3 of the pizza workshop.
Now that A Girl and Her Dragon Pizza is officially launched.  Let me share with you one of the highlights of the journey so far: The Fire Within's mobile pizza oven business and cooking workshop.  
My school is great, so nary a feather ruffles when I set off to Colorado for the Fire Within Conference. If you haven't heard of Fire Within already, take a peek at their website, after Forno Bravo, they should be the first checkpoint for any neophyte mobile pizza oven proprietor.  Fire Within is one of the leaders in building great mobile pizza oven trailers of all sizes.  They also host three-day seminars in Colorado on building your own pizza oven business, covering everything from dough proofing, to licensing, to health department requirements, to staff vetting to how to wield the pizza peel like a bad-ass katana. Long story short, I'm excited. 
Over the past two weeks, I've been going through the business guide Fire Within's founder, Joe, wrote to help others learn from his years in the business. Cleverly titled, Rolling in the Dough, I dove into it with a full set of sticky notes in hand. The result? I absorb more information in a matter of hours than I painstakingly discovered over several months of intensive research. Also, the guide looks like its growing macaroni hair, but that's beside the point.
Though the plane leaves at 10:45, my father and I, ever the daring travelers, don't leave the house until well past 9. Despite the late hour (and a couple of ticket snafus that end with us being put through different security lines) we arrive well before the plane leaves. 
Denver airport is a mishmash of restaurants and advertisements, welcoming me to Colorado for the first time. After a couple of baggage delays straight out of the three stooges, (and a renewed belief in the importance of only having carry-on items) we get a Hertz rental car and head to the Omni Interlocken Hotel. 
At this point in time, the butterflies in my stomach have become a full-on swarm of invasive African killer bees armed with AK-47s and that knife from the Captain America movie (the one that glows…with electric shocks). It's like walking into one of my Model UN conferences without the protection of a binder full of notes and a formal suit (it's a real confidence booster, let me tell you).
We arrive ten minutes late to the Spruce rooms (where the conference is being held), unavoidably detained by more phone calls and a wallet mix up (who let us get similar wallets again?).
The Spruce room lives up to its name. A plain conference room, the place where creativity and dreams go to nap, has been transformed into a rather nice dining center with a line of tables to one side. There we meet Adam (who graciously mentored me through some of my early decisions), Ajith (who is the wonderful new owner of Fire Within), and other Fire Within members who I've only ever communicated with via email or phone. The sheer force of their enthusiasm encourages me out of the room (almost colliding into poor Malcolm on the way) and through a set of double doors. 
What awaits me is paradise. Ovens! Trailers! Oven-trailers! Food! People with similar looking name tags. I panic, assuming a vaguely deer in headlights like expression as I realize something terrible: my typical small talk questions are useless! (Where do you go to school? awkward silence …I'm 45.) Then several years of being told to smile and shake the hands of every adult in the vicinity kick in, and I seize upon a passerby by the name of Sam. 
Sam appears to be nearing retirement, slightly taller than my father's 6 feet with a full head of salt and pepper hair, he blinks at me from behind elegant reading glasses and returns my handshake. Phase One complete, make contact with another human being. The pit in my stomach relaxes slightly as he patiently responds to my stuttered inquiries. 
After thirty years in the financial system, Sam's ready to leverage his prime spot in a Maine village, a former bed-and-breakfast that he wants to turn into the commissary kitchen for a mobile pizza oven. A near champion pizza maker, he explains that the ability to earn a bit of spending money only sweetens the deal, especially since the business will only run during the summer months (hey, you try starting a fire in Maine in the winter from New York! No seriously, I'd like to see that.)
The anxiety fades slowly but surely, and I finally take a moment to appreciate the setup.  Several pizza oven trailers litter the small lot as showpieces, allowing you to compare, say, the difference between a Caterer and a Concessionaire model at a glance. Smack dab in the middle is an operational pizza oven making bacon wrapped figs (How many of you just read bacon and thought, I want that? Hands up! Yeah, I thought so.)
But before I take us to the bacon, let's introduce two more attendees, Kathy, and Keith. They are a couple from Milwaukee who want to do something new with their lives and feel that Fire Within is exactly what they're looking for. We exchange stories while the fire flickers steadily in the background, and high above our heads the stars begin to show. My dad frequently disappears during these conversations, providing even more evidence that, despite his protests to the contrary, he is actually Holland, Paul Holland (cue James Bond spy music). 
Eventually, however, we are drawn towards the fire, or more accurately towards the aforementioned bacon wrapped dates (I'm a teenager, did you really think I wasn't going there?). The bacon is delicious, the perfectly crisped meat singing the song of my people (again, teenager). Of course, after appetizers, comes dinner.
I sit down and carefully spread my napkin across my lap, Jeanne taking her seat daintily beside me. A tall woman with gray blonde hair, she has high cheekbones and bright eyes that grow positively luminescent as she surveys the bread and salad laid out for us. Jeanne is the main entrepreneur in her group; her fiancé Ken is here to support her. Since this entry is getting a bit long, I will record the menu here, all made in the pizza oven (note no pizza…yet): 
Salad and Bread 
Second Course: Vegetables (with cheese, I must admit to trying and failing to scoop the cheese up with said bread), and pasta. 
Chicken and pork, also made in a local mobile pizza oven, by Fire Within veterans, who have 5 ovens and a brick and mortar shop named Brava.
Shortcake with blueberry filling and whipped cream (ok so the whipped cream wasn't made in the pizza oven). 
At some point in time we all set down our forks while Ajith thanks us for coming and introduces his team.
Adam, who just got back from a two-month honeymoon in New Zealand that sounds AWESOME.
Russ, who has what I consider the best job title ever: Health department ninja. 
Heather, the coordinator who is the most patient, hard-working individual I've ever seen (how does one even organize a conference? I can barely arrange a date!)  
Rob (who I actually met over dates) works with Adam and took over for him temporarily during his honeymoon.
DK and Rachel are community members from Salt Lake City who are here to help out.
Adam invites us to give a speech about ourselves. I stutter a bit, obviously, curse the twist of fate or seating arrangements) that had me go first, but they clap kindly anyway. 
After dinner we are told that breakfast is at 7:30 sharp and class starts at 8. They gives us our chef jackets, we fill out the requisite photo release forms and head up to our room.