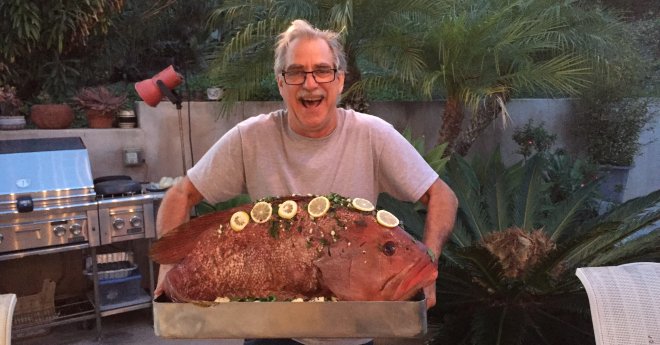 Feast of the 7 Fishes – An Italian-American Christmas Eve Tradition with a Wood Fired Twist
Dec 19, 2019
Posted by Forno Bravo
Food, faith, and place have been inextricably and deliciously intertwined throughout history. One example is the Feast of the Seven Fishes. Traceable back to Southern Italian immigrants in New York as early as the 1800's, this grand Christmas Eve meal exclusively features seafood and its accompanying dishes. While a common occurrence within the Italian-American community, and in Italy in general, the name of the feast has only been popularized more recently with the advent of cooking shows looking for a hook to brand "new" trends from old traditions. 🙂
What is This Feast?
This holiday Christmas vigil tradition has been around a long time, but is extremely flexible in how families express it. In Italy, it is often just called, 'the great dinner of the Eve' or "Il Cenone della Vigilia" or even just Christmas Eve Fish Dinner. The number of courses is fluid from just a few, to the classic 7, or even 9, 11, or 13 in some households! It typically starts in the evening after the sun goes down and can last until 11 pm, when it is time for the family to prepare to go to the midnight mass at their local Catholic Church. Key elements include the gathering of the whole family, including children and guests, at the Patriarch/Matriarch's home, multiple courses, all involving seafood, and lots of talking and laughing liberally mixed in with the food. Spiritual meanings and reflections can be correlated to the number of courses, but many families just use the meal as a special family time together.
Why Fish?
Many Italians are Roman Catholic and the spiritual traditions and rhythms of the Church are deeply ingrained in family life and culture. One of these is the Roman Catholic tradition that prohibits the eating of meat on certain Fridays and on the eve of the great feasts (Christmas, Easter, etc.) as a sacrifice and type of spiritual preparation. However, fish was considered a simple, poor food and allowed as a substitute to meat. Italy is also largely a coastal country and seafood is a big part of the local diet. Historically, eel, baccalà, fried smelts, calamari, cod, spaghetti with a seafood sauce, and whiting with lemon have all been common courses at this meal (though eel is falling out of favor for many young people, even in Italy.)
The Francis Family's Wood Fired Twist
Mark Francis is the owner of a Forno Bravo Toscanna80 wood fired oven. He loves using it for entertaining friends and family. Living in Southern California allows for pleasant, year round gatherings where the oven can play a central role. A few years ago, his family invited about 3 dozen guests to join them in celebrating the Feast of Seven Fishes on Christmas Eve. He used his pizza oven to prepare a 28lb pink grouper as one of the courses.
How Did They Do It?
First, they fully heated the oven and used it for baking bread and other items, then allowed it to cool down a bit. Next they prepared and seasoned the fish with spices and lemon. They set it on a bed of vegetables and poured in a bottle of white wine for moisture and flavoring.
Mark used the residual heat from the fired oven, but also started a second fire and raked the hot coals off to both sides of the oven. Then came the challenge of CAREFULLY placing the huge grouper in the oven. This was a 2 man job, since it just barely fit through the 10″ high x 17″ wide oven mouth!
Finally, they cooked the grouper for 55 minutes. It came out incredibly flaky and tender. Mark assures us that there were no leftovers!
What kind of Holiday Traditions do you have using a wood fired oven? Shoot us a few pictures and the story so we can share it with our community! SUBMIT HERE
(Find more great fish recipes in our Community Cookbook to create your own wood fired Feast of the Seven Fishes!)