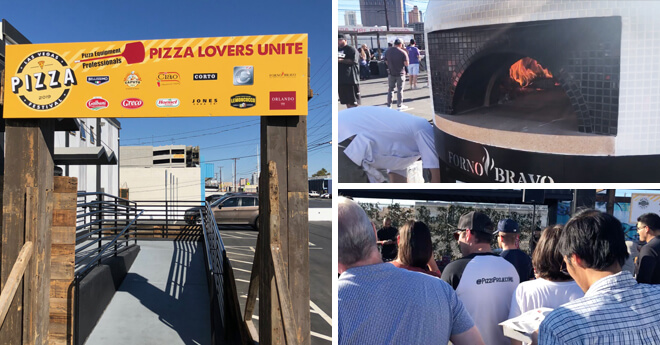 Chefs Rock Forno Bravo Napoli Ovens at the 2019 Las Vegas Pizza Festival
Dec 19, 2019
Posted by Forno Bravo
Check out the video from the Las Vegas Pizza Festival and enjoy a taste of the action!
The Show
The inaugural Las Vegas Pizza Festival in November was a big hit! Its industrial setting featured over 20 artisans slinging pies and 1,500+ people attending! Vegas has become known as a "foodie" town, with great chefs opening restaurants both inside and away from the casinos, but until now, the quality of its local pizza industry has not received as much recognition. The goal of the festival was to introduce the community to the great local pizza makers in the Las Vegas area and show off the diversity of pizza styles available in both the local scene and around the country.
The Chefs
Forno Bravo was thrilled to provide wood fired ovens for two of the chefs, Alex White of Yukon Pizza and executive chef Camine D'Amato of Settebello Pizzeria Napoletana (assisted at the festival by Will Grant of Sourdough Willy's Pizza.)
Chef Alex hosts frequent pop-ups and catering events around Las Vegas featuring Neapolitan-style pizza. His sourdough starter can be traced back to a mining camp in the Yukon Territory. It has been nurtured since 1897 and through 5 generations of the family! Using a mature sourdough starter in his pizza gives it a deep flavor, as unique as the starter itself – with the wild yeasts adding complex notes to the dough that can't be replicated any other way.
His featured pizza for the day was "The Yukon." It was a sourdough Margherita with pickled red onions, Galbani mozzarella, pecorino romano, San Marzano tomato sauce, basil, and olive oil.
Chef Carmine D'Amato's pizza is VPN certified (Vera Pizza Napoletana.) He has been a pizzaiolo for 22 years and trained at the Pizza School in Naples. He still gets many of his ingredients straight from Italy, and his focus is on the crust, with the flavors and textures that come from great preparation, flawless technique, and a quick bake at high temperatures.
His featured pizza for the festival was the "Bacon Marmellata," featuring Caputo flour, house-made bacon jam, goat cheese, balsamic reduction, thyme, mozzarella, and olive oil. Wow!
The Ovens
Forno Bravo sent two wood fired Napoli120 ovens from our factory in Salina, CA for the chef's to use. The 120 has a 4″ thick, refractory dome, a 56″ firebrick cooking surface, and a center vent for heat retention and style. These professional ovens can bake 6-7 pizzas at a time, and can put out 140 pizzas per hour.
They are custom tiled to the client's specifications, and can even include logos, designs, and patterns. The festival ovens were set up as our wood only version at the chefs' request, but the Napoli can also be fitted with a powerful gas burner to be used by itself or in combination with wood fuel.
The Napoli that Chef Carmine used for the festival was built for Chef Will's new restaurant, Sourdough Willy's Pizzeria, in Kingston, WA Chef Will was on hand for it's first firing and to assist the team at the Settebello booth.
Learn more about Forno Bravo's signature Napoli Pizza Oven by clicking here and we hope to see you all at next year's festival!