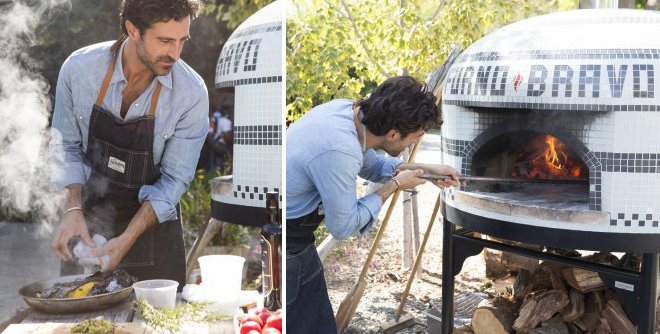 A Fall Farm-to-Table Feast with Chef Nicolas Torrent
Nov 19, 2019
Posted by Forno Bravo
Chef Nicolas Torrent is a master at taking hyper-local, farm-fresh, organic ingredients and turning them into culinary wonders. He loves using his Vesuvio wood fired oven from Forno Bravo for the textures and flavors it draws from his dishes. Enjoy this video and blog capturing the bounty of a fall "farm to pizza oven to table" feast he prepared for guests last year at Park Winters Farm in Winters, California. His spread presented three gourmet, Neapolitan-style pizzas, including a Fall/Thanksgiving-themed pizza that is pure delight.
The Location
Park Winters is a working farm, and dining and event space in Winters, California (Northern California region.)  It also boasts a lovingly restored 1865 Victorian farm house and windmill water tower that serve guests as a bed and breakfast inn. They enjoy hosting Farm Dinners representing the story of the season. The dinners feature ingredients from their own farm and the neighboring ranches and purveyors. At one of these dinners, Chef Nicolas Torrent took the helm for the evening, creating pizza magic.
The Ingredients
Nicolas has spent time studying the traditional Neapolitan pizza-making style in Napoli, Italy. He has also learned from great mentors. While he is very aligned with the Authentic Neapolitan techniques, he is also open to exploring new ideas involving the use of local ingredients. Cooking at Park Winters creates extraordinary access to many vegetables that are at the peak of their prime in terms of freshness and flavor. For this meal, he selected the following items from the Park Winters organic fields and from other neighboring farmers:
From the garden: Cherry tomato, fennel, red peppers, Roma tomato, squash blossoms, and pumpkin
From the herb garden: Thyme, rosemary, and basil
From local farmers: Handmade mozzarella, local honey, and local olive oil
In this photo series, Chef Nicolas heads to the fields for his pick of the harvest for the evening meal. Checking the look, smells, textures (and even taste) helps him to pick the very best ingredients.
The Meal
The dough for Nicolas' pizzas was made with 00 flour and a special recipe created by Chef John Iacono from the Park Winters farm dinner team. 00 Flour is finely milled and creates a silky dough that responds beautifully to the yeast, while maintaining a chewiness and light texture. Chef John ferments the 00 using his secret ingredient, craft beer!
Chef Nicolas prepared his toppings by roasting the pumpkin, sautéing the squash blossoms, selecting his herbs, crisping the turkey skin, etc. Then he stretched the dough, topped his pizzas, and baked them in a Forno Bravo Vesuvio100 wood fired oven.
For his final product, Chef Nicolas created a buffet with 3 styles of gourmet pizza:
Caprese Pizza — Tomato Sauce Base, Cherry Tomato, Bufala Mozzarella, Basil, Local Olive Oil, and Squash Blossom
Focaccia/Pizza — Rosemary, Parmesano Regginao, and Local Honey
Thanksgiving Pizza — Pumpkin Puree Base, Sage, Rosemary, Creamy Burrata, and Crispy Turkey Skin
Click these links to learn more about the Vesuio Wood Fired Oven or find more interesting pizzas like these in the Community Cookbook.
Happy Cooking!