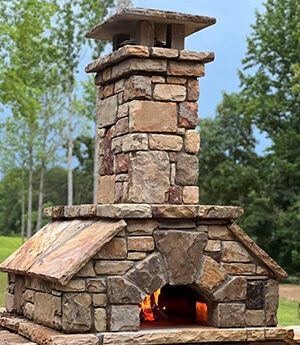 2022 Summer Photo Contest Winner
Aug 31, 2022
Posted by Forno Bravo
We would love to thank the many, many customers and friends for their beautiful submissions to this year's photo contest. With over 150 wide-ranging entries to choose from, narrowing it down to the winner was extremely difficult in the very best way. So with no further adieu, (drum roll please,) the winner of the contest is Anthony Bormes of Rogersville, TN and his Casa2G100! We loved the light, colors, clarity, and fire action in this composition. Congratulations. Your prize is on its way!
Winning Photo
Anthony's Story
"My wife and I spend a lot of time outdoors enjoying the country life with our two German shepherds. We decided to extend our patio and add an outdoor fireplace. I told my wife I would like to incorporate a wood fired pizza oven. After doing some research, I came to the conclusion Forno Bravo was the best.
I decided to purchase the Casa 100 kit. What I liked about the kit is it gave me the freedom to build the oven of my dreams around it. The Casa 100 heats up quickly and holds heat better than I ever imagined. It has plenty of cooking surface and allows us to entertain large gatherings. We use our Casa 100 every week.
There's nothing better than a homemade pizza baked in a wood fired oven. It allows us to have the creativity to make many different types of pizzas. Our guests and their children love it as well. The children are able to make their own pizza and customize it however they want. The next morning, the oven has the perfect temperature for baking bread.
Purchasing the Casa 100 was one of the best purchases I've made. It's amazing what a difference it has made for family gatherings and the strengthening of our friendship bonds."
The Build
In a Casa2G modular pizza oven kit, the oven dome comes in pieces for easy installation. They are set in place before finishing. You can see the Ceramic Insulation board underneath and the fire brick cooking floor in place.
The base, venting, insulation, and scratch coat are in place. Ready for framing and the stone finish.
The Finish
Anthony chose to build a frame and stone facade around his dome. Curing takes place over 7 days building up larger and hotter fires until all of the moisture is baked out. This process creates great durability and longevity for the oven.
What a masterpiece! We love the corresponding outdoor kitchen and fireplace that make this entertaining space feel perfectly complete. Well done Anthony! You will be enjoying your oven and this space for years and years to come.
Learn more about the Casa2G Modular Pizza Oven Kit by CLICKING HERE