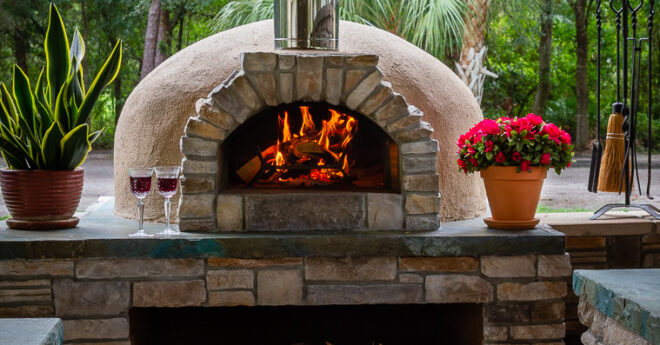 20 Design Ideas For Your Outdoor Wood Fired Oven Kit
Dec 15, 2021
Posted by Forno Bravo
Since Forno Bravo was first established way back in 2003, we've seen our customers incorporate our world-famous pizza ovens into some brilliant and downright crazy designs! Lovingly crafting the perfect designs for your pizza oven is a massive part of the fun, probably second only to firing up the oven for the first time and cooking your first homemade pizzas!
All of the designs you're about to see incorporate our Forno Bravo Modular Home Pizza Oven Kits. These outdoor pizza oven kits are the best on the market and can be assembled both by DIY homeowners looking for a fun project, or professional contractors and masons – it's your choice. We're truly humbled by our customers who continue to send in amazing photos of their garden and outdoor kitchens, complete with none other than our finely crafted outdoor pizza ovens. 
These designs just go to show that there are really no limits on how you can incorporate a pizza oven into an outdoor space. Our team of artisans and designers are always here to help you realize your dreams, no matter if you're looking for something modern and minimalist to fit a contemporary outdoor space, or something rustic that looks like it was lifted straight out of the 1950s Italian countryside. 
In this article, we'll be exploring 20 incredible design ideas for your outdoor pizza oven kit!
1: Sleek and Modern With Hexagon Tiles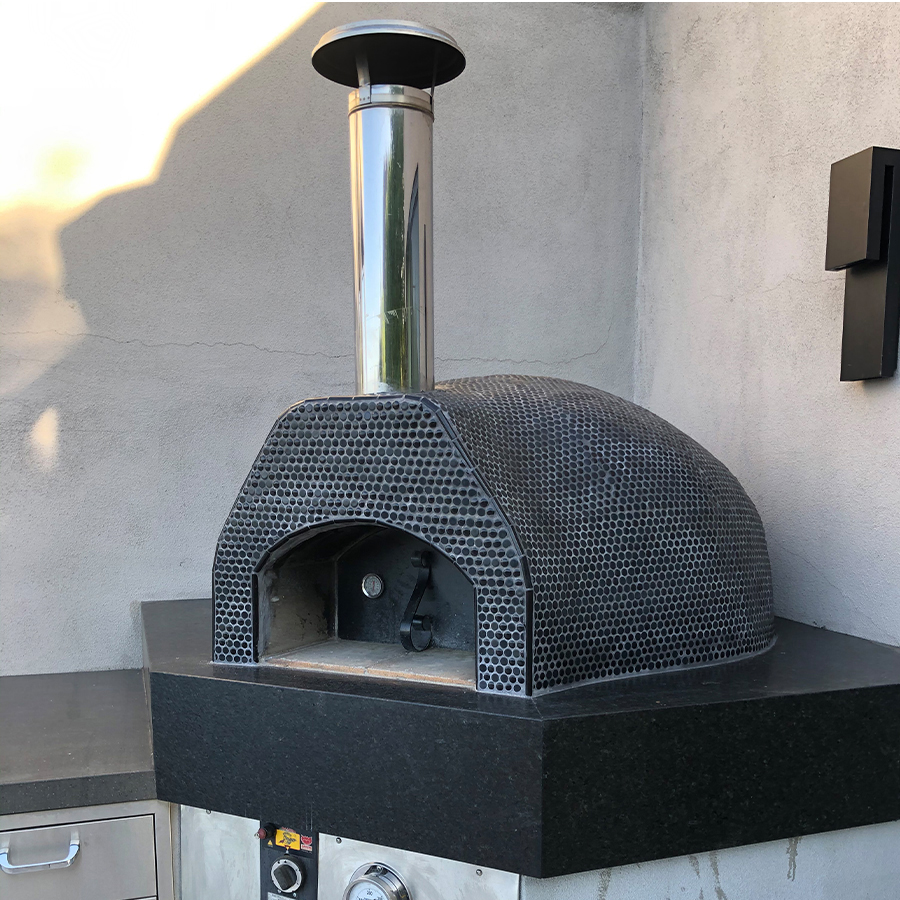 Let's kick things off with this gorgeous modern pizza oven. Custom tiling is just one of many ways that our customers choose to build the perfect pizza oven that is unique to them.
This design looks super-sleek, modern and minimalist with its unique black hexagonal tiles complete with a black landing. It's pretty compact and slots nicely in this corner – the perfect addition to a smaller outside kitchen. 
2: Custom Tree Build Pizza Oven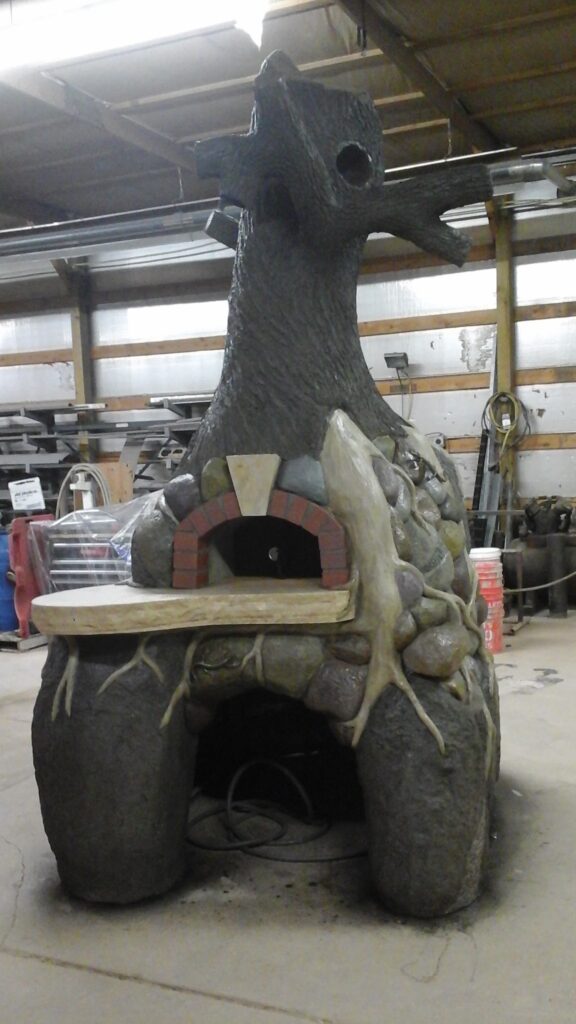 When we saw this we could barely lift our jaws off the floor…it's quite incredible! It's like crossing a pizza oven with a fairytale or fantasy novel. The tree trunk vent really completes this outlandish design and we'd love to see what it looks like when it's fired up and ready to go. 
The cavernous log store is perfect too. A true-one-of-a-kind piece and probably the first-ever pizza oven to be incorporated into a tree!
3: Gray Stone Pizza Oven With Round Tiles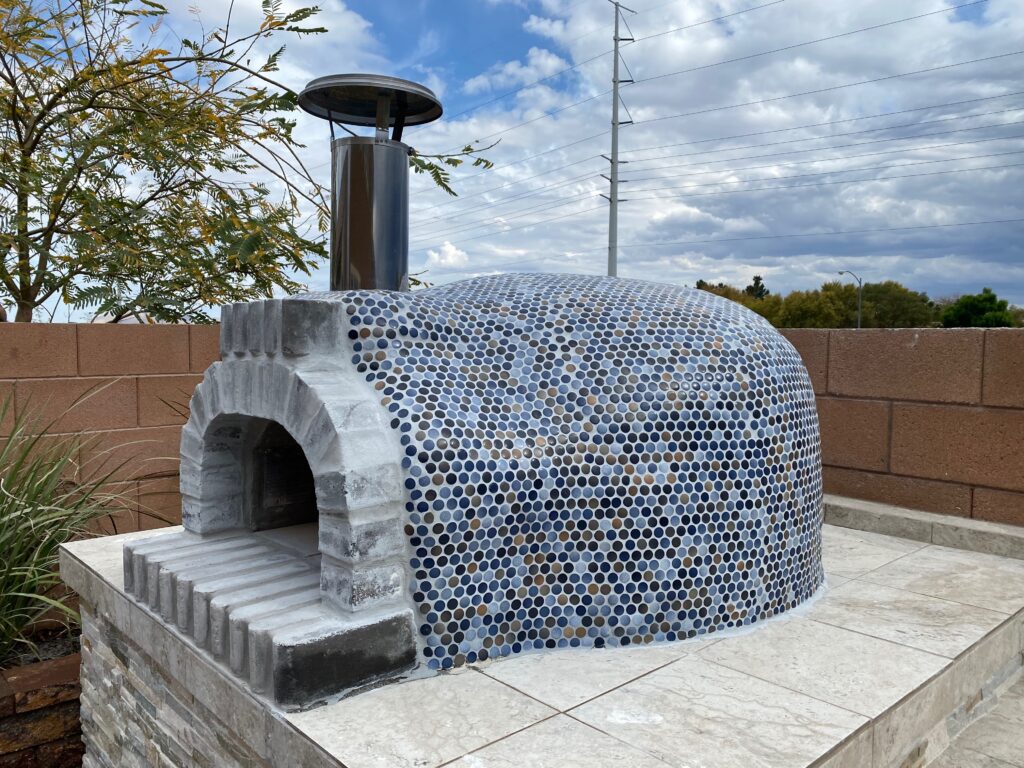 Who said that tiles need to be square or rectangular?! This round tile mosaic pizza oven is unique and contemporary with round tiles. Tiles are the perfect way to customize a pizza oven and Forno Bravo offers an extensive range of high-quality tiles that our artisans are ready to assemble in any way you please!
4: Mediterranean Yellow Stucco Pizza Oven With Accent Tiles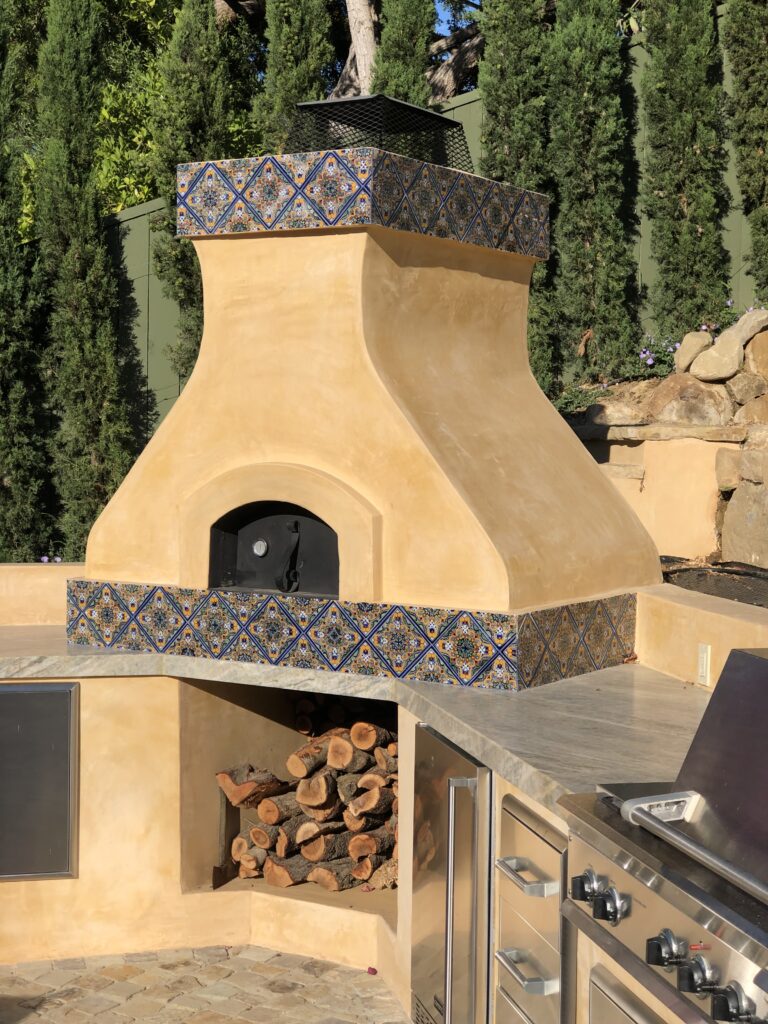 This classic Mediterranean Yellow stucco pizza oven is reminiscent of classic Italian rural architecture, standing tall and proud with its chimney-style vent. The pizza oven here neatly slots into the corner of this stunning outdoor kitchen, creating the perfect centerpiece. 
The accent tiles here look superb too. A real masterpiece that wouldn't look out of place anywhere on the Italian riviera!
5: Blue Mosaic With Brick Landing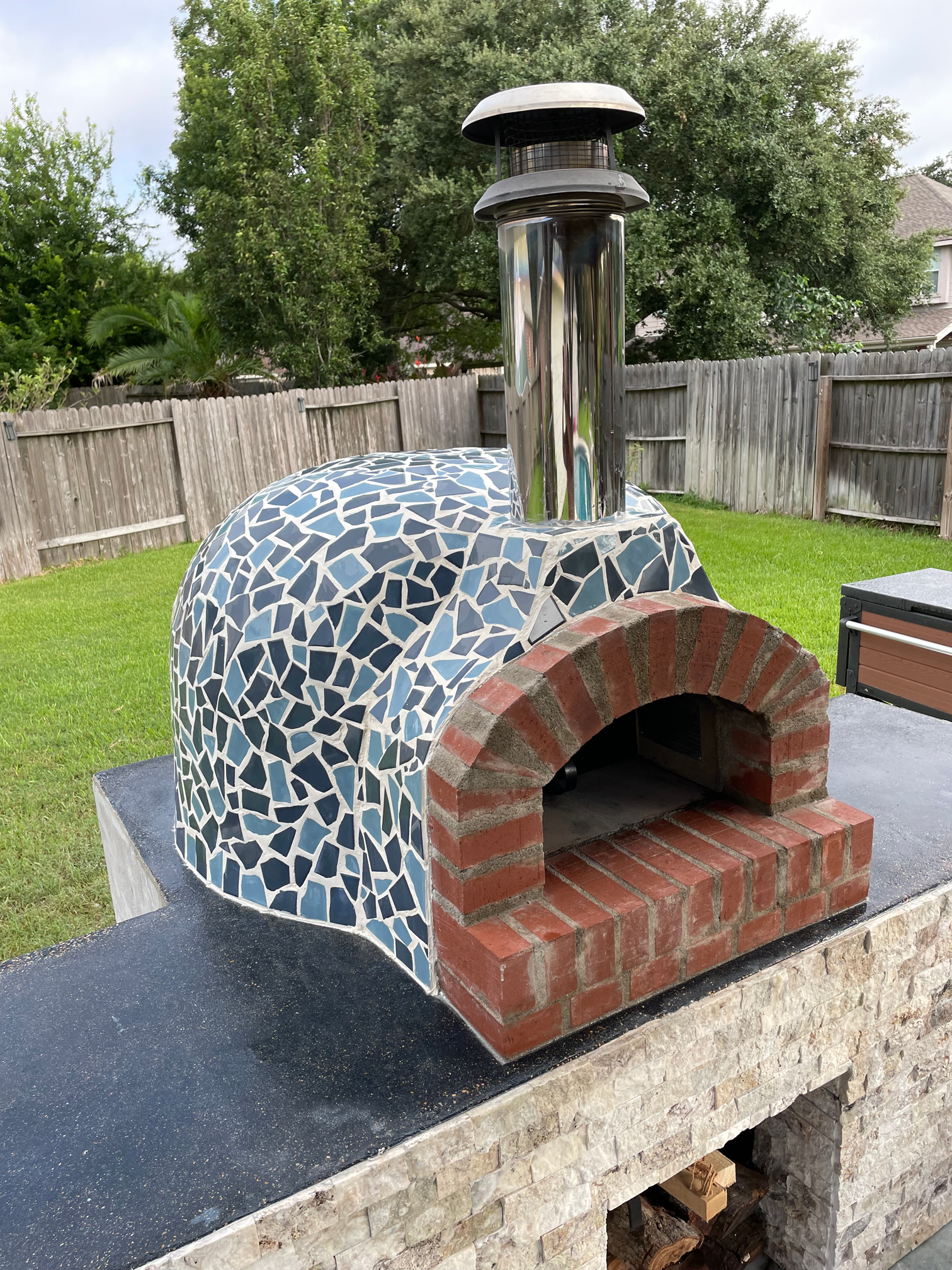 We love mosaic designs, so this blue mosaic pizza oven design was right up our street. The large, functional brick landing is purposeful and practical – and it certainly ensures that prep room isn't in short supply, which is always great! The pizza oven itself is nice and compact too making a brilliant addition to the outdoor kitchen. 
6: Rustic Pebble Pizza Oven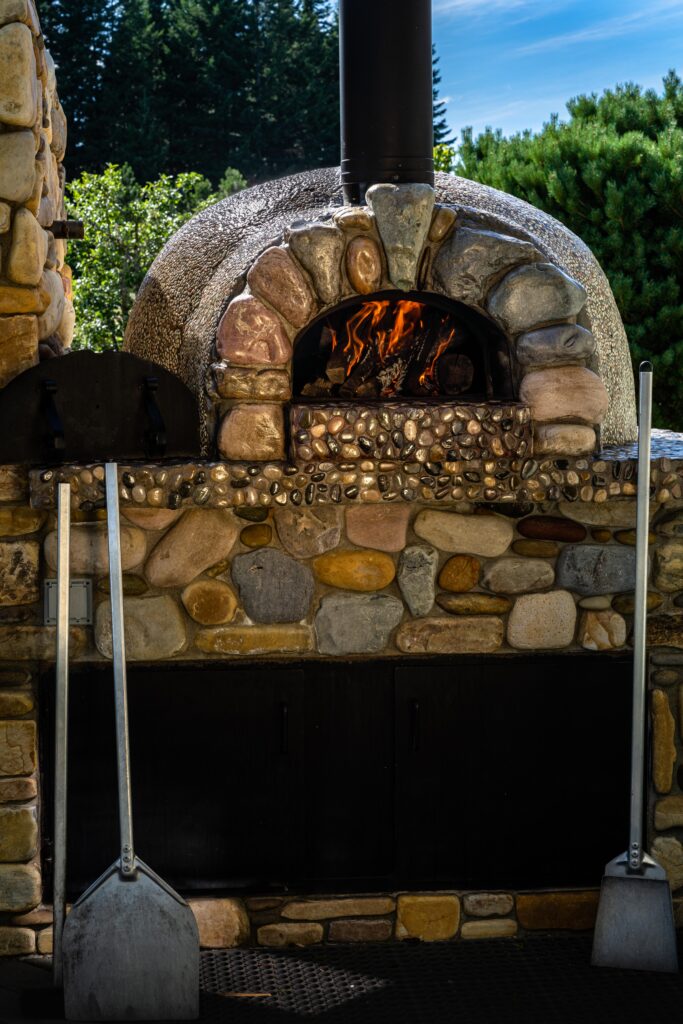 Pizza ovens always look excellent when donning a rustic exterior like this – it really brings out the earthiness and authenticity of outdoor cooking. We always find that natural stones fit well with our pizza ovens, evoking an authentic and traditional design that reminds us of rural Italy. 
7: White Marble Pizza Oven and Fireplace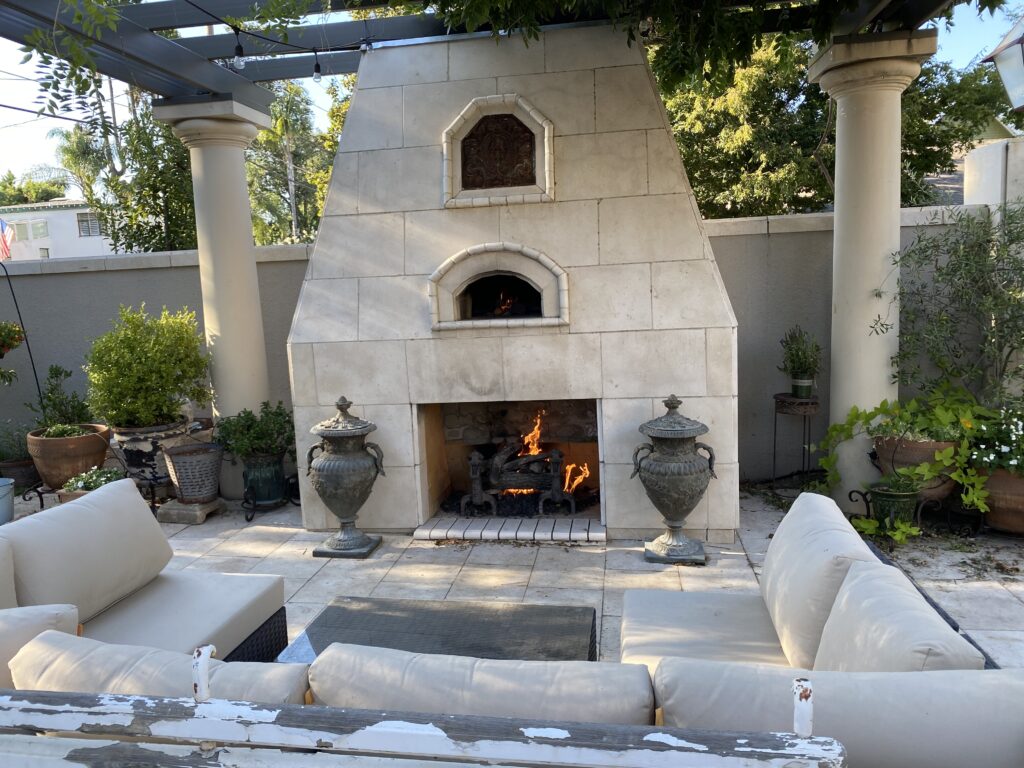 This is one of the most spectacular designs we've seen. You've got classy white marble which is distinctive in its own right, combined with two gorgeous pillars, and a couple of cast iron urns…and a giant sofa positioned in front of a fireplace…with a Forno Bravo pizza oven on top. 
It doesn't really get much better for chilling on winter nights or partying in high summer. Plus, it's only a short walk to and from the pizza oven from the comfort of the sofa, which has to be a bonus. 
8: Compact Gray Rustic Stucco Pizza Oven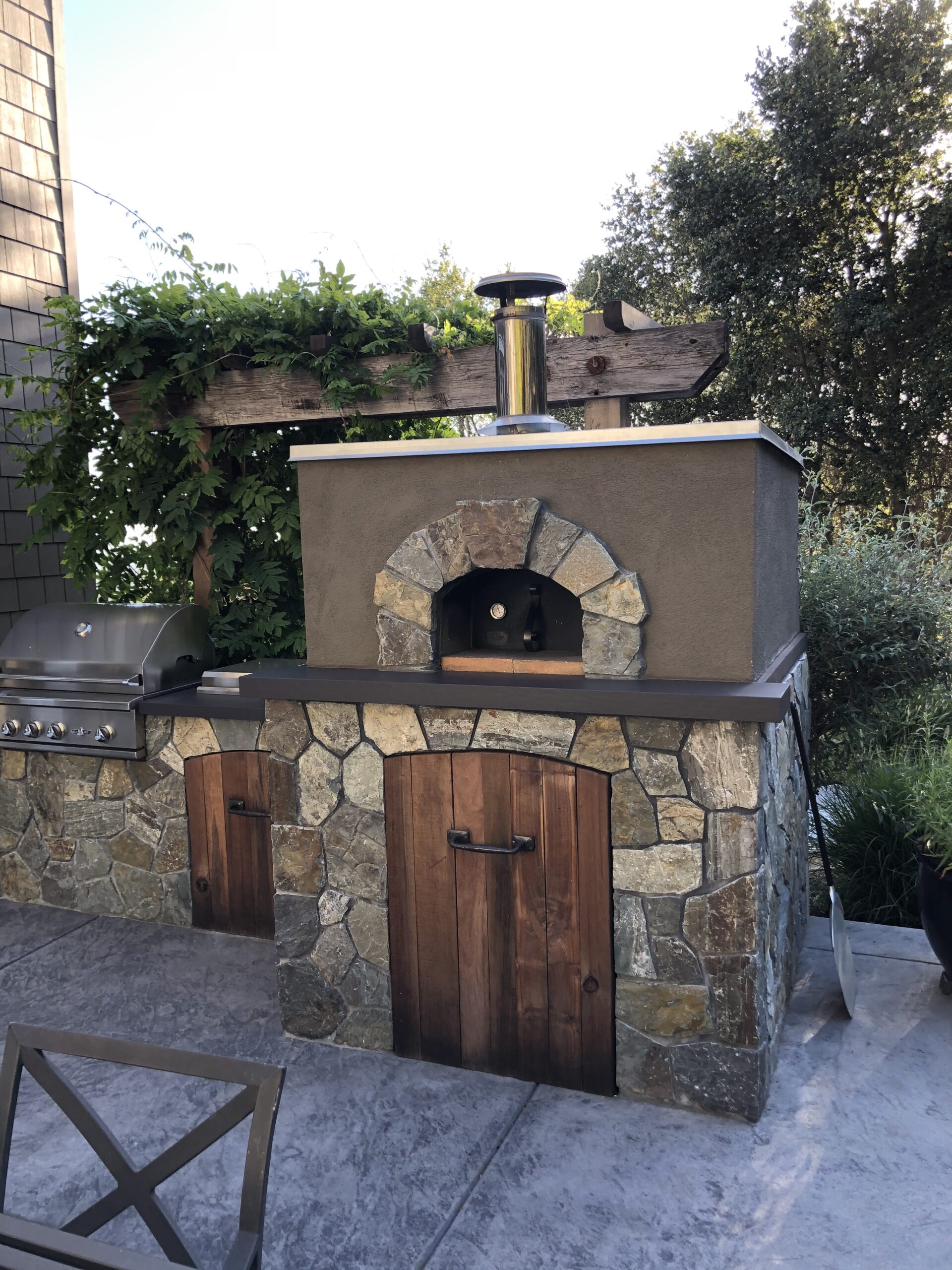 This just proves that great things come in compact packages. This gorgeous compact pizza oven is perfectly enclosed in a rustic gray stucco exterior with a rocky fascia that looks natural and authentic – the perfect aesthetic for a wood fired pizza oven. 
The well-crafted, wooden door for the log store tops it all off and the oven looks really well-integrated into the outdoor kitchen.
9: Cream Stucco Pizza Oven with Red Accents and Landing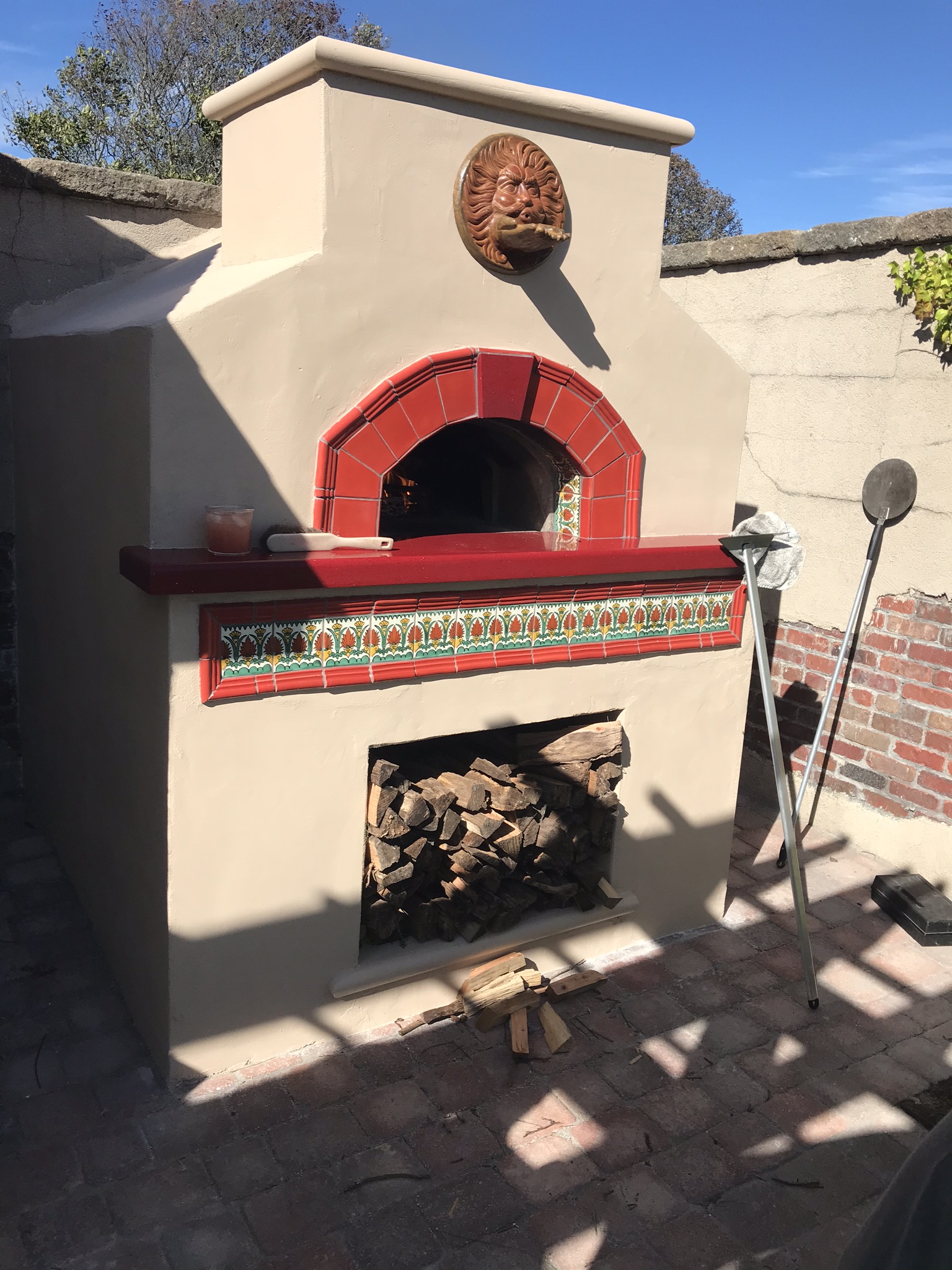 Red…the color of passion, of fire, and of this sublime pizza oven. The red mouth must look awesome once the oven is fired up and ready to go. We love the terracotta sun sculpture attached to the chimney here too and the cream stucco is the perfect contrasting color for this neo-traditional pizza oven design. 
10: All Brick Gray Pizza Oven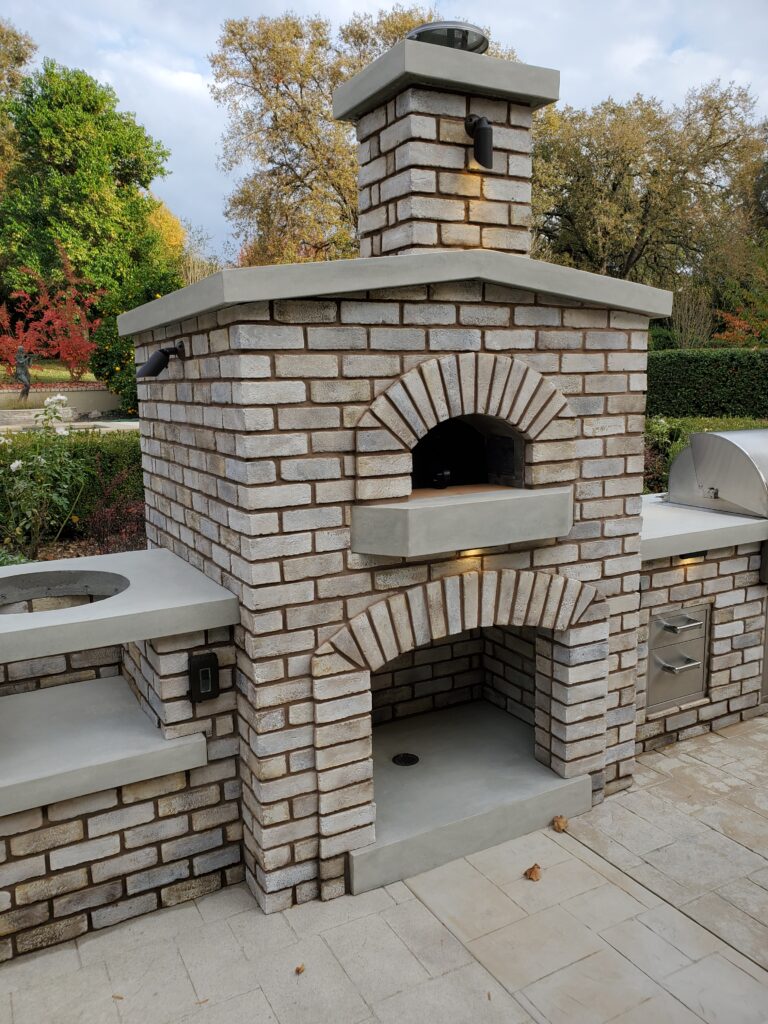 Sharp, suave, and sophisticated with its perfect geometry, this all-gray brick pizza often really rocks and it looks rock-solid too. It's amongst the more modern designs that we've seen, perfect for contemporary outdoor spaces. The entire structure looks very well-integrated with the surrounding outdoor kitchen too. 
11: White Brick With Slate Countertop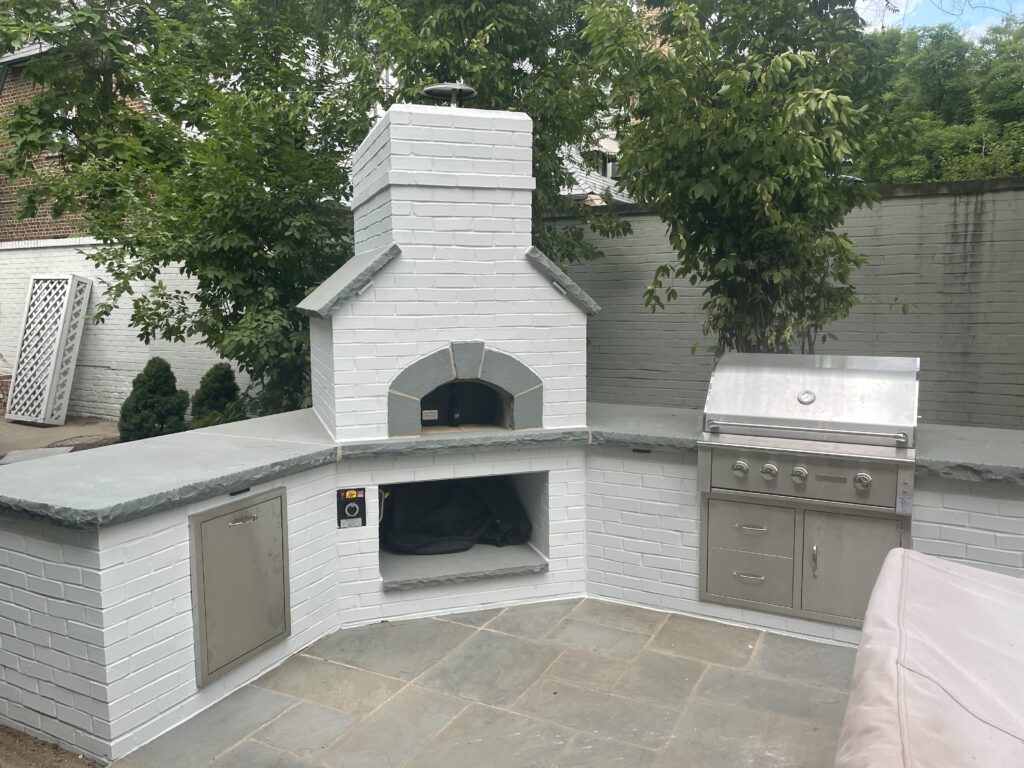 This gorgeous white brick outdoor kitchen setup is elegant, clean, and modern. The slate countertop looks the part and is super-tough and easy to maintain. 
Integrating pizza ovens into the corner of an L-shaped outdoor kitchen saves space whilst creating a beautiful yet functional centerpiece that spices up the life of any outdoor cooking enthusiast!
12: Slate With Diamond Tile Accents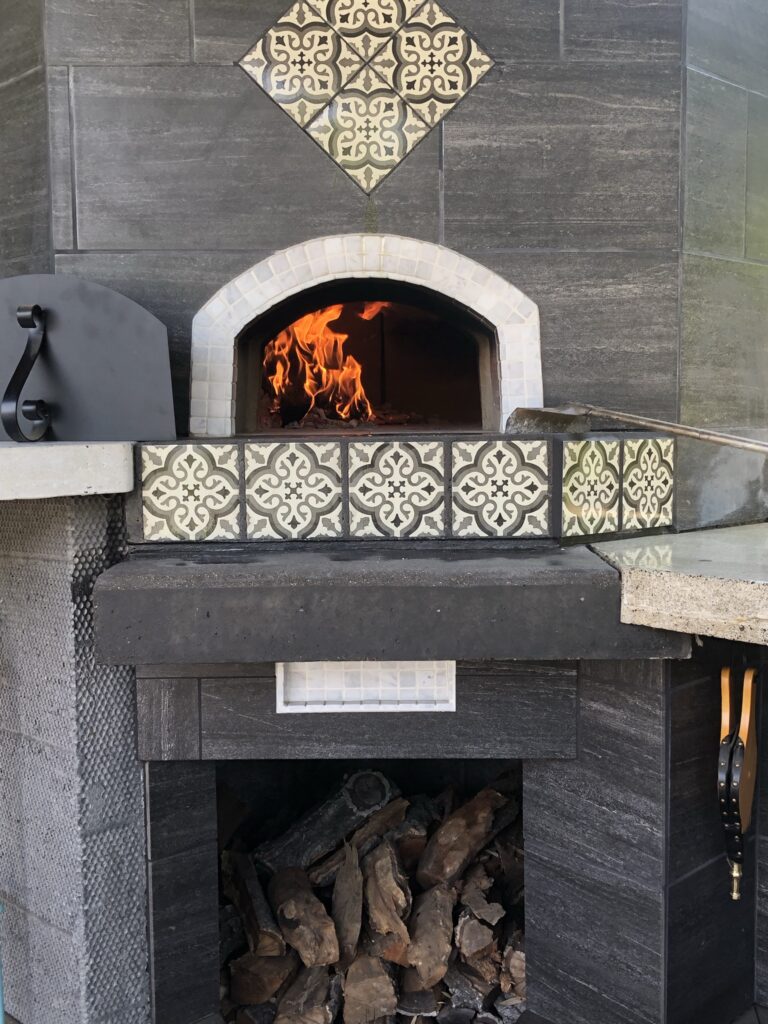 This darker slate is bold and contemporary, the accent tiles adding an extra slice of originality. We love compact designs that showcase how our pizza ovens can 'slot in' to their surroundings, making a more-than-worthy addition to any smaller outdoor space or kitchen.
DIY finishes can be a process, so we also like that the oven can be used even before the finish work on the base has been totally completed.
13: Cream Stucco Pizza Oven With Black Granite


Stucco proving its Italian charm yet again. For those that don't know, stucco is essentially a cement plaster that can be either applied with a fine grain or a thicker, pebble-dashed grain. It's authentic but durable and easy to work with, providing a smooth finish to many of these pizza oven designs. 
The cream stucco here looks awesome and the whole structure is built perfectly, complete with an ultra-hard but beautiful granite countertop. 
14: Stone Enclosure With Built-In Wood and Gas Fired Oven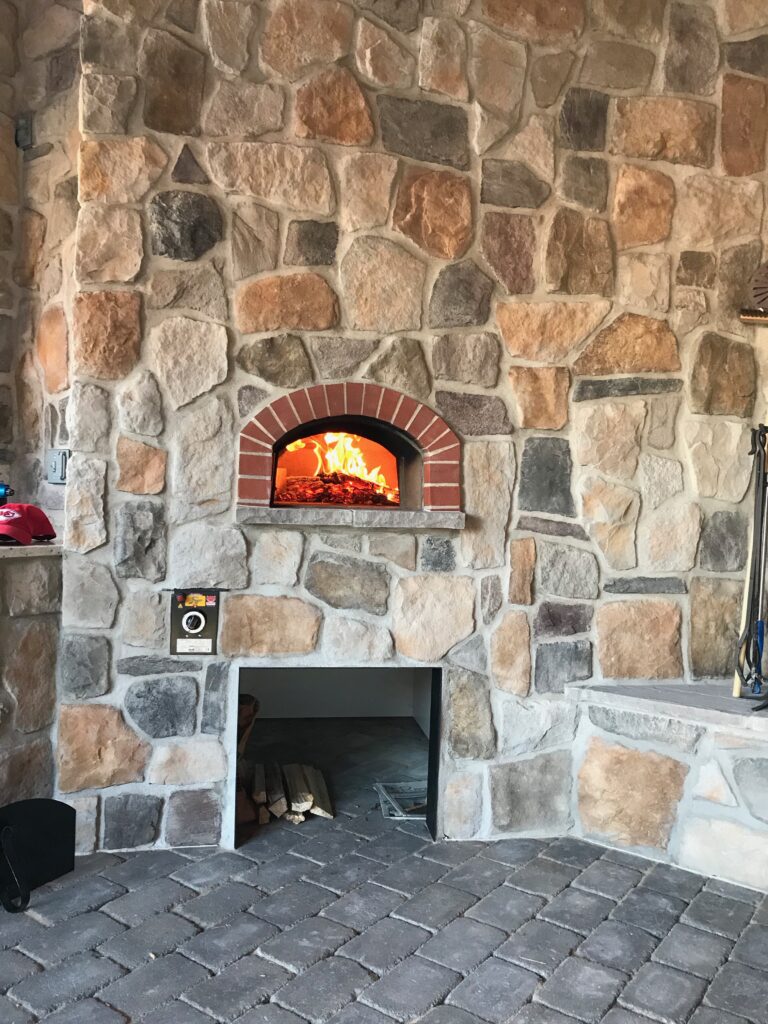 We love these built-in designs that prove that pizza ovens can be slotted into any home, regardless of where you want to put it or what space you have available. 
This cute yet classic design integrates the pizza oven and wood storage areas and looks awesome courtesy of its natural stone enclosure. By taking advantage of unused space, this design showcases an excellent way to 'slot in' a pizza oven without requiring a dedicated standalone structure. 
15: Pebble Tile And Granite Pizza Oven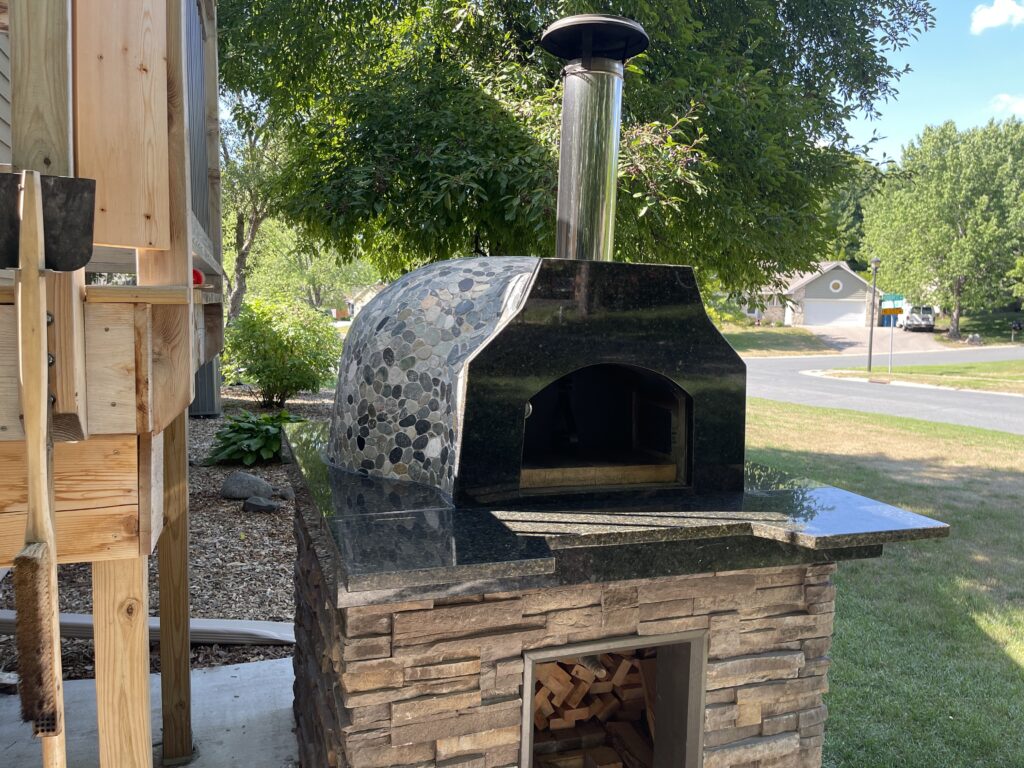 Here we have a compact back (or front) yard design that looks suave with its pebble tiling and black granite countertop. A reinforced concrete slab is all you need to integrate a Forno Bravo pizza oven into your home or patio. The polished granite countertop is super-tough, easy to clean, and obviously looks superb. 
16: White Stone Square Enclosure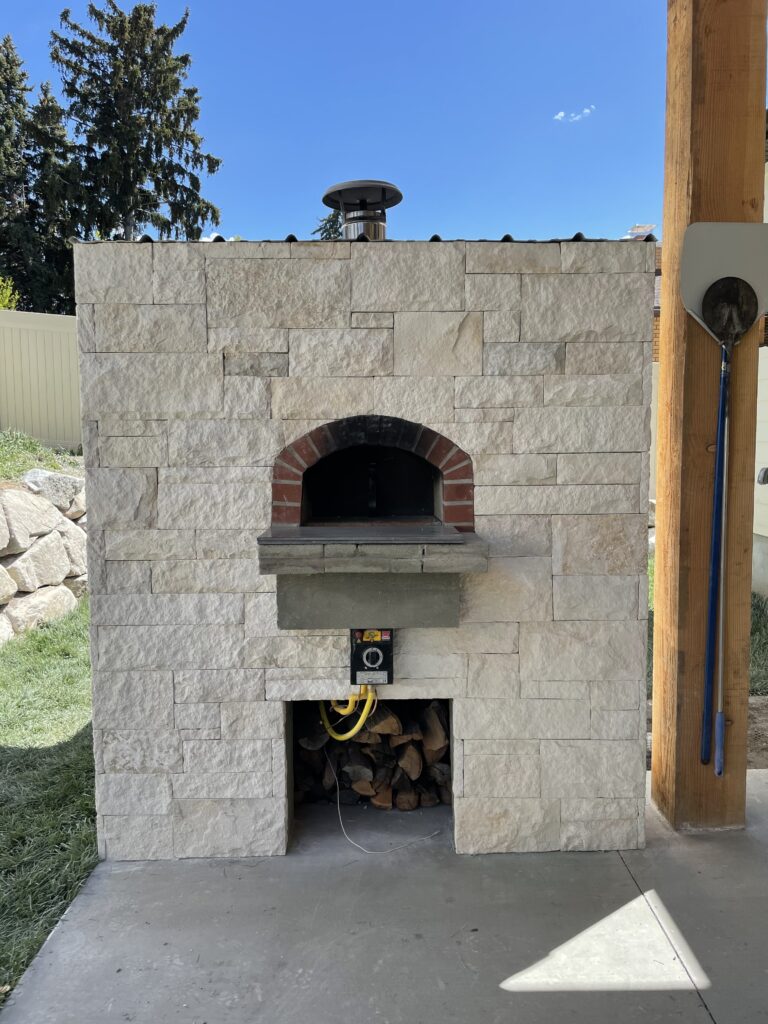 Echoing Italian white stone, this well-defined square enclosure is simple and sturdy. Standalone enclosures like this need not be fitted into an existing structure or garden kitchen, proving that it's really easy to add a pizza oven into practically any outdoor space. 
17: Natural Stone Rustic Pizza Oven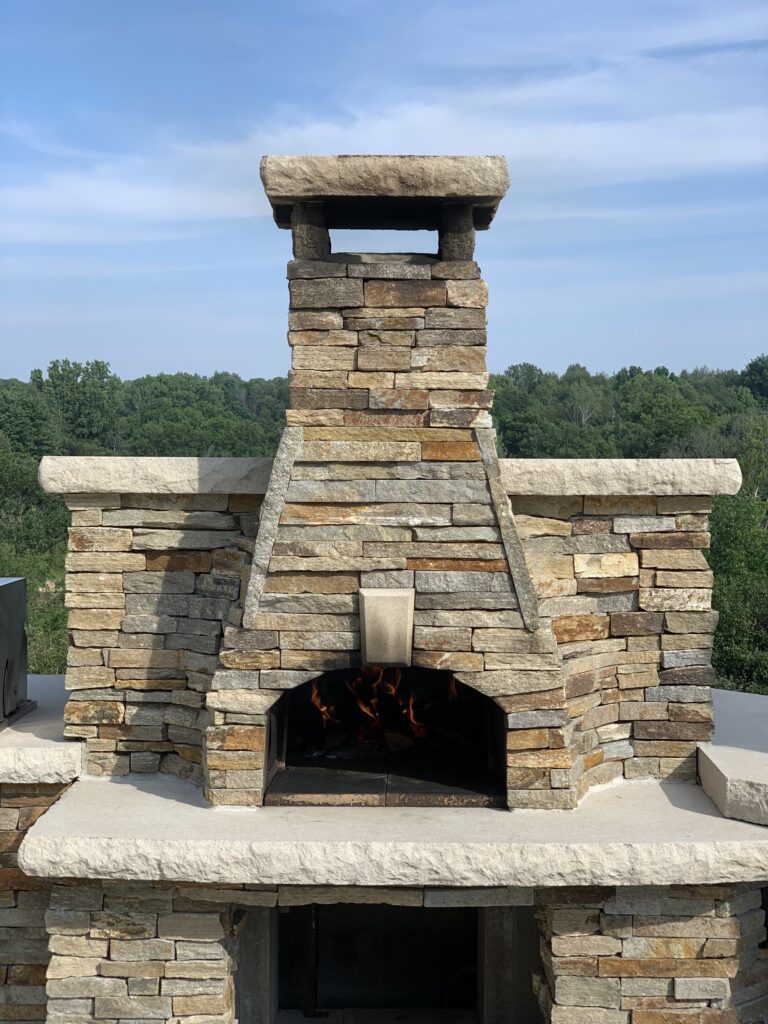 We love rustic pizza oven designs. This one looks awesome and we imagine that it's probably sturdier than it looks – it's not quite the Leaning Tower of Pizza, but is actually the hard work of a talented mason integrating the irregular shapes of natural stones! The white stone countertop and landing look sublime too. Authentic and beautiful. 
18: White Stucco Outdoor Kitchen With Stone Base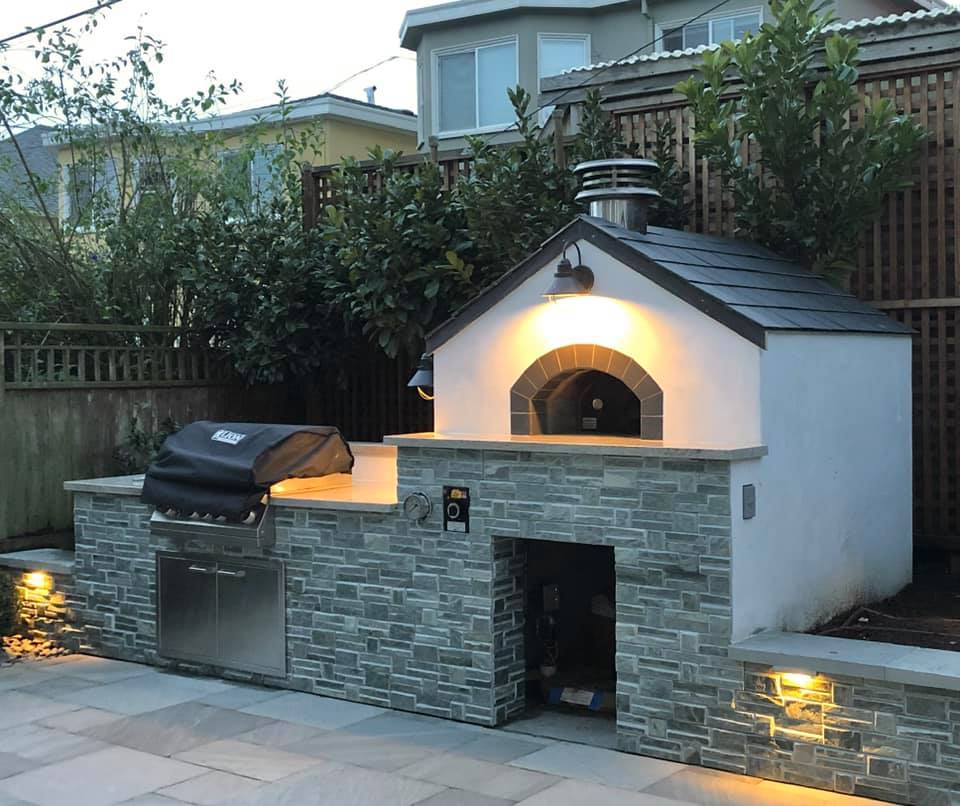 This breathtaking outdoor kitchen and pizza oven looks incredible for hosting large outdoor events. It's a comprehensive setup, perfect for the pizza enthusiast that wants to mix things up when hosting parties or cooking for all the family. A stunning modern and functional design. 
19: White and Blue Mosaic Pizza Oven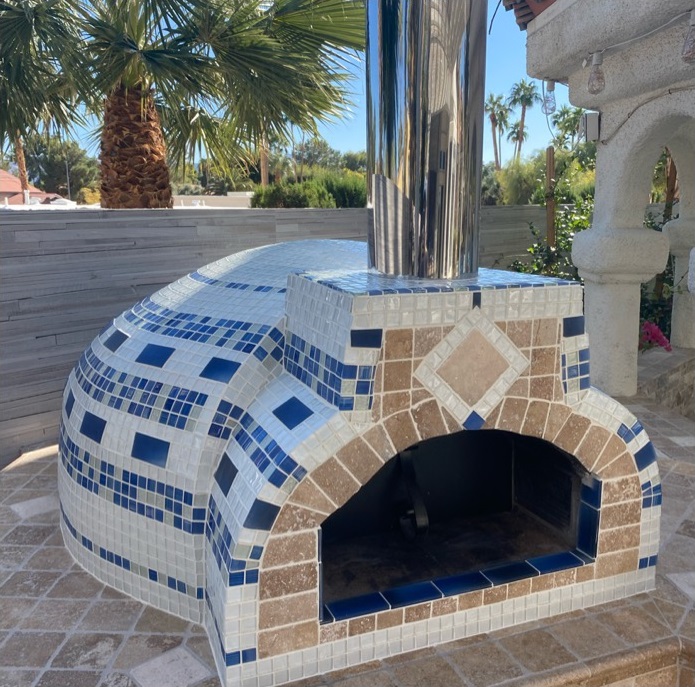 Tiling is one of the best ways that anyone can customize their pizza oven. Forno Bravo offers a huge selection of gorgeous tiles and our artisans are always up for a challenge. This customer opted for a clean yet traditional white and blue tile design. 
True to its Mediterranean vibe, this pizza oven looks excellent in the searing sunshine – just perfect with those palm trees in the background!
20: Rustic Stucco and Stone Pizza Oven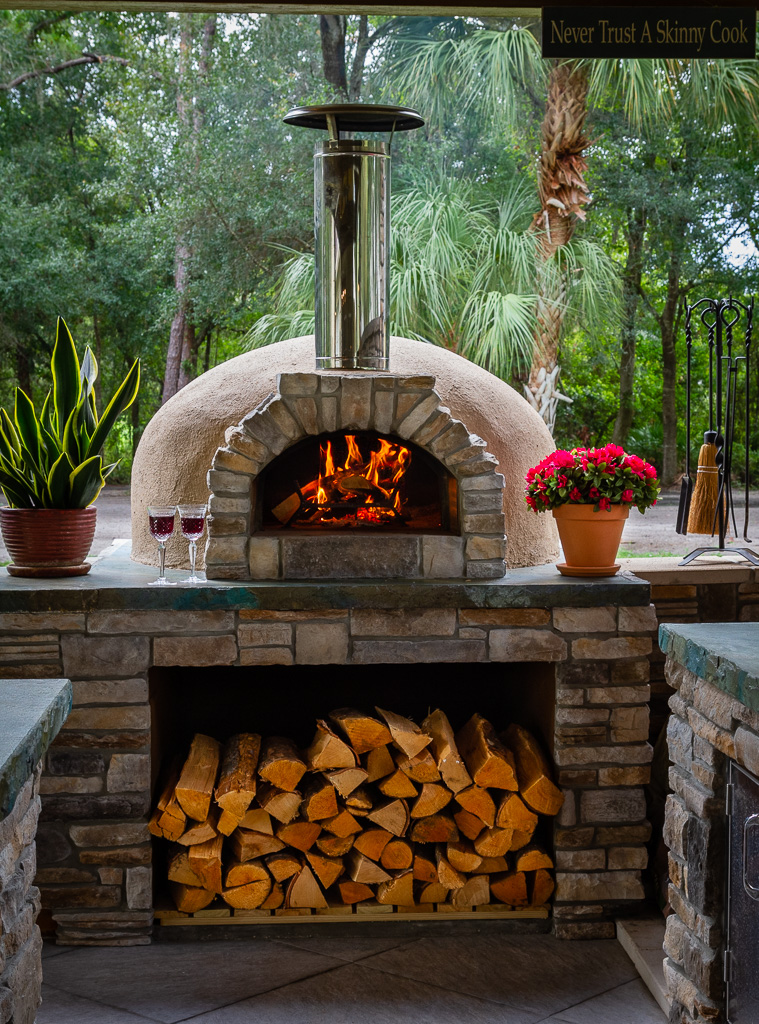 The sweet smell of wood fired cooking, palm trees in the background, and a glass of wine (chianti, we hope)…this customer has it spot on. Quaint and authentic, you really can't fault the combination of natural stones and brick. A generous wood store makes starting and stoking your fire a breeze. 
Own Your Very Own Pizza Oven
Pizza ovens are attractive structures in their own right – designing them is a massive part of the process and it's certainly something our customers love to get involved in. 
We hope that we've showcased some of the many ways in which Forno Bravo Modular Oven Kits can be installed into anything from compact outdoor spaces to full-fledged, enthusiast-level home kitchens. Our modular oven kits provide everything you need to build the core of your own world-class pizza oven that you or your contractor can finish and integrate however you choose.  Our kits create an oven with superb quality baking performance that also offers ultimate exterior design flexibility.
We also sell fully-assembled pizza ovens that are ready to rock and roll almost straight away. We can incorporate both standard patterns and colors, or do custom tilesets, logos, stucco colors, and other design innovations. Our artisans and designers are always on hand to listen to your design ideas, no matter how outlandish they are, so please do not hesitate to contact us if you have any questions.
If you're looking for more inspiration, check out the 2021 photo contest winners for more awesome images of pizza oven designs, or head to the gallery which is overflowing with ideas!