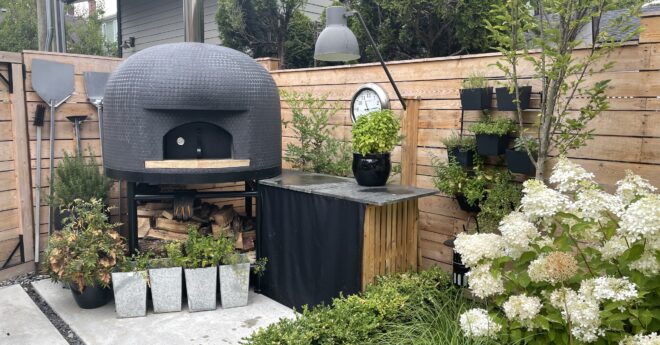 16 Custom Tile Design Ideas for Your Outdoor Pizza Oven
Feb 10, 2022
Posted by Forno Bravo
Custom tile designs allow you to personalize your Forno Bravo pizza oven, injecting some of your own personality and style to make it 100% unique to you. 
Both the Vesuvio and Napolino are available with a huge range of customizable tiles that can be chopped and changed in whichever style you like, but the majority of our pizza ovens are customizable in some way. 
Whether you're looking for a Forno Bravo Residential Pizza Oven Kit or a ready-assembled Forno Bravo Pizza Oven, custom tile designs are your ticket to a one-of-a-kind pizza oven that is personalized to you and your space. Glass tiles come in a huge range of colors and also rate as highly-durable weatherproof materials that are perfect for the exterior of a pizza oven. 
While we can create practically any tile design you can think of, our standard tile configurations are listed below. 
Solid tiles always look superb on their own whereas solid arch patterns add a tasteful highlight to the mouth of the oven and solid masks take that to the next level. Our minimal and standard tile designs add a little more variation, but there's absolutely no right or wrong way to go about designing your pizza oven and these are by no means the only choices!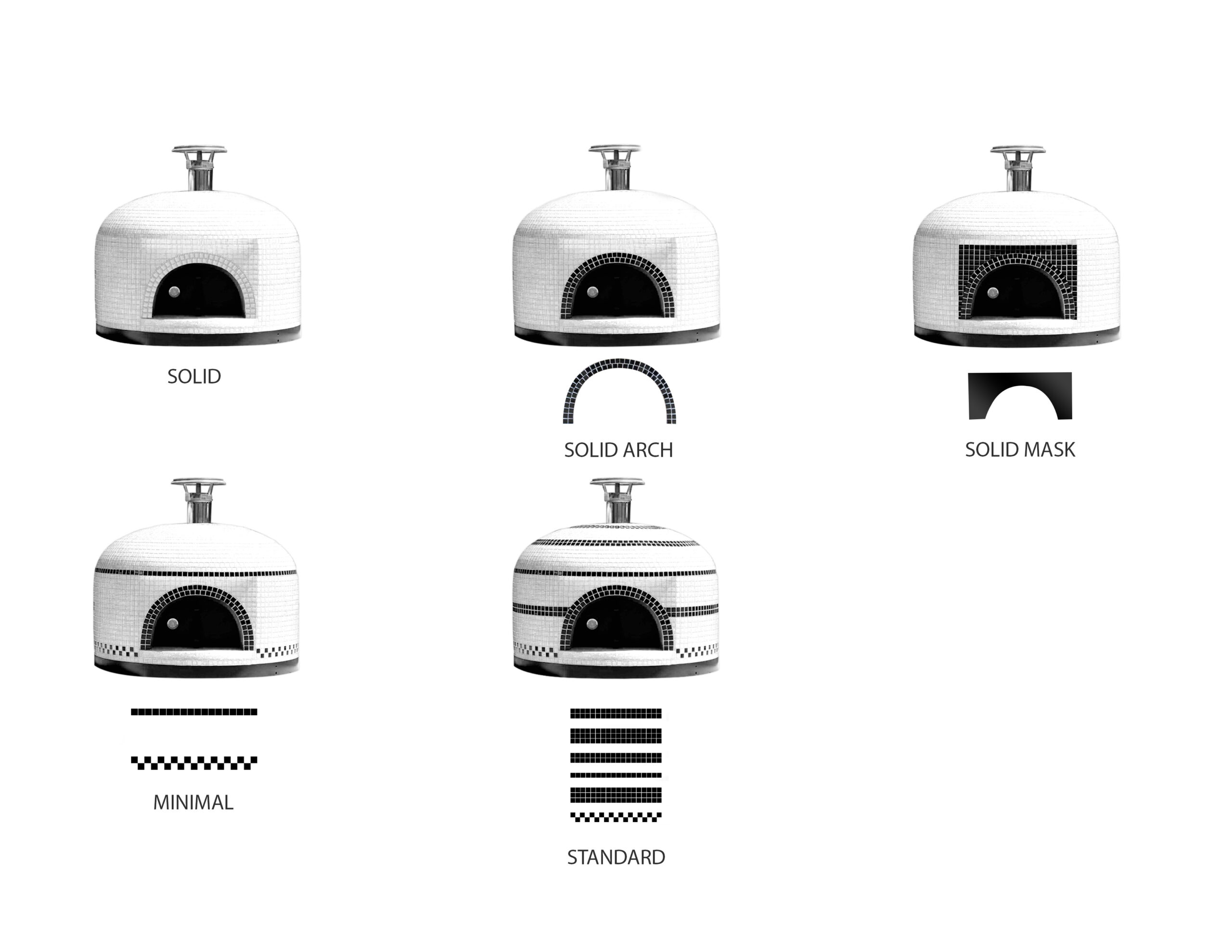 Forno Bravo's skilled artisans have successfully fulfilled numerous unique briefs from our customers, some of which we're showcasing here. There's really no limit on tile designs (provided the design can be created using tiles, of course!) so you can let your imagination run riot, as you're about to find out!
1: Pewter Gray and Coffee With Logo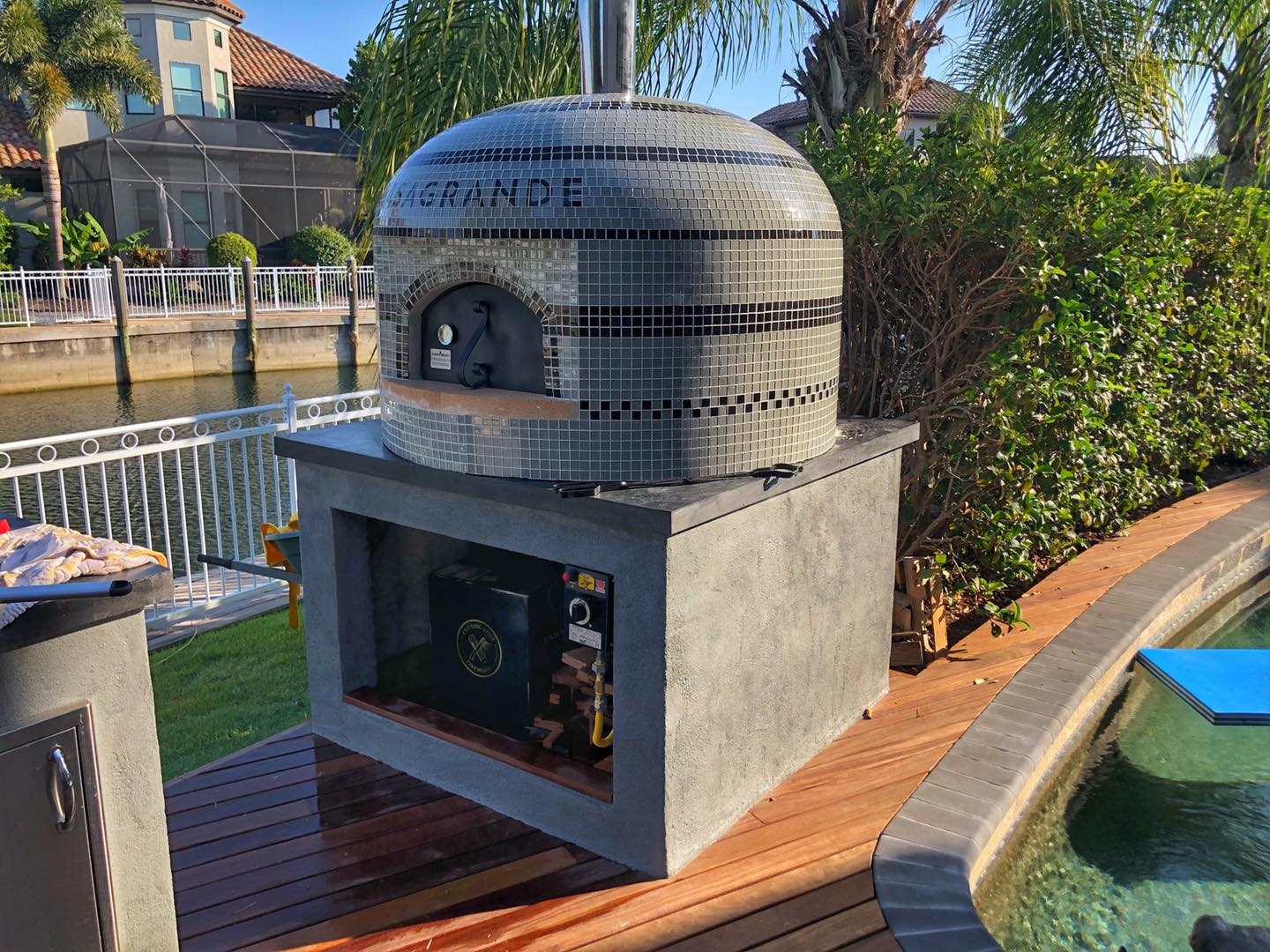 Let's kick things off with a very smart-looking Vesuvio pizza oven that combines pewter gray tiles with coffee accent tiles. These traditional natural colors look superb in their own right, bringing out the authenticity of our top-of-the-range pizza oven. 
The central text logo tops it all off very nicely and is an excellent way to personalize your pizza oven. We love this fusion of traditional colors and modern styling. 
2: Navy and White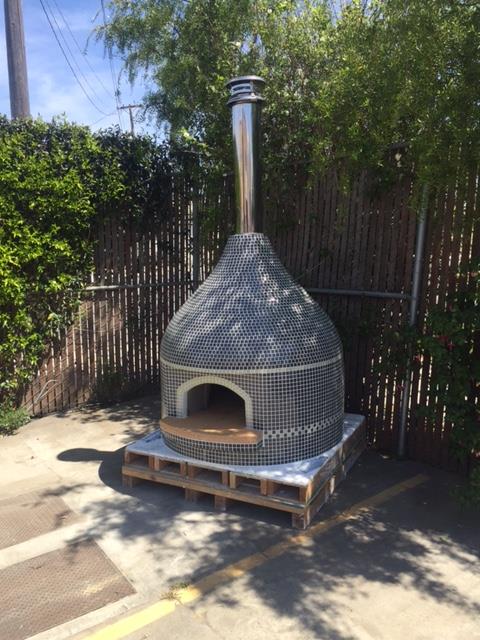 This custom built oven is tiled with a navy blue and white mosaic which looks clean, modern, and elegant – what more do you need? 
These classic colors integrate into pretty much any outdoor space, so no matter where you home this Vesuvio, it's bound to fit right in. 
We're always ready to listen to your custom design ideas, so please get in touch if you have anything in mind!
3: Natural Rock Tiles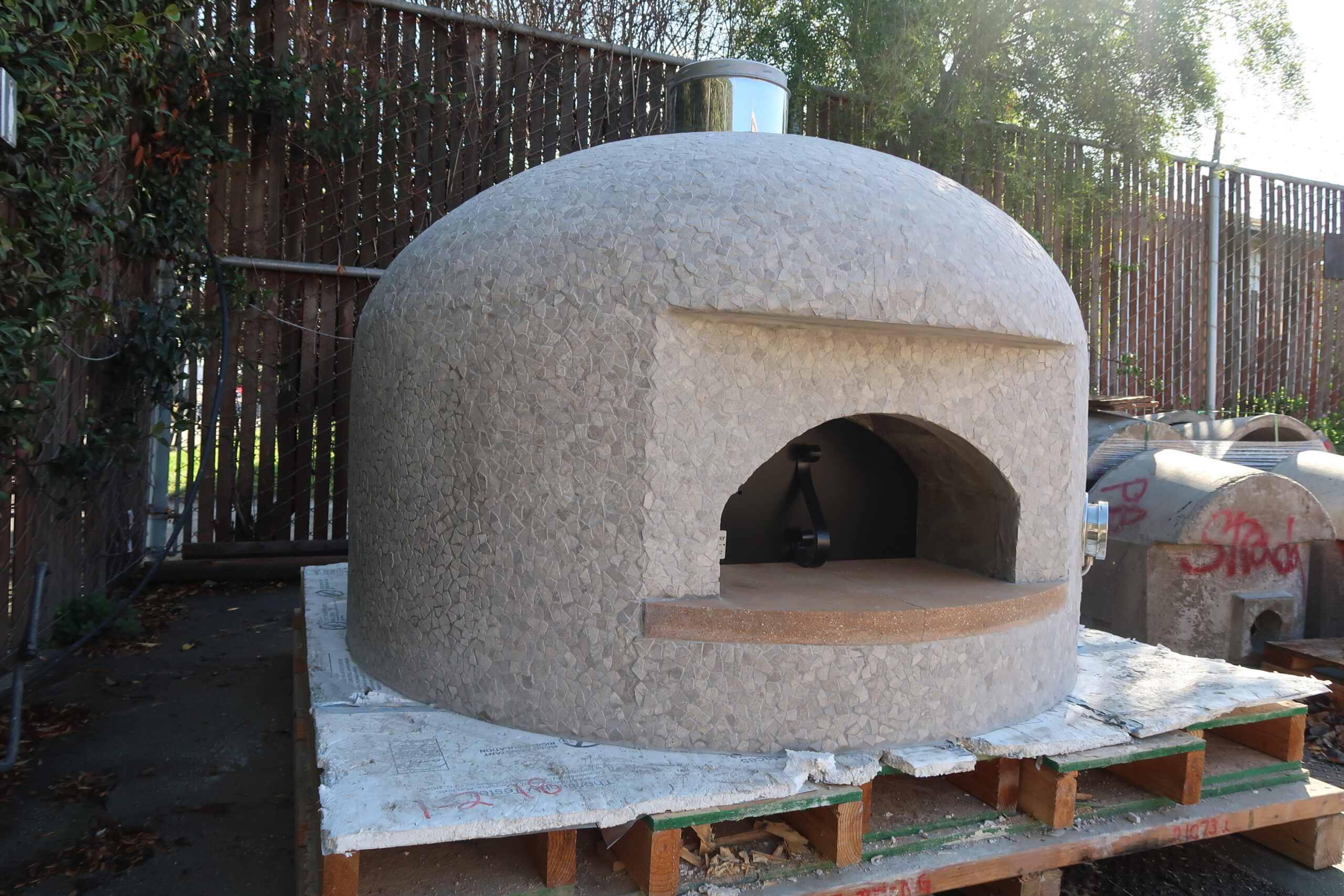 We love this unique natural rock-tiled pizza oven. It's humble to its traditional wood-fired roots but the natural aesthetic would fit any modern outdoor space just as well as a rustic outdoor space. 
The overall aesthetic is rugged and solid but also cool and sophisticated…an excellent combination! 
We can quote custom finishes like this on request. 
4: Round Copper Tiles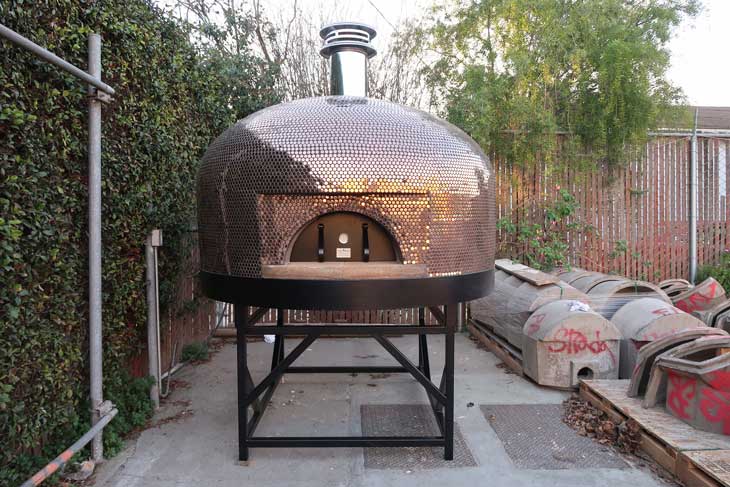 This Napoli 140 commercial oven really has the wow factor with its super-reflective circular copper tiles. 
Square tiles aren't the only option when it comes to designing your pizza oven, it's possible to mix things up from the norm with circular or even hexagonal tiles. This is a brilliant example of a true one-of-a-kind pizza oven that looks seriously cool and impactful in any setting. 
5: Multi-Color Accents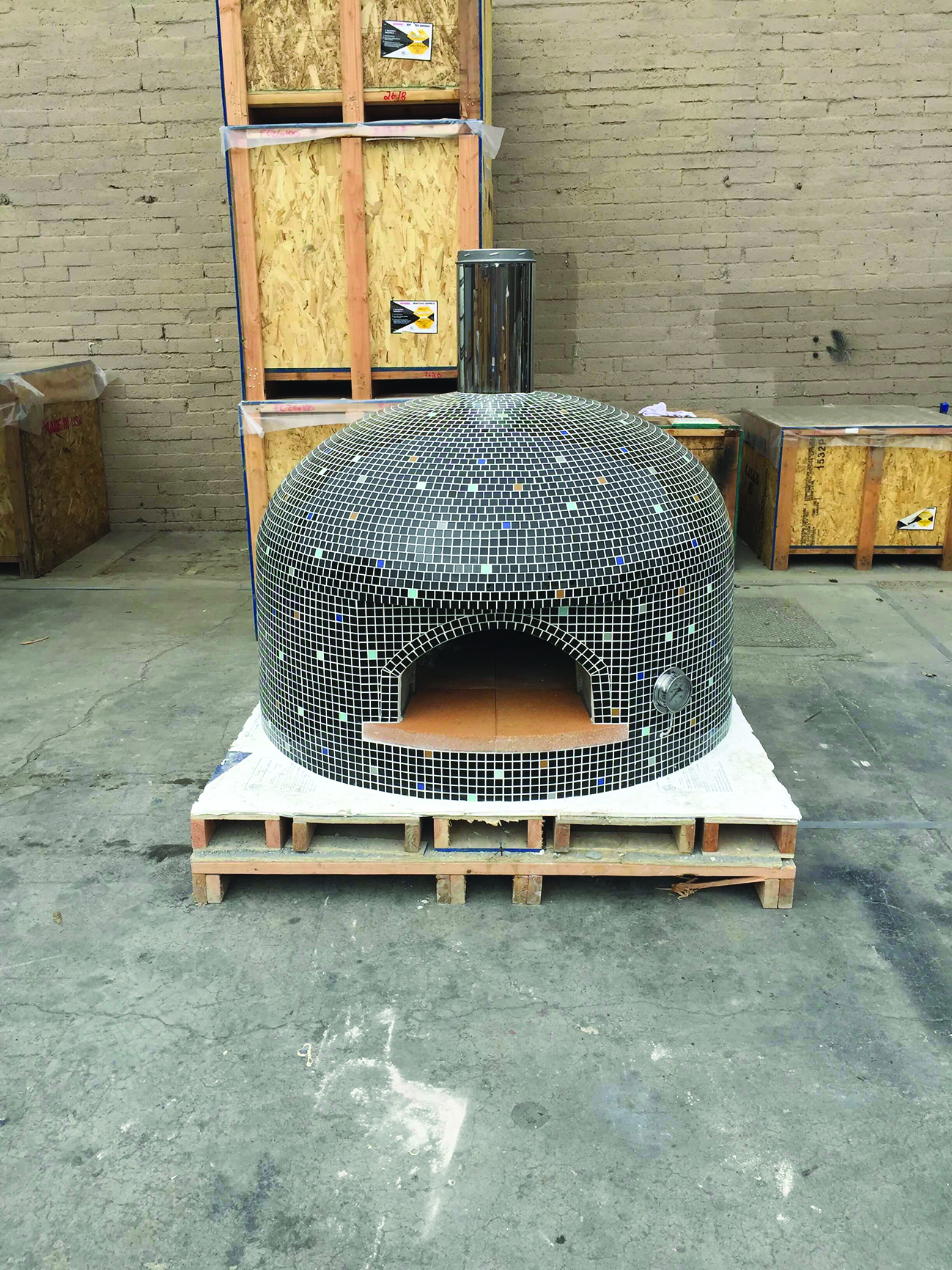 Black tiles here contrast with multi-color accent tiles to create a pizza oven that is fun and playful. An excellent example of a simple and effective design that suits most outdoor spaces. 
Ceramic tiles come in any color imaginable so you'll be able to customize your oven to whatever specific color scheme you have in mind. 
6: Geometric Mosaic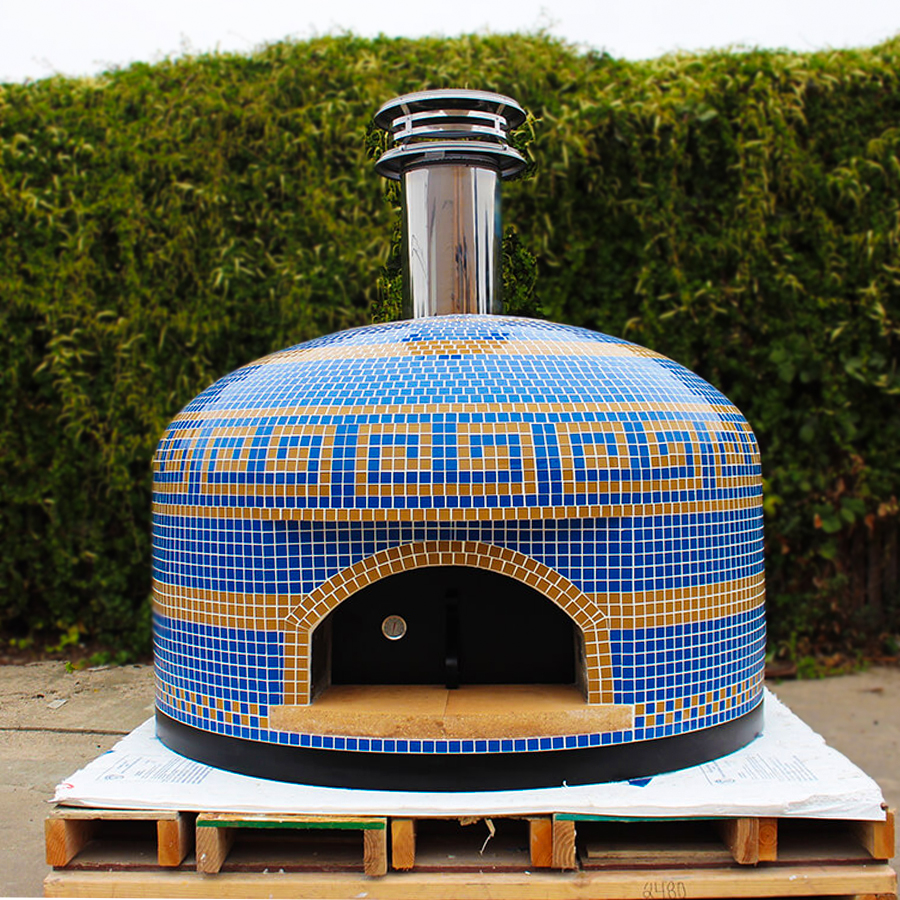 In Ancient Rome, Roman pisna was a type of pizza-like flatbread offered to the gods – this looks like the kind of pizza oven where you might cook that god-like pizza! 
The wonderful blue and beige mosaic features a geometric design that is found in both Ancient Greek and Ancient Roman mosaic art. The bright blue tiles here are striking in their own right and provide the perfect contrast – a Vesuvio fit for the gods of Rome!
7: Savannah Rustic Tiles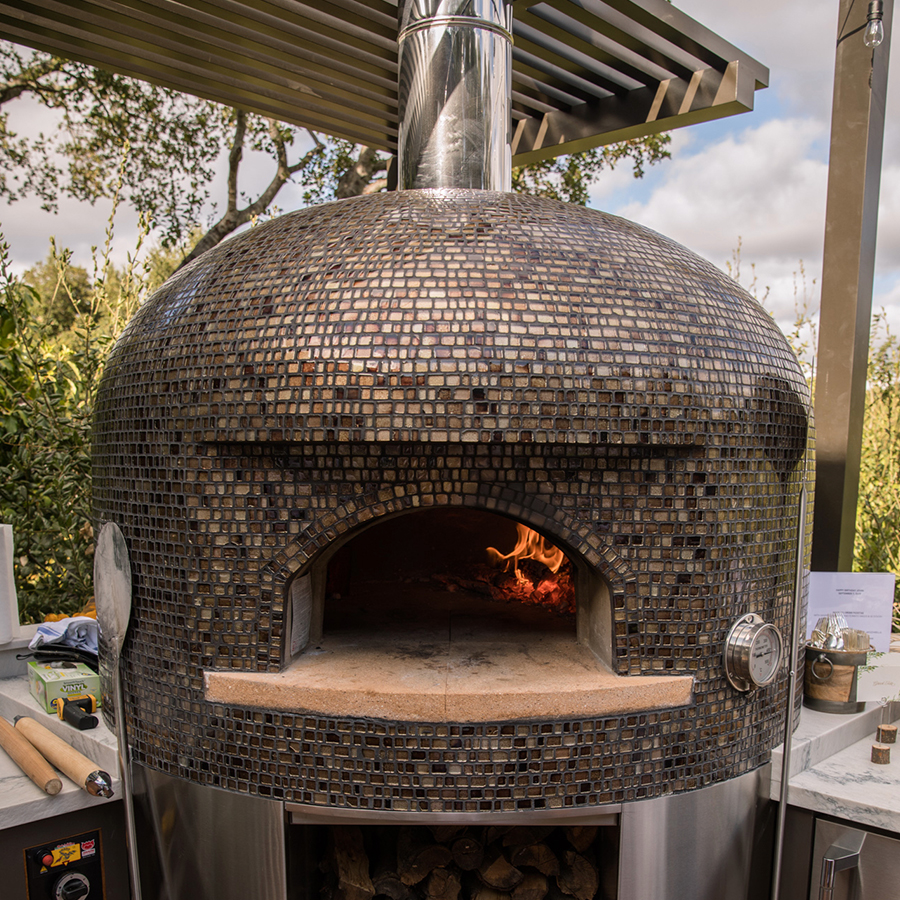 These lovely Savannah-colored tiles have all sorts of natural variations in both shade, color, and size which adds an authentic touch unique to mismatched tile designs.
The end result is gorgeous – this Vesuvio is earthy and rustic whilst not any visual lacking impact in any way. 
Mosaic tiles such as these on display here have a lovely earthy texture which evokes a mood fit for traditionally wood-fired cooking. 
8: Solid Blue With Accents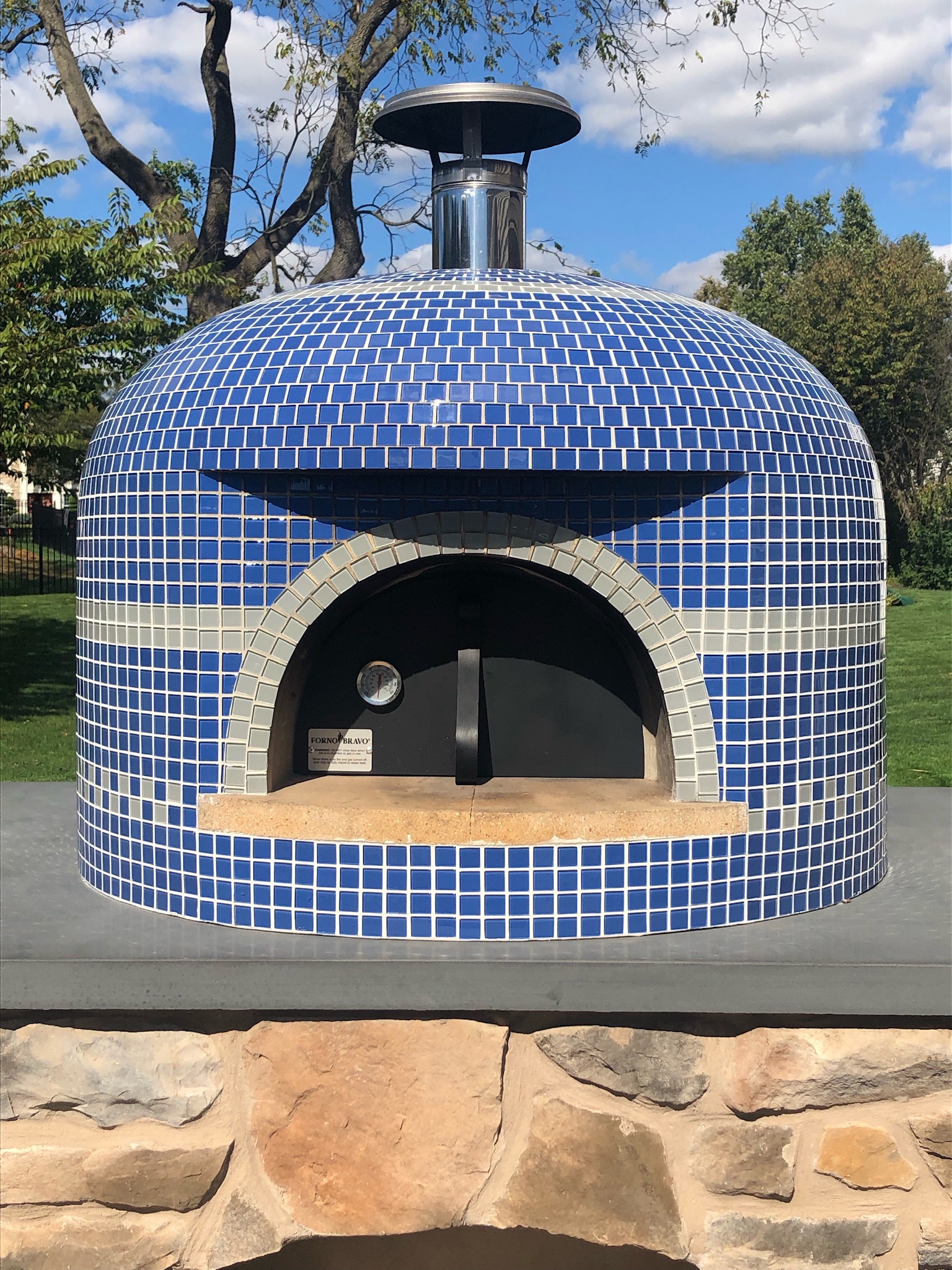 Solid colors always look glorious, especially when they're as bright and impactful as this brilliant blue. Off-white accent colors complete this simple yet elegant design that is suitable for practically any outdoor space. 
It's worth mentioning that ceramic tiles don't just look the part with their deep colors and textures, but they're also super-tough and weather-resistant. You can be sure that these bright blue tiles will keep their brilliant sheen for years to come! 
9: Custom Shark Design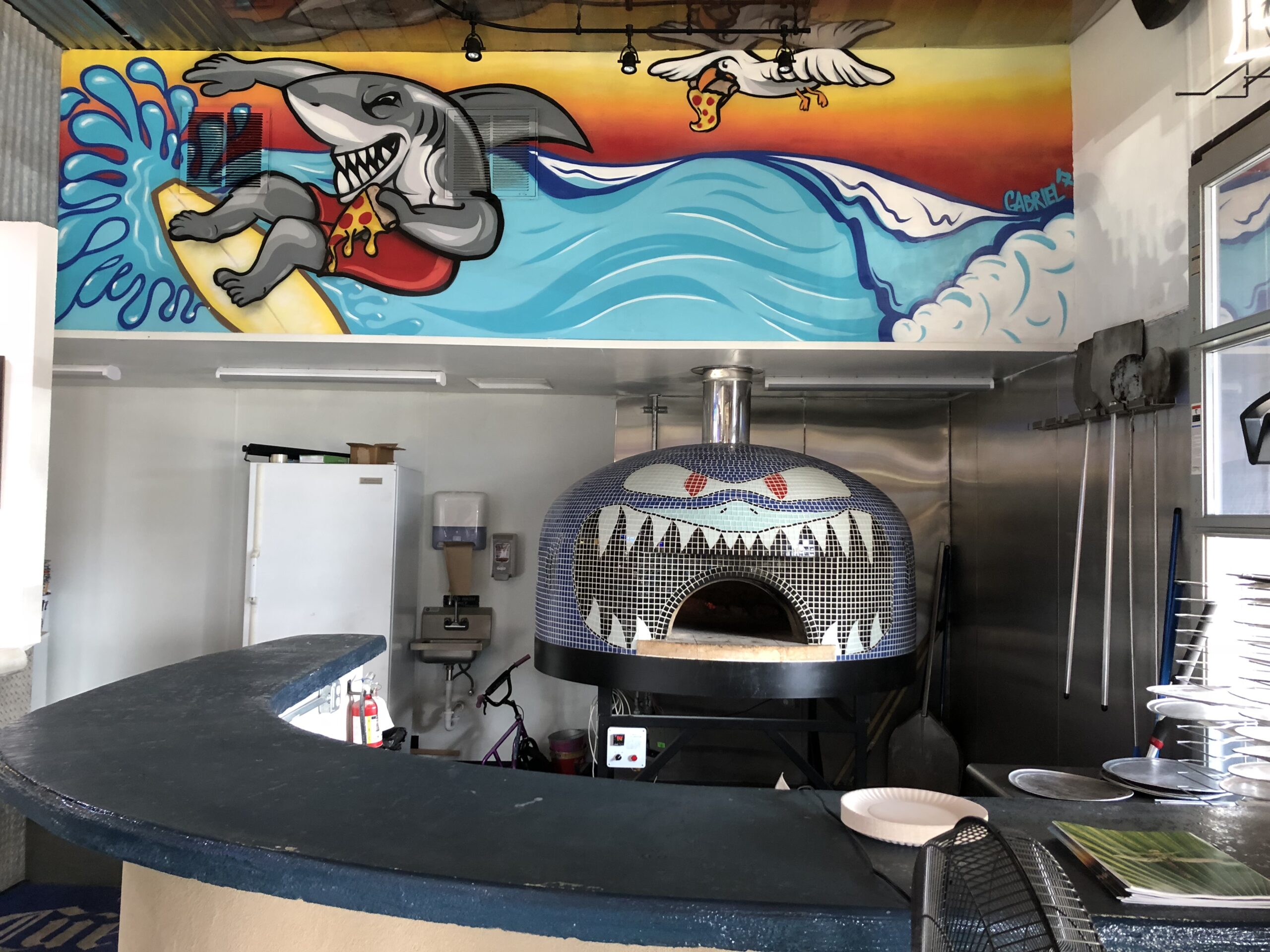 This shark-themed restaurant needed a pizza oven design to match and our artisans were up for the challenge. The result? The apex predator of pizza ovens! 
You can surely never get tired of shoveling delicious pizzas into the belly of this shark – it shows what can be done with artistic vision, planning, and ceramic tiles. 
The customers of this restaurant aren't going to forget that pizza oven in a hurry. 
10: Bulldog Pizza Oven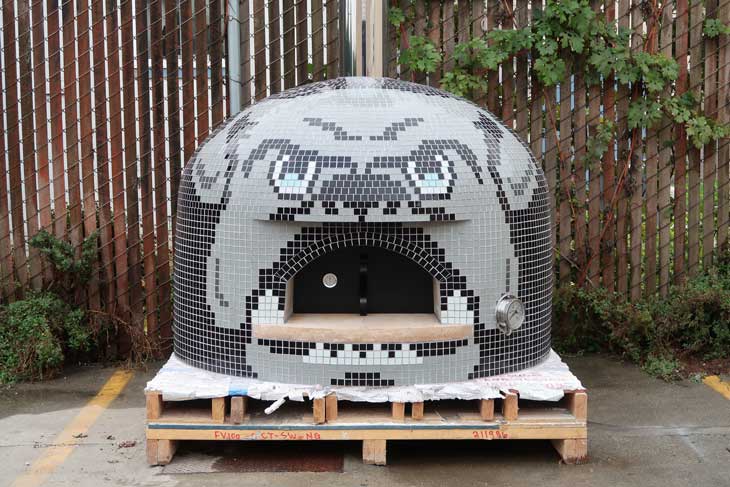 Another animal-inspired design – this time the pizza oven mouth is fashioned as the jaws of a bulldog. The shape of a bulldog's head fits the shape of the Vesuvio pizza oven really well – it's impossible to mistake it for anything else!
Our artisans love taking on these sorts of custom challenges – we'll work with you to draw up your ideas using our tiles so you can visualize what you're getting before we proceed with the design process. 
11: Mixed Red and Black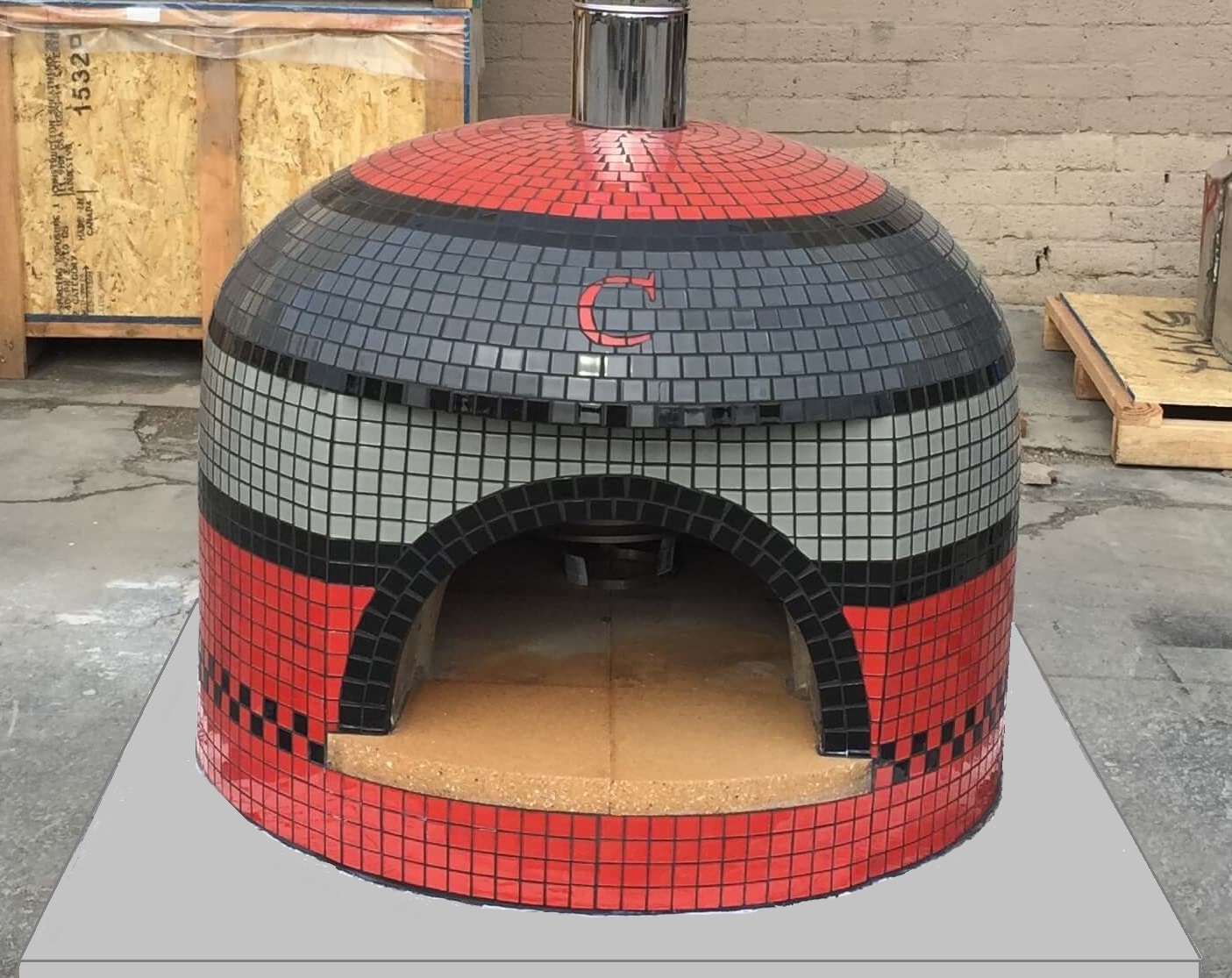 Mixing and matching colors is an excellent way to craft the perfect pizza oven for your very own outdoor kitchen. Red is a popular color for the Vesuvio pizza oven, which is perhaps unsurprising given that they're named after the volcano Mount Vesuvius.
This customer opted for a subtle yet impactful black, gray and red design with a subtle 'C' logo in the center. You can't fault how well these colors work together and it'll look even better once it's fired up and ready to cook. 
12: Black on Black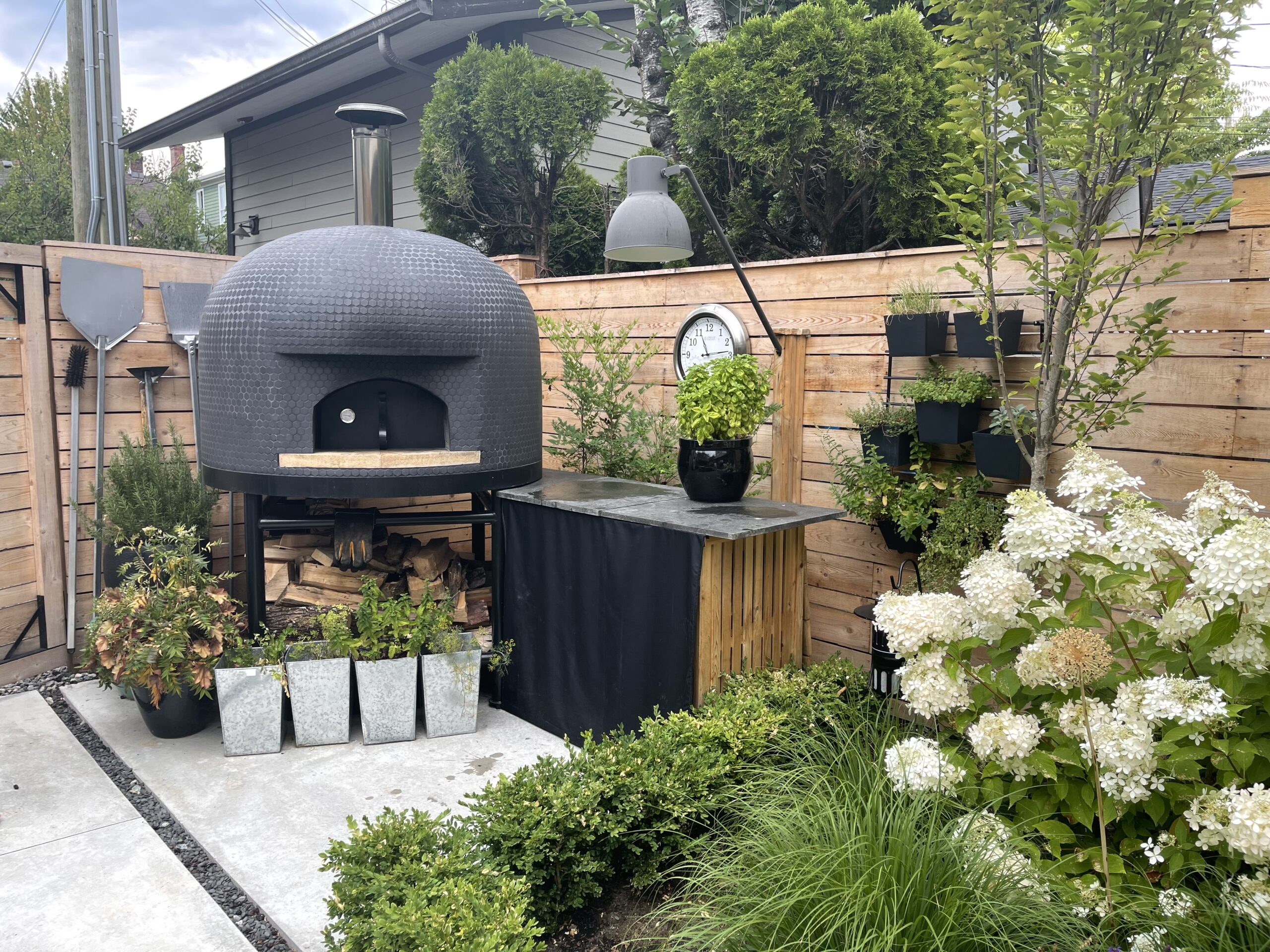 This black-on-black pizza oven looks superb and really suits this customer's gorgeous garden. 
Whilst you might at first consider solid colors to be understated or bland, this sophisticated black-on-black pizza oven tells a different story. It's smart, balanced, and modern and will slot nicely into most exterior spaces. 
13: Custom Watermelon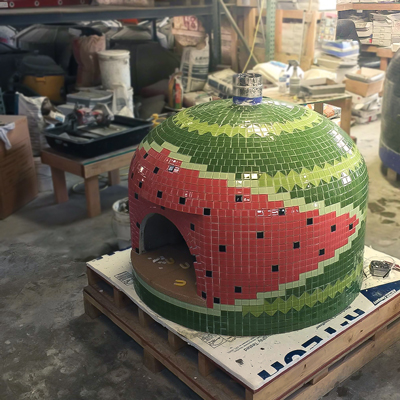 Another proud customer vision, this superb watermelon pizza oven is an outrageous creation that worked out so perfectly. 
Picture that on a fresh summer's day, or better, on a beach. Fresh oven, fresh pizza! 
The size and shape of the Vesuvio pizza oven provides the perfect canvas for all sorts of designs – this super-cool watermelon showcases what can be done with all that surface area. 
14: Broken Red Tiles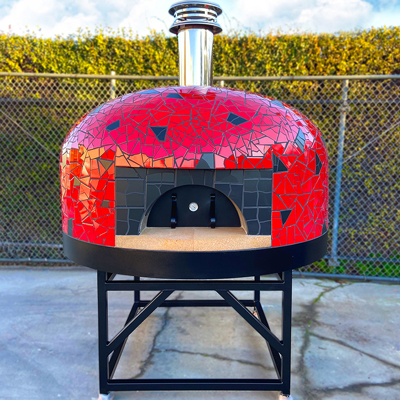 Beyond square, circular and hexagonal tiles you have broken tiles that come in many shapes and sizes. There's nothing wrong with breaking totally from convention with some crazy tiling like this. 
Once again, red is an excellent color for our Vesuvio pizza ovens – the hot red exterior reflects the fire and passion of wood-fired cooking! 
15: Gold and Black Art Design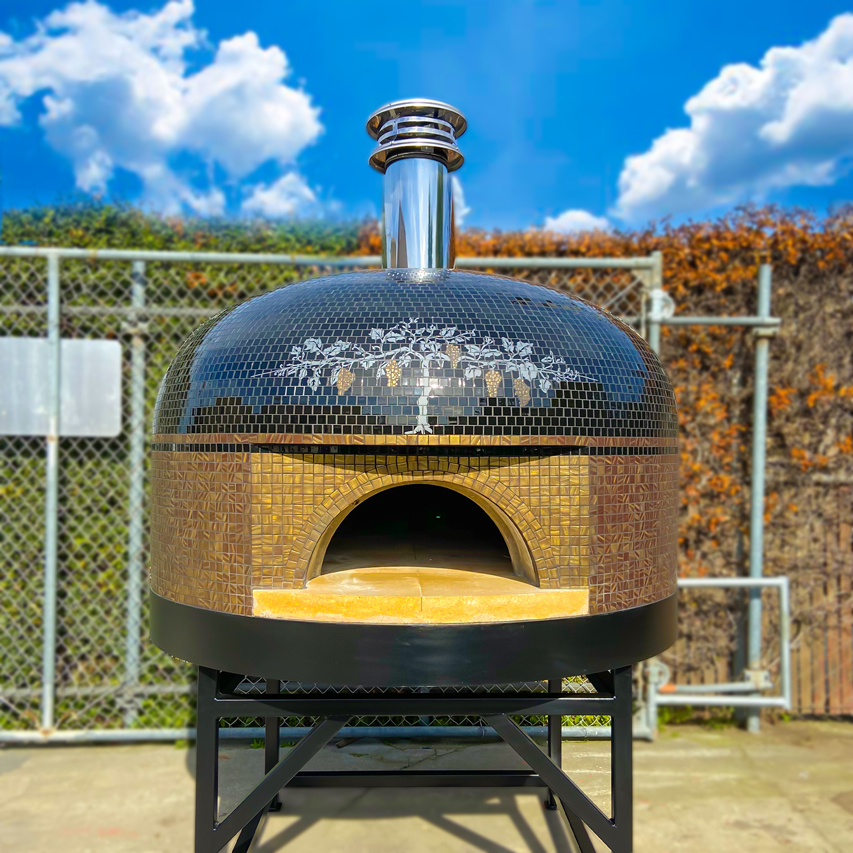 This is a real stunner with its reflective gold tile bottom, black tile top, and wonderful central etched vine logo. The bright gold tiles here are gorgeous and look exceptionally high-end. The vine tree logo adds a stamp of originality – an excellent example of a one-of-a-kind Vesuvio. 
This particular pizza oven was created for a vineyard that wanted to offer a pizza menu to their visitors. 
If you're looking to create a high-end design then it's tough to beat black and gold. You can easily picture this in an Ancient Roman royal villa or palace. 
16: Solid With Custom Logo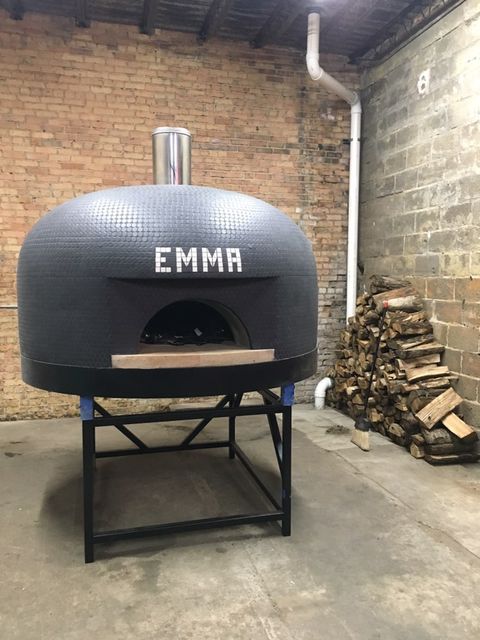 This solid black-on-black oven looks great, contrasting perfectly with the white Emma logo. Whether it's the oven itself or the owner that's called Emma, we don't know! There's certainly nothing wrong with naming your pizza oven, that's for sure!
Either way, this minimalist and modern solid color design shows that bright colors are not the only way to create your very own customized pizza oven. 
Customize Your Forno Bravo Pizza Oven
From modular residential pizza oven kits to fully assembled pizza ovens that are ready to go, Forno Bravo offers a huge range of customization options. 
Tiles are one of the most important aesthetic features of the pizza oven – we hope that we've illustrated how tiles can be used to personalize your pizza oven in modern, authentic, traditional or weird and wacky ways!
If you want to learn more about our pizza ovens and wood-fired cooking then head to the Forno Bravo community and blog, or to browse our world-class pizza ovens, head to the shop.