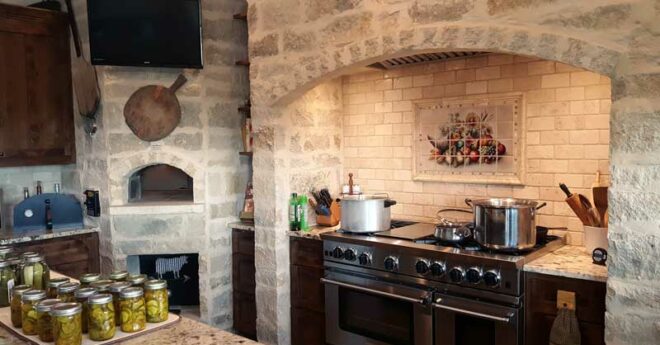 12 Indoor Pizza Oven Design Ideas
Apr 21, 2022
Posted by Forno Bravo
Indoor installations allow you to use your pizza oven all year round, come rain, shine, or snow.  
All of our larger model Modular Pizza Oven Kits and Fully-Assembled Pizza Ovens are ETL certified to UL standards, and can be installed both inside and outside, as wood-fired units. They are the perfect oven core for all sorts of design options.
In this article, we'll be showcasing 12 of our favorite indoor pizza oven design ideas to get your creativity flowing. 
Let's go! 
1: Rustic In-Wall Pizza Oven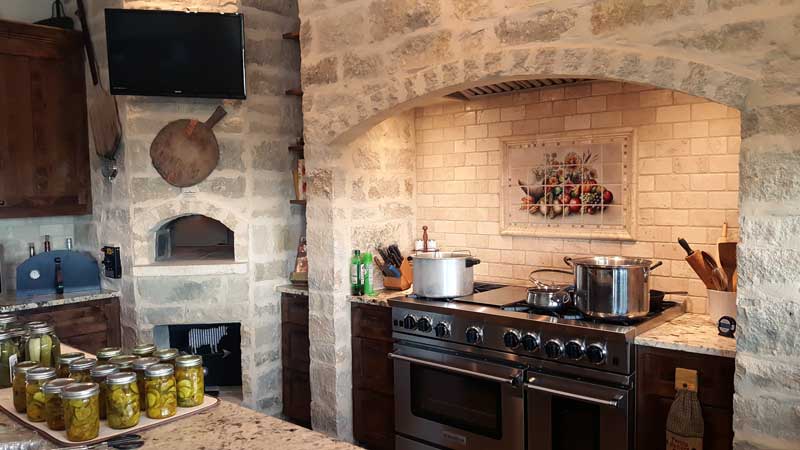 This gorgeous rustic kitchen looks awesome with our Forno Bravo tucked away snugly in the corner. Augmenting your kitchen space with a pizza oven unlocks a new level of cooking and this design shows how easily you can slip one into your existing space. 
The in-wall design also ensures that the oven doesn't disrupt the overall aesthetic of the room, but adds to it instead. This open rustic kitchen reminds us of rural Italia!
2: Modular Countertop Pizza Oven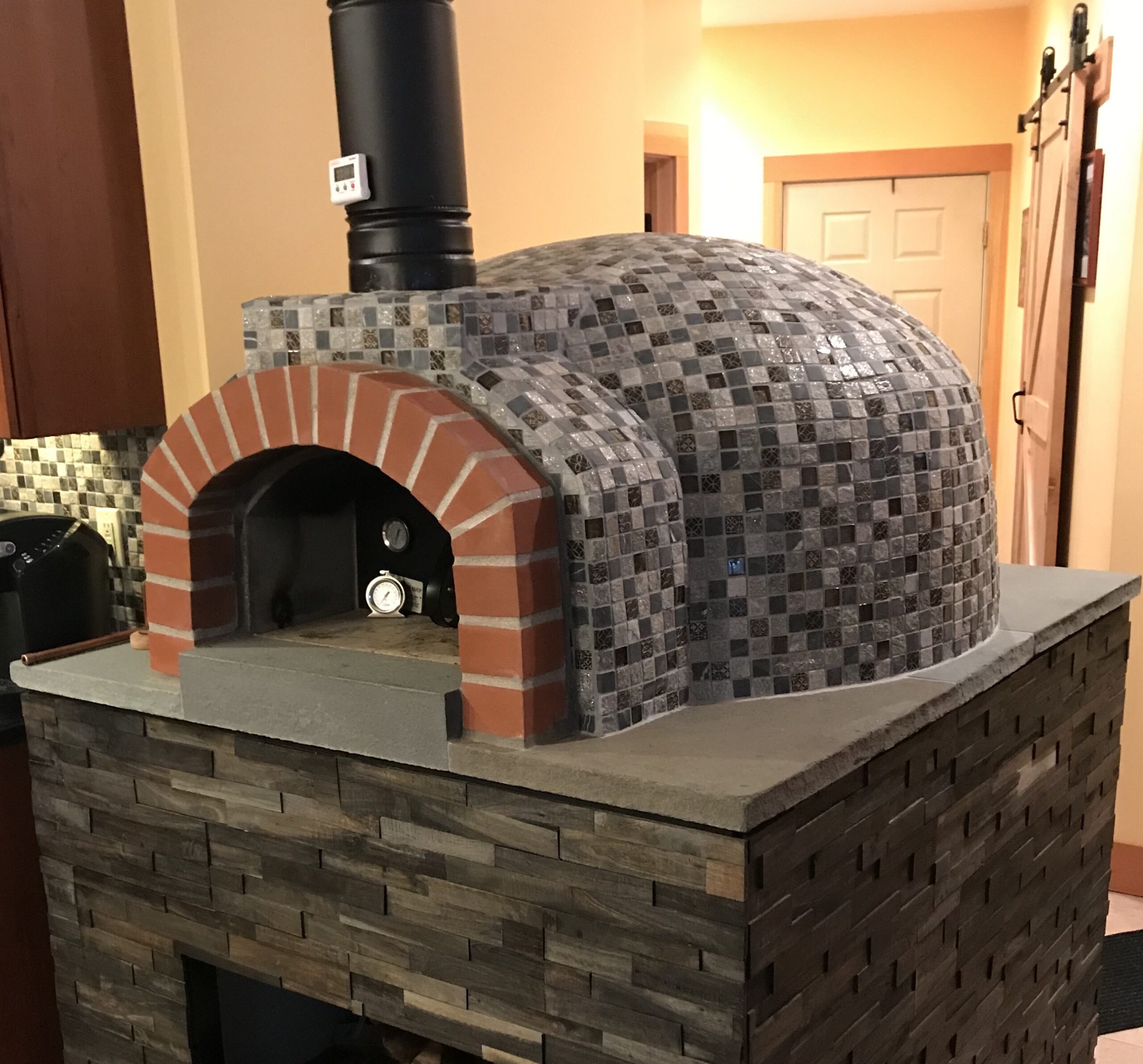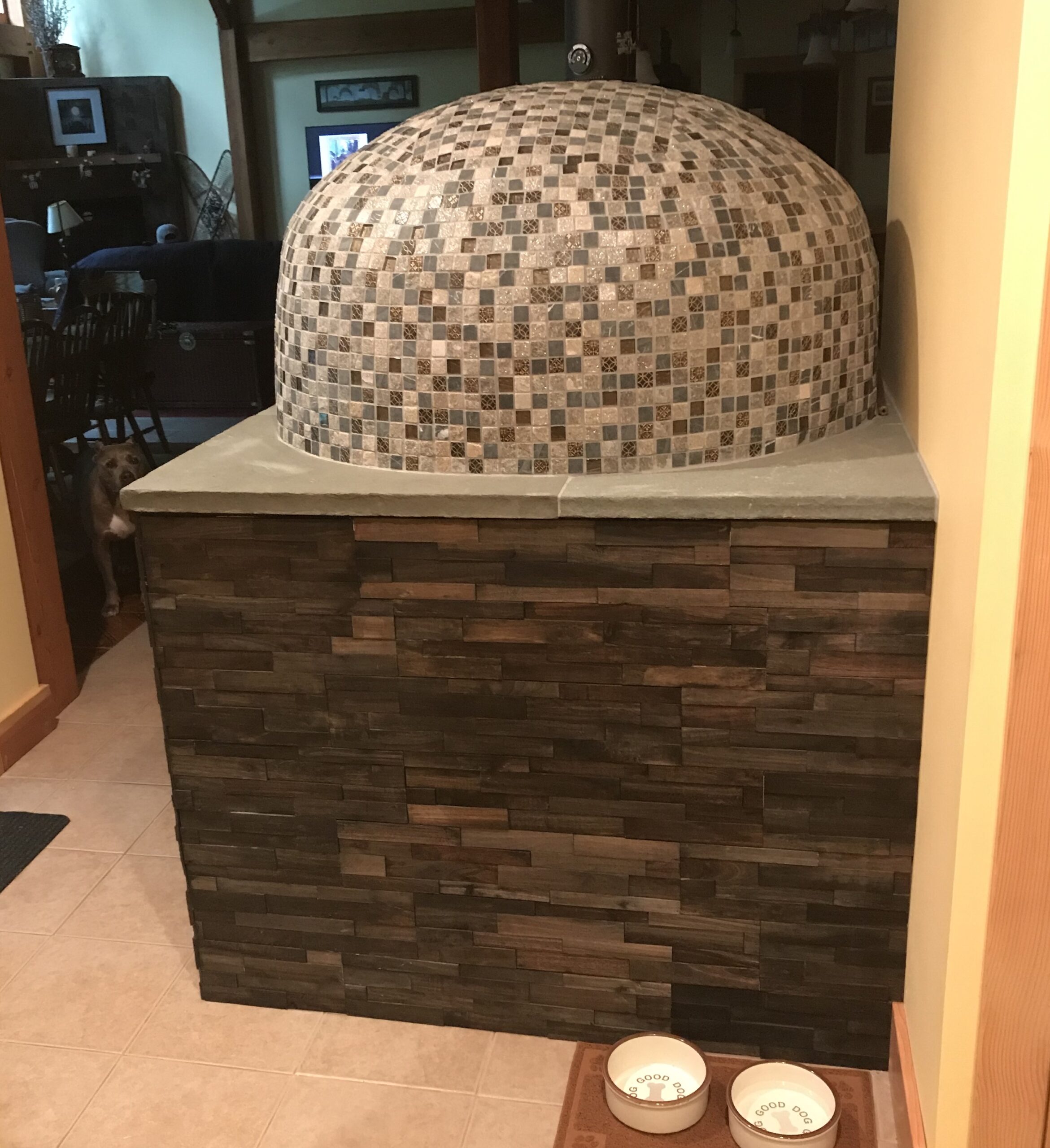 This CASA oven is fitted inside on a sturdy rustic base. This is a larger model that can easily handle a family's worth (or dinner party's worth) of pizza. It looks superb and blends in with the mosaic pizza edging design in the back left. 
3: Compact In-Wall Pizza Oven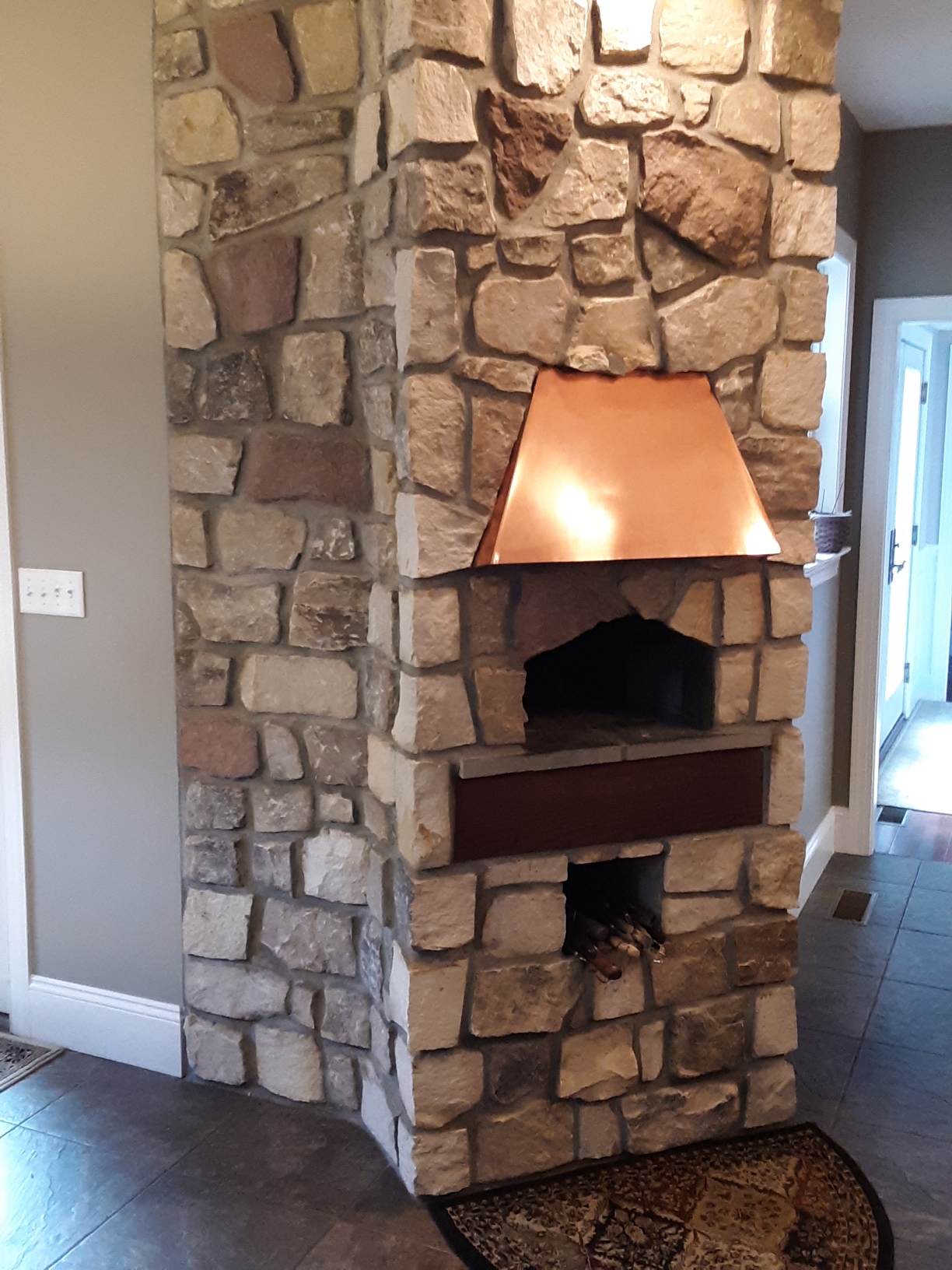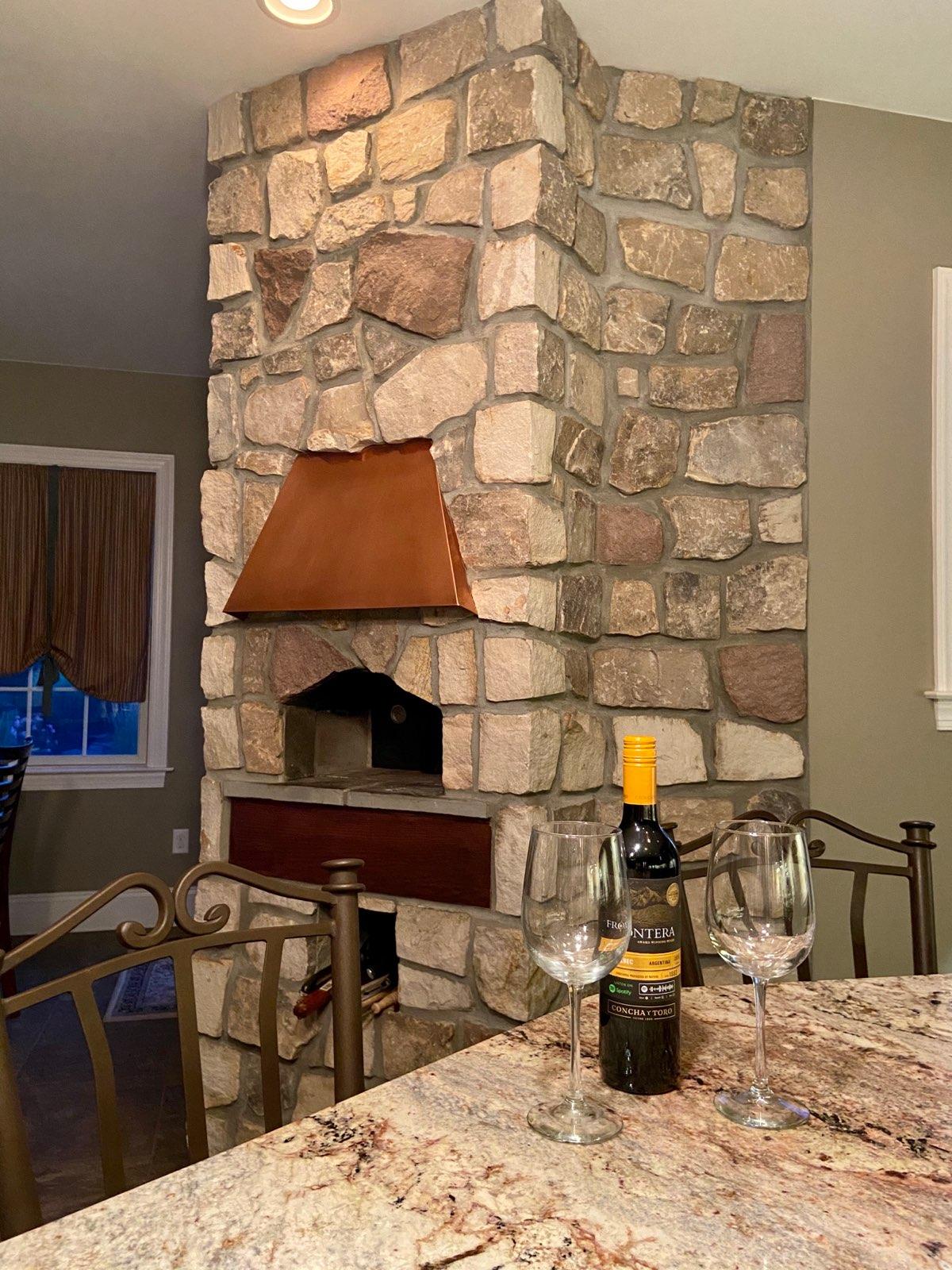 Many people dismiss the idea of a pizza oven because they feel they don't have enough space to accommodate one. This pizza oven design says differently – it's super-compact and fits snugly into this chimney wall. 
Adding wood-fired pizza ovens to your interior space is almost definitely easier than you think! The natural stone tiling tops it all off, and it's within arm's length of the dinner table for convenience!
4: Mosaic Interior Pizza Oven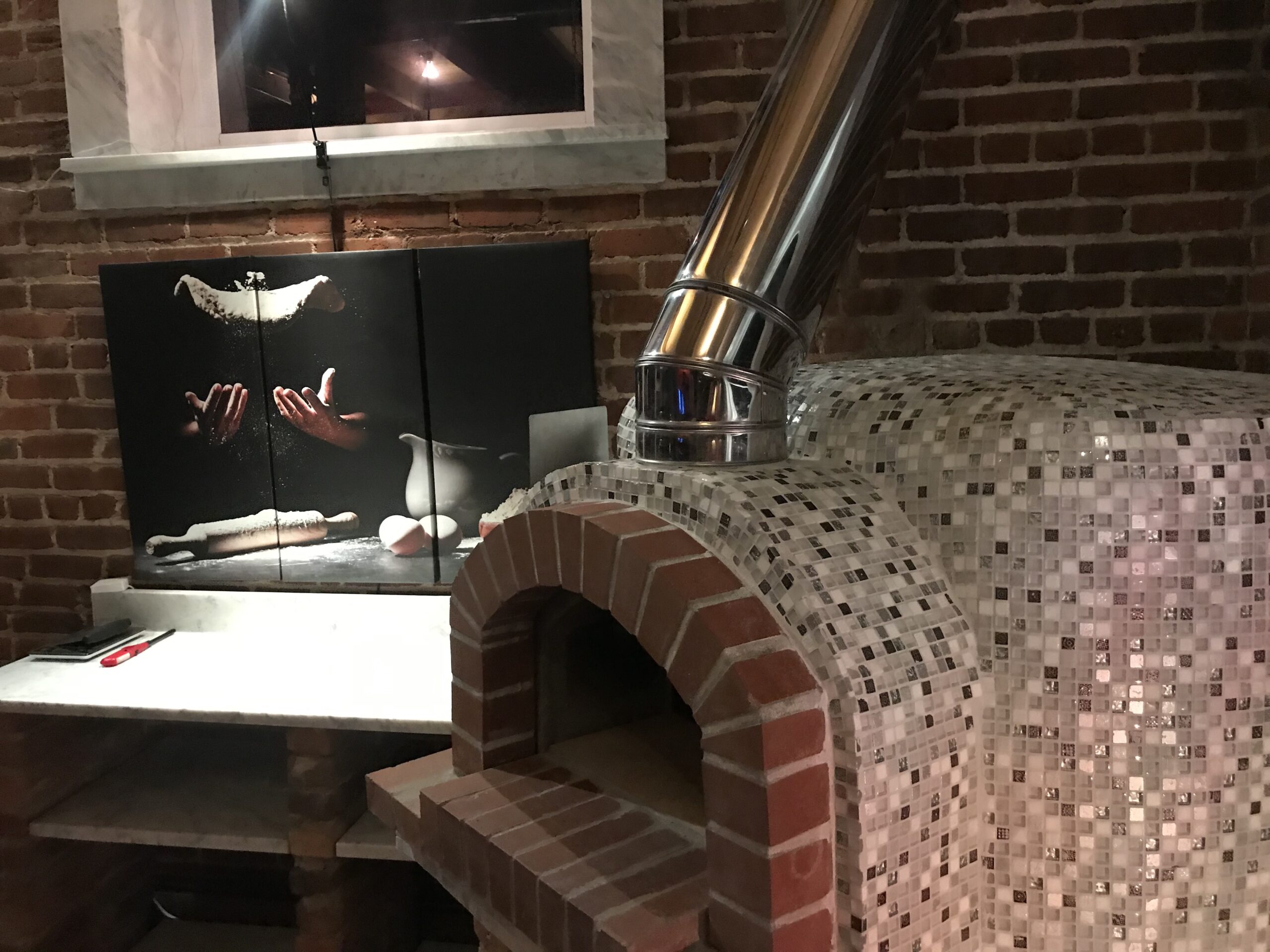 If you love the exposed mosaic exterior of a pizza oven then don't worry, you can still install a pizza oven like this rather than integrating it into a wall or chimney. 
This beautiful mosaic modular pizza oven still shows off its authentic exterior despite living inside the home rather than out. You can customize your oven with any number of tiles.
5: Interior Vesuvio  Pizza Oven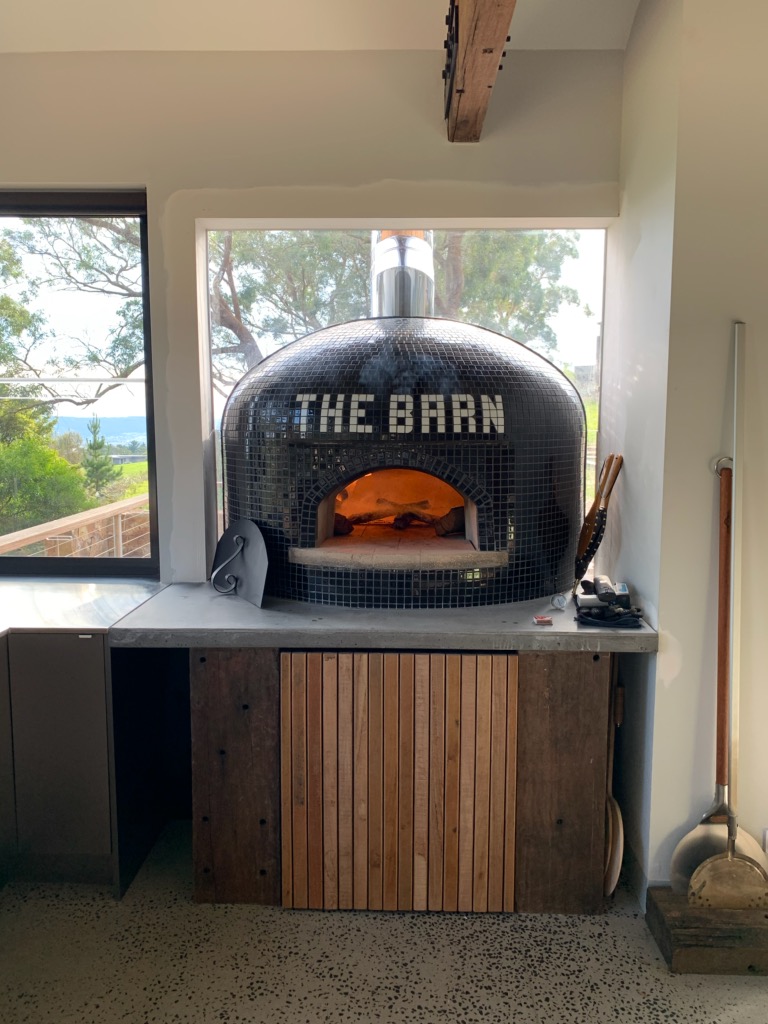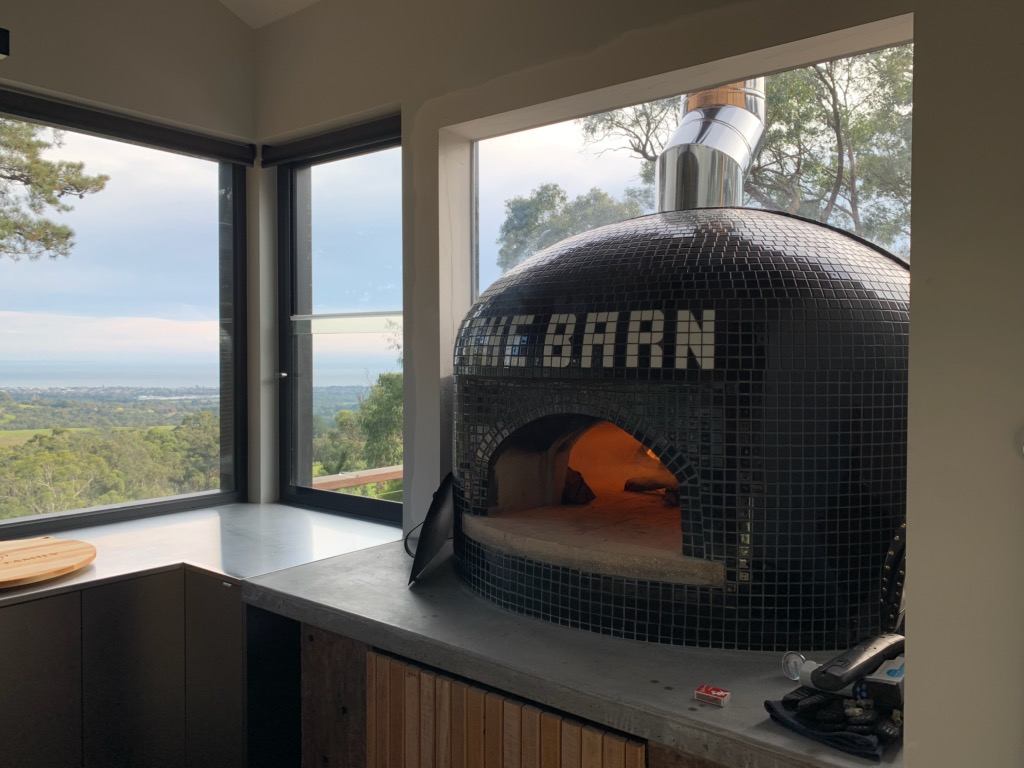 Our mighty Vesuvio pizza oven is a spectacular view in this kitchen. Virtually all of our pizza ovens can be installed inside, as this customer snap proves. Note the custom white lettering "The Barn" there too – all of our pizza ovens can be customized in some way. 
6: Rustic Kitchen Interior Installation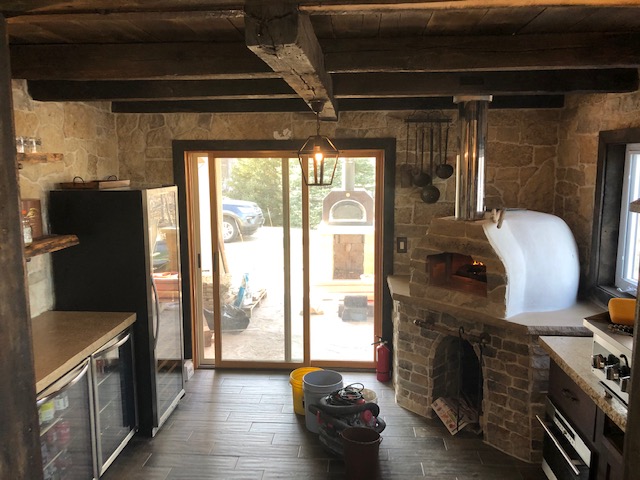 This fabulous rustic kitchen looks complete with its oven tucked away in the corner. We love the brickwork and exposed beams here too. 
The corner is an excellent place to install a pizza oven, saving space and making good use of otherwise-wasted countertop space. A superb-looking rustic kitchen!
7: Pineapple Oven Kitchen-Diner Installation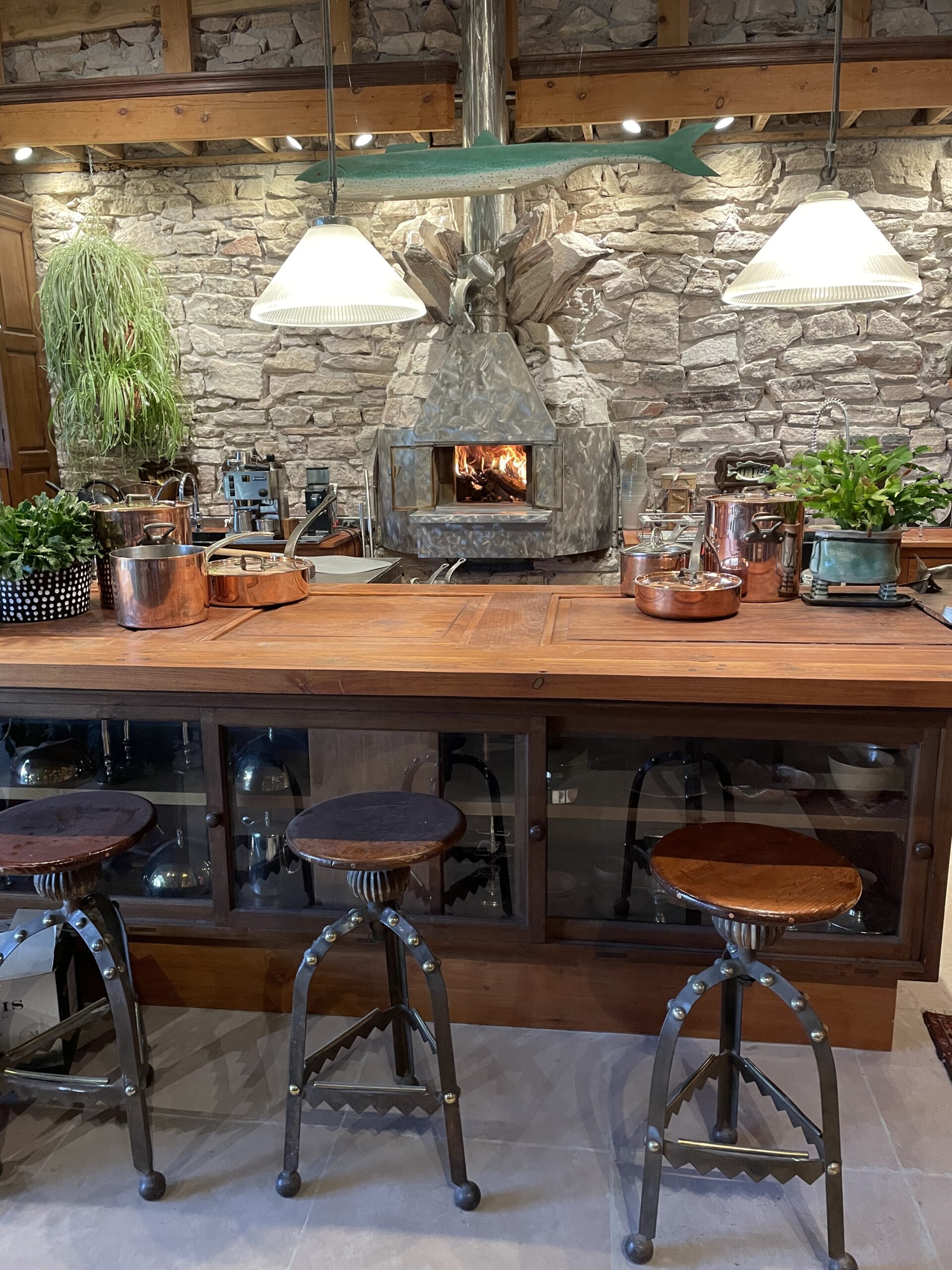 This modern-come-rustic kitchen really has the wow factor! The metal-fronted pizza oven makes an impactful centerpiece that blends in beautifully with the surrounding brickwork. We love the restaurant-style setup. No fully-featured indoor kitchen like this is complete without a pizza oven – it's so often the missing piece. 
8: Cozy In-Wall Installation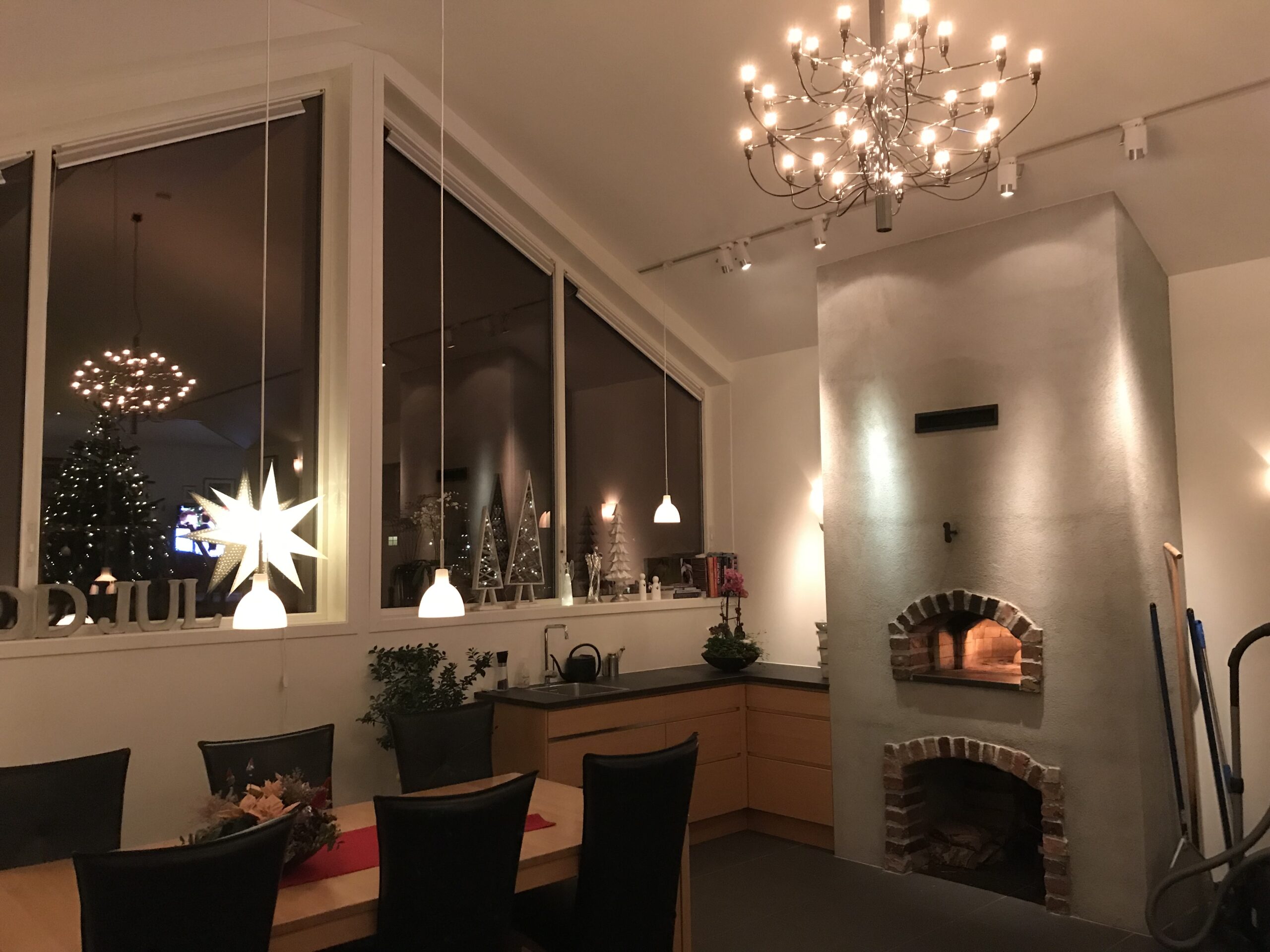 Something tells us it was Christmas when this photo was taken and who would say no to pizza for Christmas dinner?! This is another superb showcase of how our pizza ovens can slot right into any interior space, in this case, a dining room. 
Also, this pizza oven would kick out some heat too, which will help heat the room. Interior wood-fired cooking is great all year round and enables you to cook homemade pizza even when the weather is truly unforgiving!
9: Rustic Stone Flushed-Wall Design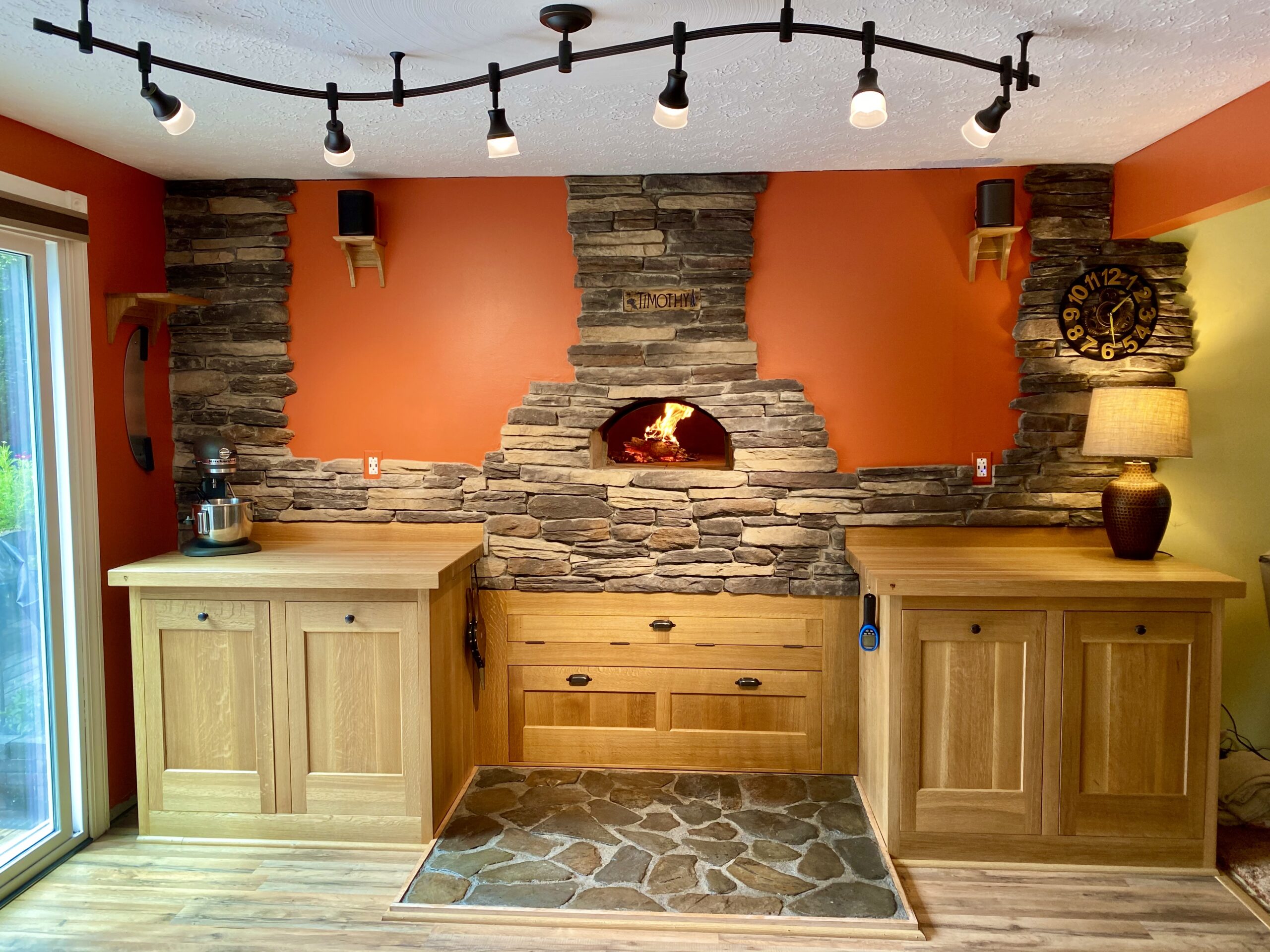 This is a gorgeous setup with slate slabs, wooden countertops and great lighting. The pizza oven here is almost totally seamless and flush with the wall, integrating into the space without taking up barely any room. The countertops here also looks nice and provide plenty of practical space to prepare wood-fired dishes. 
10: Indoor Patio Pizza Oven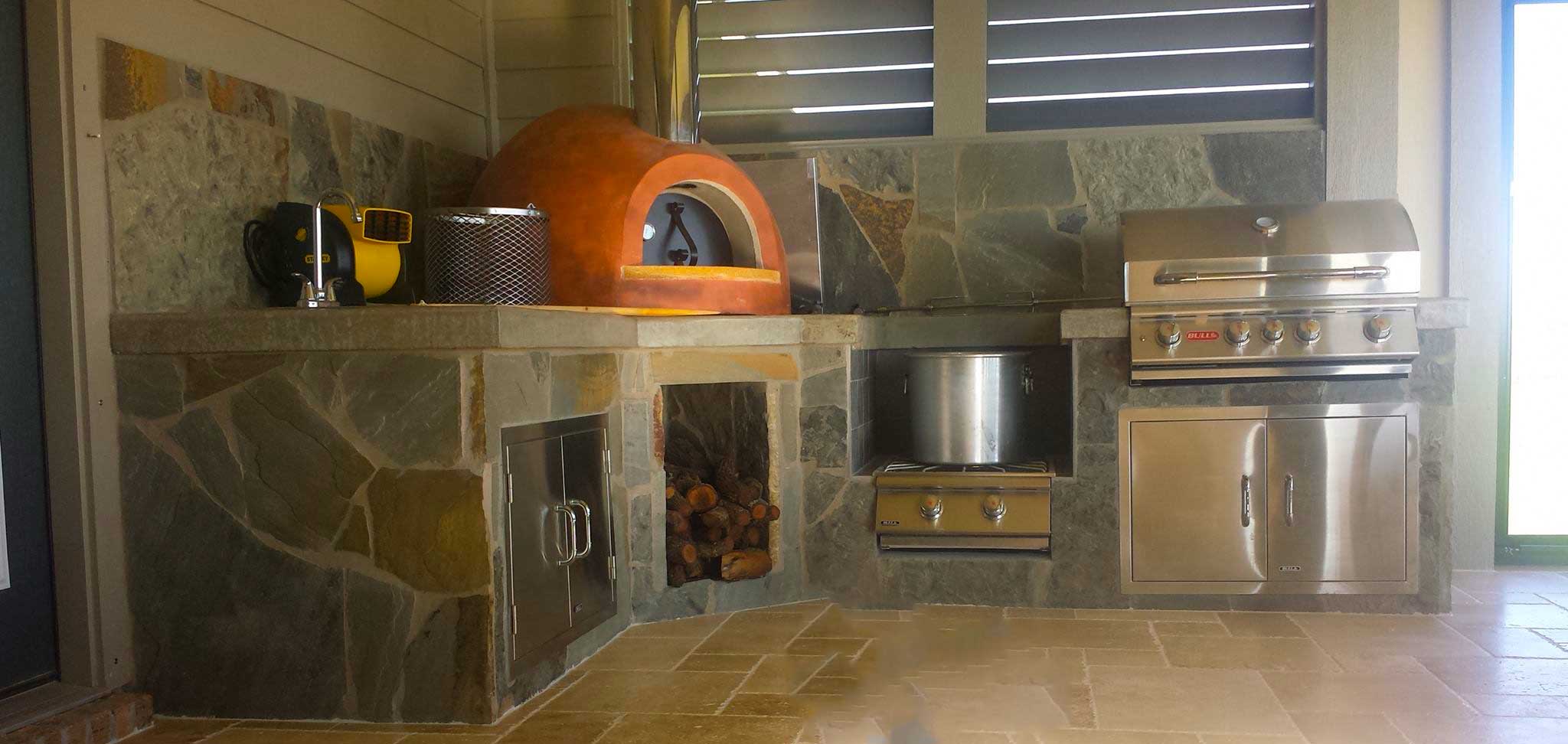 This semi-outdoor kitchen ticks all the boxes with some great-looking natural stone slabs and plenty of natural light. The modular pizza oven slots right into that corner space, like we see so often! 
Leaving the stucco exterior bare here works really well with the kitchen's overall aesthetic. An excellent example of how a pizza oven can add something exciting to any semi-outdoor, outdoor or indoor kitchen.
11: Compact In-Wall Natural Stone Design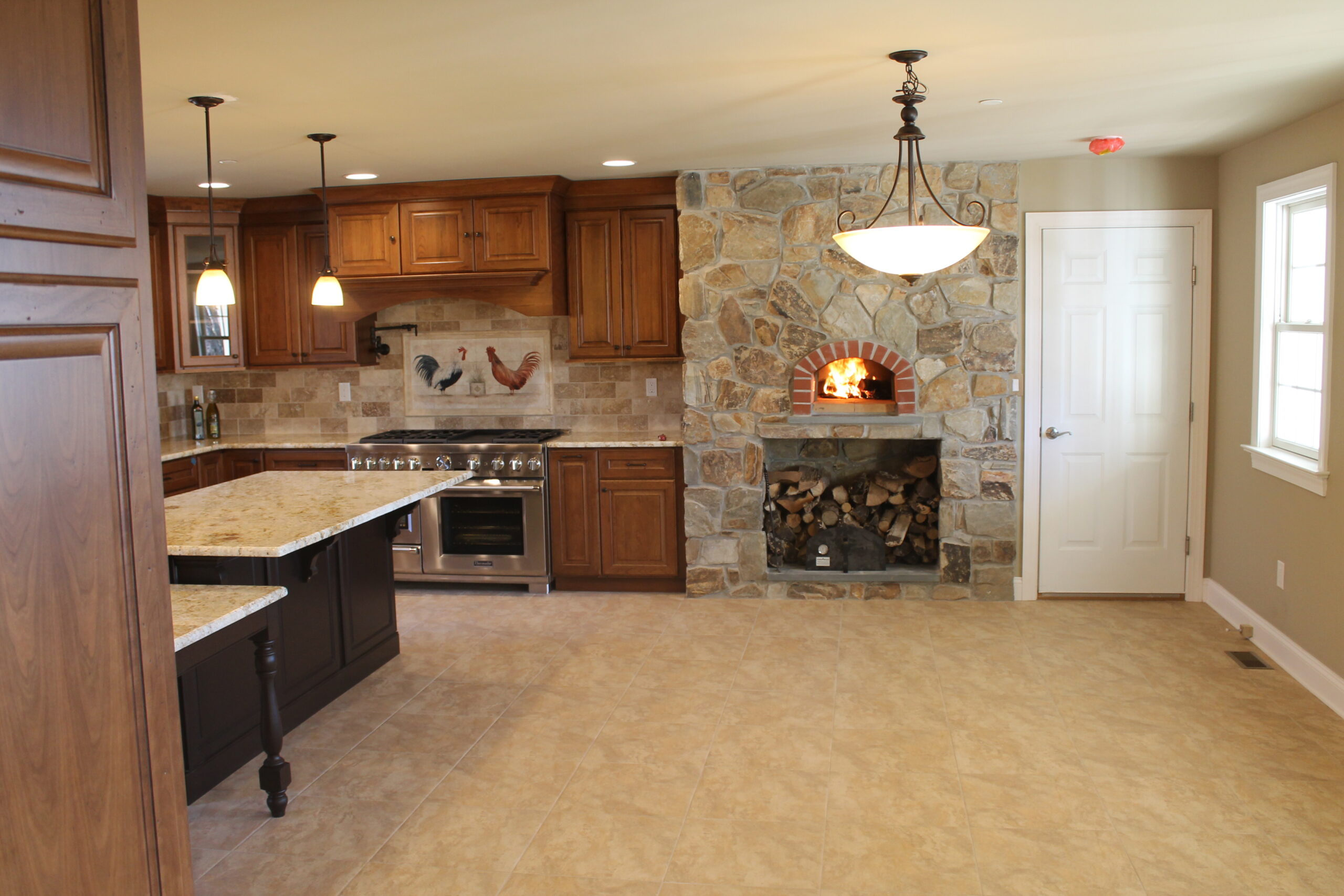 This oven takes this expansive home kitchen to a new level. The fireplace style saves space and seamlessly integrates the oven into space without taking up much room. 
It's also within arm's length of the rest of the kitchen, perfect for busy cooks that need rapid access between the pizza oven and conventional oven!
12: Chimney-Style Pizza Oven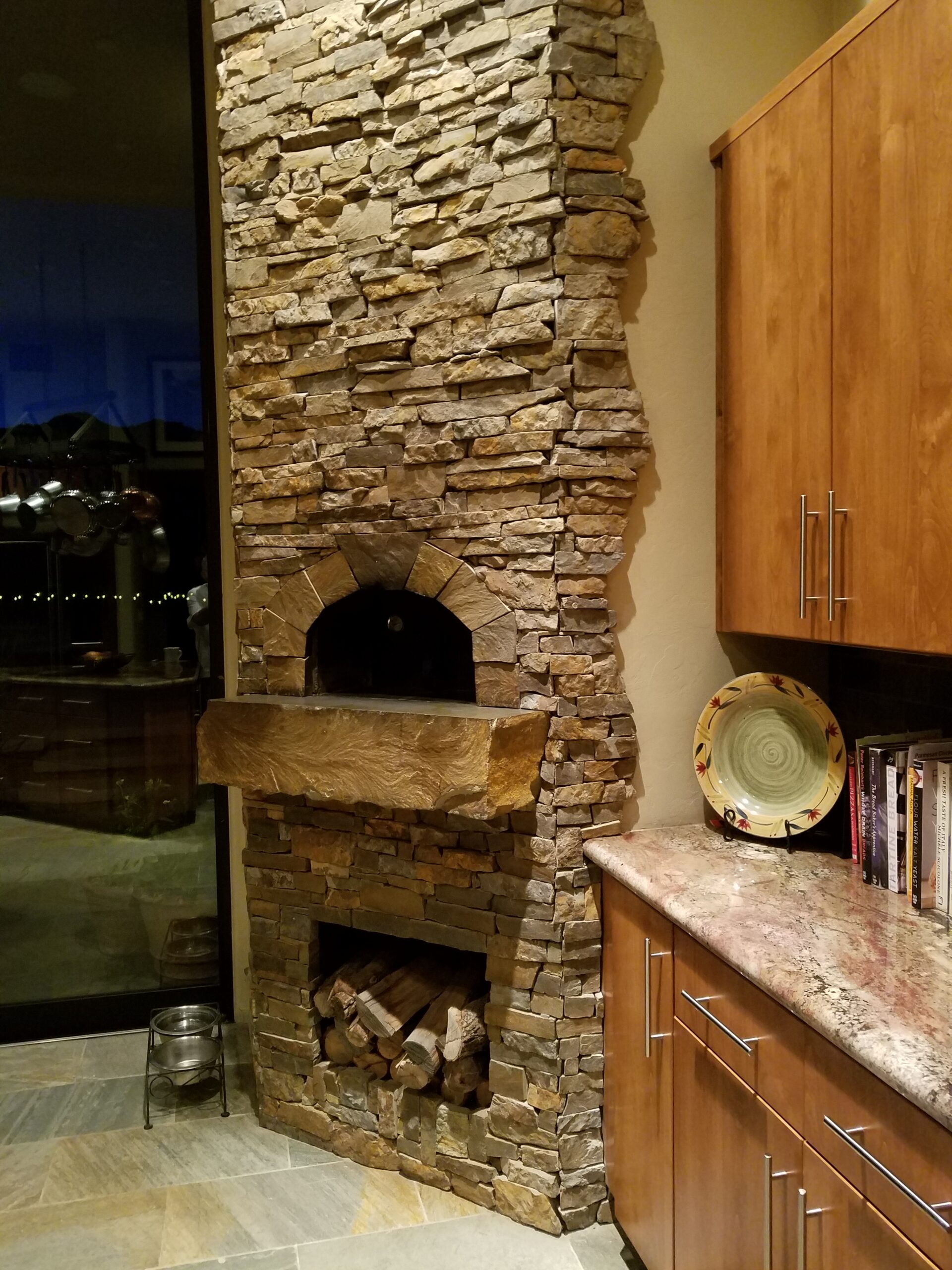 We love interior pizza ovens that slot right into the home. This gorgeous rustic chimney-style pizza oven is a discrete portal to wood-fired goodness! Again, this pizza oven highlights how easy it is to convert corner space into a fantastic pizza oven design.
Summary: 12 Indoor Pizza Oven Design Ideas For Your Home
And there we have it! 12 creative indoor pizza oven installation designs for your home. Forno Bravo ovens can live inside or outside, and our customers are always finding new and exciting ways to integrate them into their homes. 
Both our Modular Home Kits and Fully-Assembled Ovens (size 80 or above) can be installed inside, enabling you to enjoy the delights of wood-fired cooking all year round!