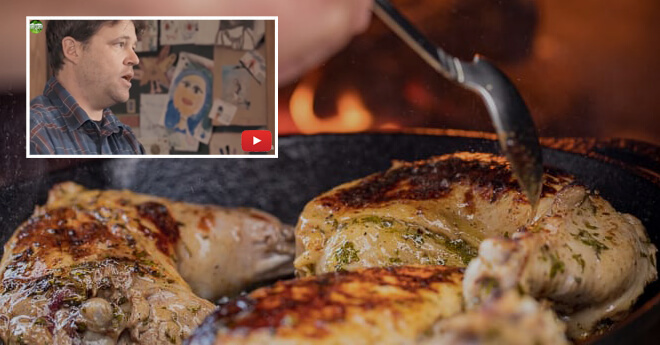 Wood Fired Thanksgiving Meal Recipe Collection from Foodterra
Nov 15, 2019
Posted by Forno Bravo
Eric Wilson is a private chef based in Jackson Hole, Wyoming. He specializes in "free-style cookery" focusing on fresh, local ingredients. After years of honing his craft in restaurants, he now prepares meals for clients all over the world. His enthusiasm and spontaneity continues to delight guests of all kinds!
In 2018, Forno Bravo invited Chef Eric to develop and film making a Thanksgiving Meal using his Bella wood fired oven. The results turned out beautifully — with simple to follow directions yielding mouth-wateringly-delicious results! To do the whole meal, you'll actually start your prep about 3 days ahead of time, but with a little work each day, you will be completely ready for a relaxing Thanksgiving dinner on the big day.
So settle in and try one dish, or better yet, make the whole meal and get ready to host the best Thanksgiving Dinner ever for your family and friends. They will be talking about it for years to come!
Following is a preview of each of the elements. Click on any heading to hop over to the recipe and video for each one.
(A special shout out and thank you to the extraordinary skills of the team at Foodterra! Recipes and hosting by Chef Eric Wilson. Videography and photography by Arden Oksanen.)
Enjoy this recipe for a smoky, sweet, and spicy sauce as a delectable accent for the table.
Make use of time and a combination of techniques to create a stress-free, perfectly moist bird as the centerpiece of your meal. Between quartering, brining, herb and butter marinade, sous vide cooking, and wood-fired browning (oh my!), this bird will rock your world! (…Yep, it is a lot of steps, but none of them are hard, and time does most of the work for you.)
A make-ahead gravy using rich, homemade turkey stock and savory aromatics, developed over time for deep, smoky flavors. Come Thanksgiving day, this gravy just needs is a quick heat up and you can use it to tie everything together.
A rustic side stuffing full of moisture and the flavors of pancetta, fruit, herbs, wild rice, stock, and sourdough bread; toasted and served in a cast iron pan.
A yam dish that's velvety smooth and elevated with rich, nutty brown butter and buttermilk. After trying this, you will never go back to plain Russet potatoes again!
A healthy, make-ahead dish that comes together in a snap in your wood fired oven. Great for Thanksgiving or just about any other occasion!
A thin, Italian baked tart with a flaky, pastry-dough crust enfolding a caramelized pumpkin filling. This is the wood-fired answer to a classic pumpkin pie.