Upcoming Wood Fired Cooking Classes from Turkey Trot Acres
Aug 27, 2020
Posted by Forno Bravo
Over the years, Pete and Sherry Clare, proprietors of Turkey Trot Acres in Candor, NY have found that many people like to build their confidence with a "try before you buy" class before jumping into owning their own oven. As Forno Bravo dealers and experienced wood-fired cooking instructors, they began offering an introductory, hands-on, wood-fired cooking class to meet this need. Their next 2 classes will be held on September 12th and September 26th, 2020 from 11 am – 2 pm. They intentionally keep the class sizes small (8-10 people max) to provide for individual attention and appropriate social distancing.
The Lodge and the Ovens
Turkey Trot Acres is a lodge, restaurant, gathering space, and event center located in the picturesque hills of southwest New York, near Binghamton. They operate year-round, serving hunters, wedding parties, family reunions, corporate events, and individuals.
They currently have two Forno Bravo refractory ovens on the property – a professional Roma oven, affectionately named "Camella," after their grandmother, and their newer Primavera70, named "Margie."
The Class
Working with the ovens is a great way to get started on your wood fired journey, and Pete and Sherry know how to take the mystery out of making Neapolitan pizza. The class covers the basics, such as starting and tending your fire, then moves on to making pizza, and discussing other kinds of dishes to cook in the oven as well. Participants will enjoy eating 2 kinds of pizza that they will help create, plus an appetizer and dessert, along with a glass of wine or beer from a local establishment. The cost is $75 per person or $125 per couple.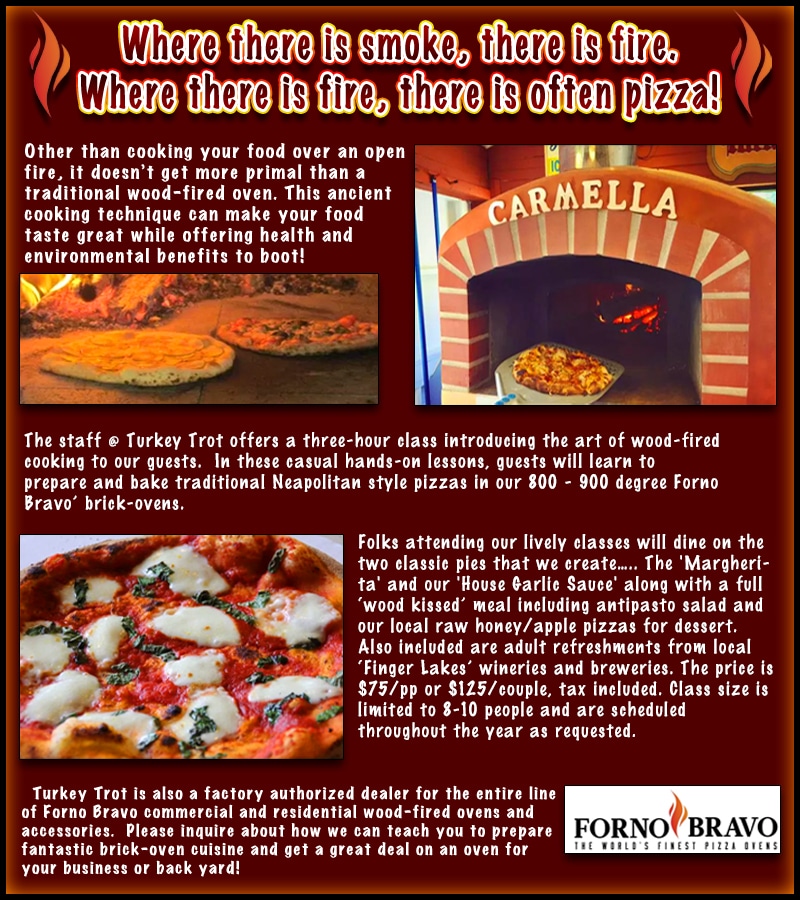 CLICK HERE to learn more about Apizza School at Turkey Trot Acres
Register now by calling (607) 659-7849 or emailing the lodge at turkeytrot@frontiernet.net
SPACE IS LIMITED