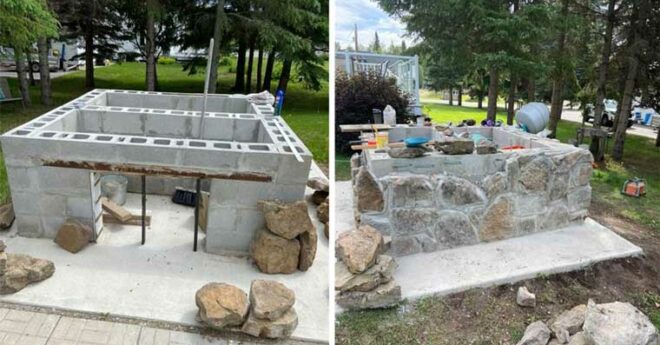 Tips for Building Unique Bases and Countertops for Pizza Ovens
Jun 28, 2023
Posted by Forno Bravo
Brick and refractory pizza ovens are hefty creations. It is critical to have a strong foundation and base or countertop in your installation, but these critical support systems can also be functional and beautiful too.  In this blog, we are going to showcase several unique styles of bases to inspire your pizza oven build or outdoor kitchen upgrade.
A few key things to remember before we dive into our samples–
Always use a well-compacted, level foundation. It should be reinforced with rebar and wire mesh, and be at least 5 1/2 inches thick to support the weight of the oven without cracking.
When building upon the foundation, use proper materials and supports. A steel Cucina stand or cinder blocks with rebar are two good options for basic bases. Both can be finished with a variety of non-combustible materials for an integrated look.
For the countertop itself, be sure to use strong, level support brackets, and either a natural stone or granite counter, stainless steel, or reinforced concrete. Don't forget to seal your surface!
Now, let's start looking at some bases and counter designs!
Compact Cucina Stand with Stone Finish for a Casa90
Chelsea V. chose a reinforced patio and a steel Cucina stand frame with a concrete top as the base for her oven. She then had both the oven and base finished in a natural stone finish for a compact footprint with a stately, stand-alone look.
Corner Counter Design for an Indoor Casa90 Gas Oven
Rosemarie I. of Arizona has an enclosed deck that they are using for their pizza oven's home. It was engineered with a custom pedestal for extra support. (The deck is 6′ off the ground so needed some serious reinforcing!) Note: Pizza ovens can be installed in many ways, but if you are elevating one, be sure to get an architect or structural engineer's sign-off on the plans for safety.
Circular Steel Wrapped Base for a Vesuvio100
John K. from California chose a sleek, brushed steel-wrapped base for his custom Vesuvio. The rounded lines of the base mirror the oven's circular form for a beautiful, and elegant touch.
Spacious Marble Countertops Make Prep and Serving a Breeze
Estee A. from Las Vegas loves to entertain large groups, so she opted for long counters to make pizza prep and serving simple. The stainless steel drawers and storage keeps supplies handy, and the built-in wood storage is very helpful to keep the fire in the Vesuvio80 at maximum levels.
Minimalist Look with a Whitewashed Brick Facade
Brick should not be used as a support material for a pizza oven counter, but it makes a fabulous facade and finish material, either painted or in its natural hues. Again the blending of tones of the steel, slate counter, and white/grey painted brick makes a nice neutral palette that will help guests focus on the food, and helps the oven become an extension of the home.
Alex N from Colorado writes, "Our mason matched the paint and style of our home (built in the 1920's). The Casa90 oven is the centerpiece of our outdoor kitchen and makes beautiful pizzas."