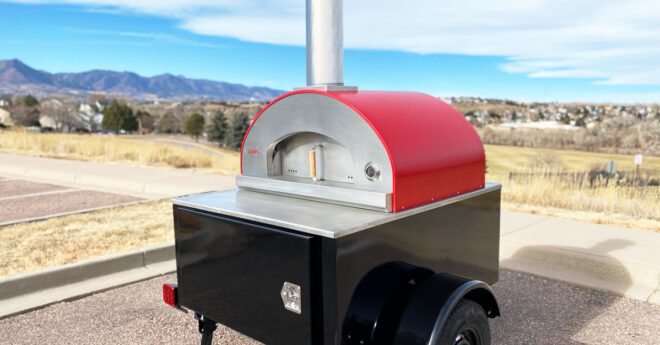 The Serata Trailer Makes Pizza-On-The-Go Easy
Aug 31, 2022
Posted by Forno Bravo
Pizza-on-the-go isn't just for the pros anymore, it is accessible to anyone. Tailgating, backyard catering, or after-practice feasts are now fun and easy with the Serata Trailer from Forno Bravo's sister company, Fireside Trailer, LLC.
Weighing in at just 950 lbs dry weight/2200 lbs GAWR (fully loaded tow package) and featuring the fast-heating steel Bella 40 wood fired pizza oven, this lightweight oven and trailer can be towed with just about any vehicle, to any place you would like! Let's explore some of the many uses and features below.
Tailgating – Pre-Game Shennanigans
With football season just ramping up, forget just BBQ and hotdogs, you can now take tailgating to a whole new level. The Serata Trailer comes with a wood fired, steel oven with a real fire brick floor.
Fast
Well insulated, it heats up lightning fast with just a few pieces of wood. You'll be cooking your first pizza in just 20-30 minutes, and at 700°F,  those pies go from fresh dough to ready to serve in 2-3 minutes! It is a good thing the Serata can handle the volume (capable of turning out 50 – 70 10″ pizzas per hour,) because as soon as your friends tell their friends, your tailgate spot will be the most popular one on the row!
Flexible
Tow it behind an RV, pickup, or just a regular car, it's compact and lightweight, so it's easy to back up with your vehicle or put it into place by hand after unhooking it.
Plus, the built-in, lockable, weather-resistant, 39.3 CF storage compartment makes clean up a snap, so you can get into the game in plenty of time. Just stow your supplies and go!
Post-Game or Post-Practice Feasts
Kids play hard and so many games happen right around the weeknight dinner hour or weekend lunch times. The Serata Trailer turns a meal-time necessity into a special bonus for the kids' hard work. Forget melt-downs! Now, you will be the most popular parent on the team.
Safe
The Serata is built for the road and safety is always integral to the design. It includes a sturdy, easy-to-use, A-frame coupler with a secure hitch for a 2" ball, trailer-rated 13" tires, and side reflectors and rear lights. The drop-down rear legs (and onboard front jack) make it rock steady and easy to adjust for level cooking. The flue has a quick, twist lock removal system, and the oven door latches into place for travel.
Easy to Tow and Park
It also features extremely easy handling. The single axle design with beautifully balanced loading makes maneuvering and parking this trailer in tight parking lots and spaces simple. The cross-bar tongue construction is directly welded to the frame for added stiffness and responsive handling.
And it is pretty too. The oven is available in red or black, and both the oven and trailer can be custom 3-M wrapped to personalize it to your family or your team!
Make memories with your kids and their friends, where ever their sports and activities take them!
Backyard Parties and Catering
The Serata Trailer was named after the Italian word for evening dinner parties. Friendly gatherings are in its very DNA. Park it in the driveway, or bring it into the backyard itself. Its lightweight, but full-featured design makes placement a snap, and cooking capacity a breeze. Who knows? You may have so much fun cooking for your family events, that you decide to make catering a full or part-time job cooking for other people too!
Creative Cooking & Community Building
A hot trend in catering (and home parties) right now is pizza buffets. You set out the ingredients, your guests assemble their own pie with their favorite topping combinations, and then you bake it up, quick as a whistle, in the wood fired oven. It's interactive and fun; entertainment and food at the same time. You can do the same thing with individual baked mac and cheese dishes too.
Professional Quality
The Serata Trailer brings the party to any place you want to hold it. Private homes, weddings, farms, parks, birthday parties, and more. All you need is a vehicle that can tow 2000 lbs and has a 2″ ball hitch. It handles so well that you will barely know it is behind you. And with thousands of the Forno Bravo Bella Pizza Oven sold, the baking performance and durability of the oven is well-tested, and is family and chef-approved.
Where will your imagination take you?
Learn More
Visit our sister company, Fireside Trailer, LLC.  to learn more about this sweet oven and trailer combo and all of its specifications and dimensions.
The Serata starts in the $13,000 range (varies by model and options.) CLICK HERE for a custom quote, or more information and lead times. The team at Fireside Trailer would love to assist you in making a Serata Wood Fired Pizza Oven Trailer part of your life and happy memories!
Made in the USA for quality you can count on.