The Road Less Travelled
Mar 29, 2012
Posted by Forno Bravo
We recently returned from a nice two week trip to Italy, where we were able to catch up with friends, eat really well and basically act like tourists. If you haven't followed Forno Bravo that closely, you might not know that we lived in Florence for three years, and in fact, started the company while living there. It was great to be back, and we were quickly reminded of everything that we loved about Italy—without the day-to-day hassles of paying bills, getting the kids to school, and running a household. The best of both worlds, particularly given how challenging some aspects of Italian life can be.
One thing we have been looking forward to was re-visiting some of our favorite neighborhood restaurants, along with one or two of the most well-known spots. One of the aspects of Italy (and Mediterranean Europe in general) that I really like is the wide range of restaurants accessible to families and children. You aren't limited to chains (in fact there really aren't any chains) or restaurants with colorful vinyl booths, chicken nuggets, and fries.
We had a really interesting experience many years ago when were eating in a local family owned restaurant on a Friday night, and were a little surprised to see six teenagers take the table next to us. My first reaction was "oh no, they might be difficult", but 90 minutes later, after we had all had a great dining experience, the kids paid their bill and left a few minutes before we did. Their restaurant skills were impeccable. Over the course of a few years, I finally figured out that many Italian families spend a lot of time in restaurants, and kids get accustomed to enjoying restaurants at a really young age. Or in the case in one of our dinners on this trip, from about two months old. So the kids are really good at it.
On our list were Casale di Ricci (Cinque Vie, 10 minutes south of Florence), La Piazzetta (on Viale Europa in Florence, south of the river), and Pizzeria Rocco (in Gavinana, south of the river on the east side of Florence). They probably don't show up in guide books or social networking sites, but the food is very good—though it really isn't great. Plus, you get to see things like the family grandmother looking after the grandchildren, and teenage family members learning to serve tables. I also enjoy eating in neighborhood restaurants where, if we are really lucky, we are one of the few, if not the only, non-Italians in the restaurant.
I am happy to say that all three restaurants were still there and still flourishing, and we had a great time each evening.
We also had Il Pizzaiuolo in Florence on our list, along with wanting to enjoy a really nice coffee at Caffe Cibreo — almost next to each other near Mercato di Sant'Ambrogio. Il Pizzaiuolo makes a good Pizza Napoletana and they use great ingredients shipped up from Naples, including Antico Molino Caputo flour. They have a hot wood-fired oven and they use a muscular 280-gram double ball and (if I remember correctly though I am not 100% certain on this one) they ferment their dough overnight. We have eaten there a handful of times.
On a Thursday in March we set off, parking in the nice new Beccaria parking lot on the east side of town and walking toward the restaurant and Caffe. The mid-morning cappuccino at Caffe Cibreo was excellent, and our daughter had a wonderful hot chocolate. I am lucky enough to have had coffee-making lessons from a world-class barista a number of years ago, and he and I had a coffee at Cibreo—and he thought highly of their work. The coffee was rich and the creme was floating on top of the warm and dense steamed milk. The coffee (as I have been taught) was the perfect temperature; hot on the tongue, but not too hot as to burn the coffee. Cooler than tea.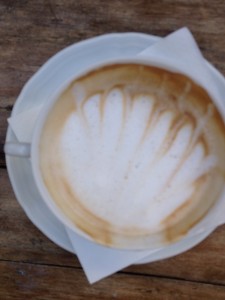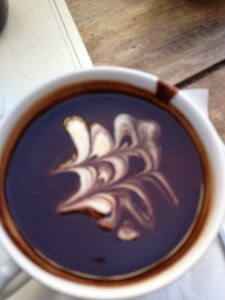 After taking a minute to enjoy the coffee and take photos of it on our phones, we headed off into Florence for a day of sightseeing. We returned to Il Pizzaiulolo around eight, thinking we were early enough to get a table before the rush. When we asked if they had a table, the head waiter smiled knowingly and asked if we had a reservation, and when we said no — he said that they were booked for the evening. On a Thursday in early March.
Luckily, we had walked past a nice looking trattoria with a roaring wood oven a few minutes walk away, and we headed back. We ended up eating at Da i Boia (Via Oriuolo 58), and having a great time. The head waiter (and perhaps owner) was friendly and outgoing, the walls of the restaurant are painted a deep burnt red, there was jazz music in the background (rare for an Italian restaurant) and the place was buzzing. I really like noisy, bustling restaurants.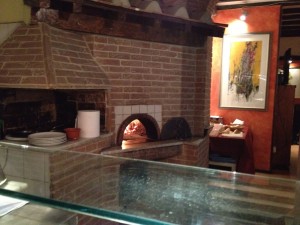 We enjoyed the bruschetta pomodoro (pane Toscano with a mountain of nice red tomatoes and good olive oil). The pizza was good — it was the thinner style that you tend to see in Florence with a less pronounced cornicone and less char that a typical Pizza Napoletana. The dough was a little tougher than good Pizza Napoletana and a little less puffy and moist in the crumb, but still — we had a great meal and a wonderful experience.
Walking back to the car a couple of hours later, we went past Il Pizzaiuolo, and the scene was total chaos. There were people outside waiting to get in (despite having reservations), people were walking up and being turned away, and inside the restaurant it was packed to the gills. As we walked toward the parking lot, we all agreed that we were happy with how the evening had gone.
As our trip continued, we noticed the occasional gelateria with a long line. All I could think was that the shop had been written up in a guidebook.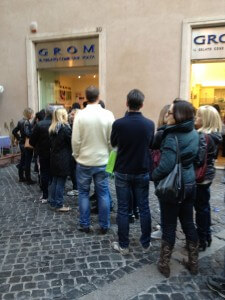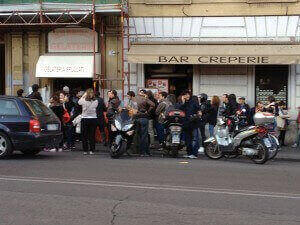 Maybe the perfect restaurant exists in time, not in place. Perhaps we occasionally get lucky and find the perfect restaurant before everybody else does — and we can get a table and enjoy the evening. Interestingly, we were talking about restaurants with some Italian friends a few years ago, and we found that they were being very coy about sharing where they ate. Their view was that they liked their local restaurants and they did not want word to get out and for them to get ruined. They were their own, private finds, and they wanted to keep it that way. Looking back, they might have it right. The anti-social network.