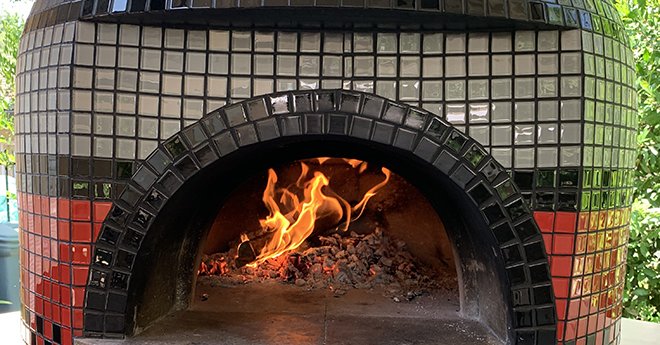 The Crawford's Napolino Food Extravaganza
Sep 26, 2019
Posted by Forno Bravo
Alan and Shelly Crawford, of the greater Sacramento, CA area, purchased a Napolino60 wood fired oven for their outdoor kitchen back in 2018. They chose a custom tile pattern in red, black and grey, and added a "C" front and center to represent their family name.
They may have started with making (somewhat) basic pizza in their oven, but they immediately began to up their cooking game! Alan is a big foodie and loves to cook, which is a bonus for his family and friends. Shelly shared with us,
"Forno Bravo completely changed our food game! It has been a great oven. It adds so much dimension and flavor to whatever we make. You can't believe all the dishes Alan has prepared in the oven. They are magnificent!"
Designing the Space
The Crawfords built a whole cooking and bar area around the oven, complete with prep space and a dining counter. The circular landing spot under the oven mimics the rounded eating area at the opposite end, creating a perfectly balanced design. The covered outdoor kitchen overlooks the pool, yard, and garden for a relaxing entertaining area, as well as allowing easy access to fresh ingredients.
One fun detail of the build was the marble slab they added next to the oven. This smooth, cool prep area is used for stretching dough and making pizza on. They found the slab as scrap at a stone/marble store. The shop owner even cut and smoothed the edges for them. (At under $60 for a 2′ x 3′ slab, this was a fraction of the cost of a 30″ slab sells for in luxury kitchen stores!)
Pizza First
Let's start this culinary photo journey with the pizza; simple to gourmet, this little oven does it all.  Shelly reports, "The oven gave me a new appreciation for pizza, especially true Neapolitan Pizza." They make their pizza dough with 00 flour and as many garden-fresh items as possible.
One of their favorite combinations is their son's classic pepperoni with mushrooms, bell pepper, and olives. On the vegetarian side, they also make a pizza featuring olives, garlic, mushrooms, and basil.
On the gourmet side, one evening, Alan made decadent  pizza with caramelized onions and cremini mushrooms sautéed in truffle butter, provolone cheese, and cured duck breast. What an exquisite blend of smooth and rich flavors!
Other Interesting Menu Ideas
Wood fired cooking is about so much more than pizza. It is a style of cooking used all over the world, by many different cultures. Beni Feil, their regular guest (and mother) wrote to us to confirm, "We have had many delicious meals come out of that oven." Here are just a few samples of the mouth-watering dishes that the Crawfords have experimented with and produced in their Napolino.
Cassoulet is a French dish made with beans and meat. In this instance, the choice was to use duck legs and sausages on white beans. (They made this on the same night that they did the duck breast pizza – guess, it was a duck kind of night!)
Empanadas Two Ways — Using corn and chicken filling and also beef filling keeps things interesting. Sometimes Alan elevates the tray in the oven on a riser to evenly finish cooking the tops.
Pot Roast — Simple and tender, this classic dish is easy in the wood fired oven. All you need is a good pot, a good flame/coals, and time.
For this meal, Alan attends to a delicious dinner combination of braised leeks with Serrano ham and sherry vinaigrette, and Cornish game hen with wild rice.
We could keep going on with even more photos of a hearty Portuguese Stew, an Indian meal of Tandori Chicken and Naan Bread, or maybe the Pork Roast and Lamb Shoulder they prepared for Easter. On the end of the spectrum are lighter dishes of carrots and leeks braised in the oven (fresh from the garden,) or lots of sides featuring tomatoes and basil. But now it is up to you! Are you inspired to step outside of the pizza box and try baking, roasting, or braising in your oven? I know we are!
Thank you for the ideas, Crawford family. It's definitely time for dinner!
Check out our Community Cookbook for over 200 wood fired recipes that you can enjoy.