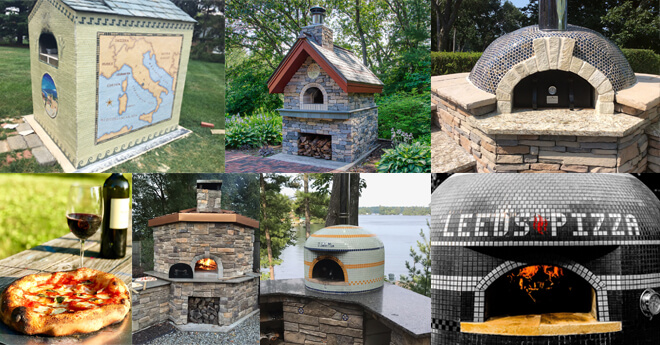 2019 Summer Photo Contest Winners and Other Top 20 Finalists
Aug 26, 2019
Posted by Forno Bravo
2019 Summer Photo Contest Top 20 Photo Finalists and Winners
Congratulations to Duane and Nancy Niemi – our 2019 contest winners! They take home the grand prize of a new Tuscan grill for their Primavera70 oven. They also win the special intangible joyful prize won by introducing so many people to the fun of wood fired cooking and Neapolitan pizza. This is a valuable prize that keeps on giving!
We also appreciate the work of our runners-up and honorable mentions, as well as that of all of our contestants! Thank you to all of the participants and voters. Please enjoy scrolling through the photos below, or checking out our pizza oven gallery with hundreds of photos for inspiration.
---
Grand Prize Winner & 1st Place – Pizza #1,900 from a Primavera70 – Duane and Nancy N. – WA
"Our inspiration came from having pizza from a friend's home built-oven. When "Uncle Sam" actually gave us a refund, we knew immediately how we'd spend it. Our Primavera70 came in June 2013, and 300+ pizzas have been enjoyed yearly since then.
We keep a photo journal that consists of date, weather, guests, occasion, if meaningful, and number of pizzas made. On July 19, 2019, we made #1,900! By year's end, we will celebrate #2000! Family and friends share in the total enjoyment and agree that the oven is the "entertainment and joy for all". We agree this was the best purchase we have ever made!"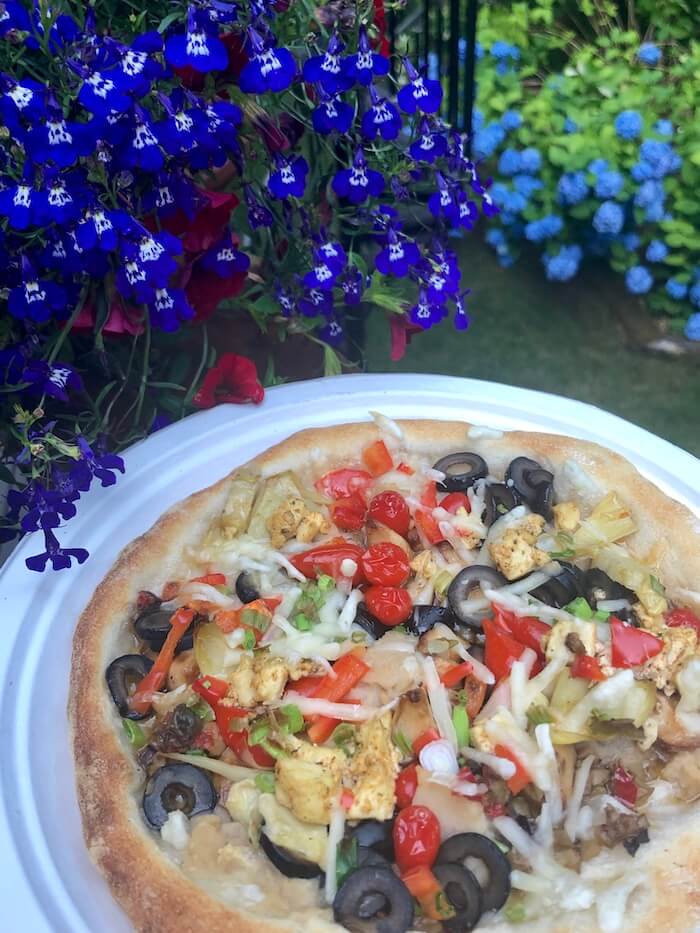 ---
2nd Place – Custom-Tiled Alan Scott Design – John C. – MD
"I was inspired first by the wood oven in Rome at a cousin's house. I've also gotten inspiration from Tony Gemignani, and Ron Garofalo in Palermo, Sicily. "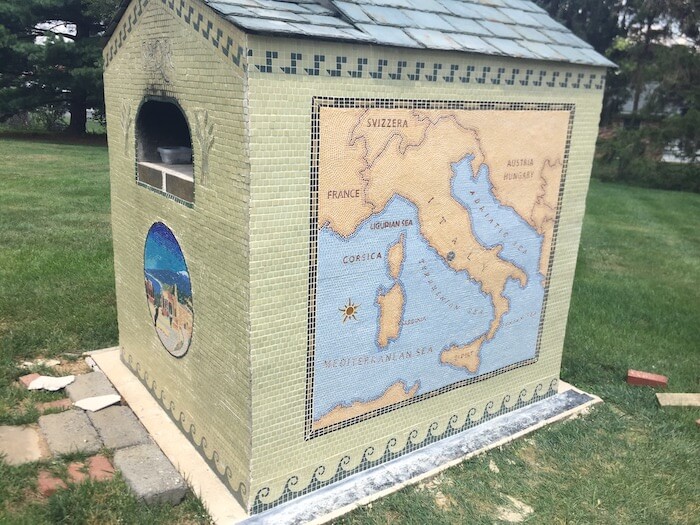 ---
3rd Place – Premio2G100 – Walter P. – VA
"This project started out with the desire to have a wood fired oven in my new kitchen addition. Once I had it all set up I started to think that it may take up a little too much counter space, so thought I'd build it in the yard. I then thought that I may as well have a fireplace and Argentine style fire grill too, and what about covering it so I can play in the rain?
The project took on a life of its own, and I ended up with this cool 14-century designed post and beam copper roof shelter over my Forno Bravo. It is spectacular and everyone who sees it wants one! My house was built in 1630 and everyone who sees the outdoor pavilion for the first time says, 'that was always there, right…….'"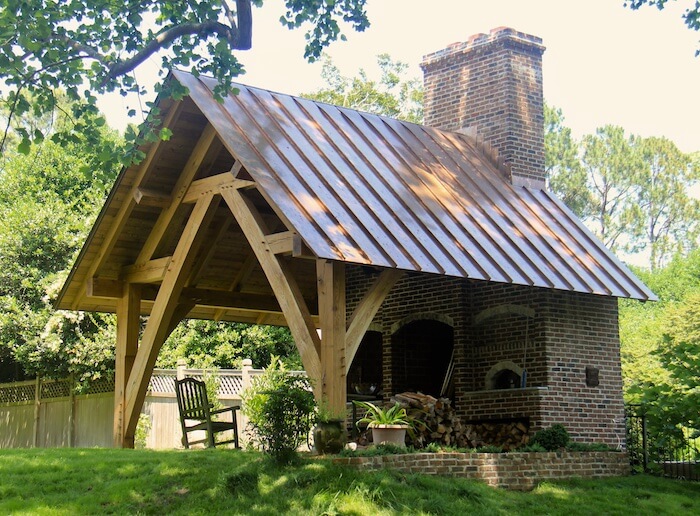 ---
4th Place – Premio2G100 – Mike H. – TN
"Our outdoor kitchen, here on the banks of Old Hickory Lake, just outside of Nashville, TN, features a Forno Bravo Premio2G100 oven and a Calore2G120 fireplace. Our project was completed in 4 months with two of us working by ourselves. Getting the oven pieces through the yard and up onto the concrete pedestal was a challenge, and we ended up lifting them with an engine hoist. It was a fun project from the initial planning stages and to the finished product. It truly is the centerpiece of our home, and the neighborhood!
We never get tired at looking at the porcelain penny-tile covered dome. The oven bakes beautifully, and without exception, everyone that's eaten pizza at our home says it's the best they've ever had. While it's nice to be over the construction phase, I'm now enjoying all the Forno Bravo website has to offer regarding making dough and pizza. It's still unbelievable to me how many others, all around the world, enjoy this wonderful pastime.
From pre-construction planning, through dessert pizza making, I wish to thank all who submit their ideas to the Forno Bravo website and help others with their knowledge. Thanks to Forno Bravo for making it possible."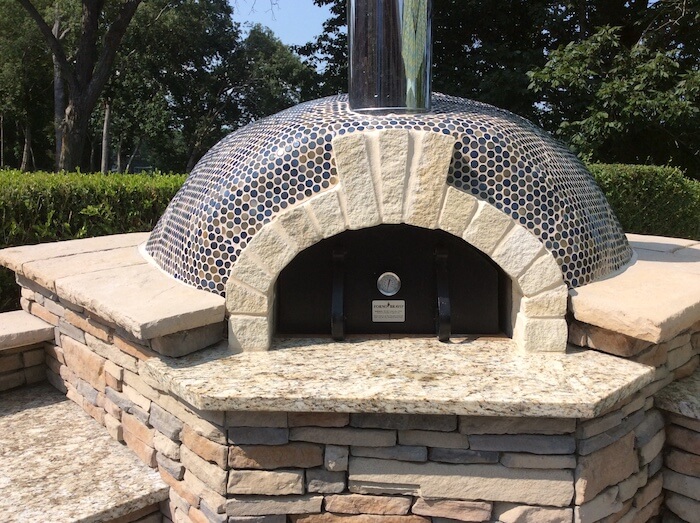 ---
5th Place – Pompeii 48″ – Russell C. – PA
"I was born in I was born in Calabria, Italy, but now live in Pennsylvania. I love my brick oven because I added my own special touches using the brick and tile from my house. I love cooking pizza, wings, veggies, bread – actually anything! Everyone loves eating it too!"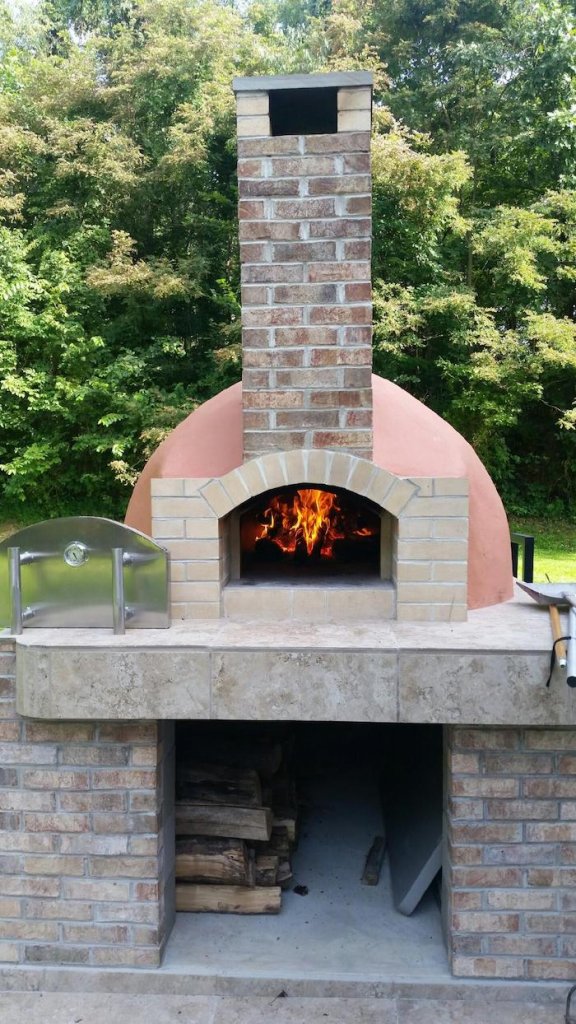 ---
Honorable Mention – Premio2G110 – Robert B. – NY
"So much to say about this project. Just completed it and now working on scheduling the time to prime the oven. More of our story to follow! We can't wait! :-)"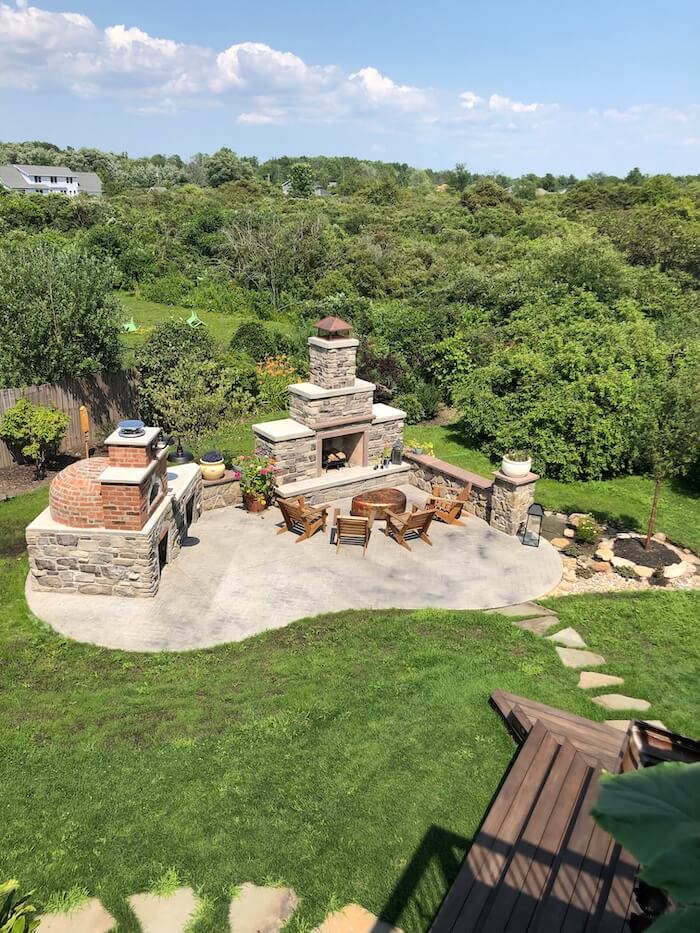 ---
Honorable Mention – Casa2G80 – William S. – CA
"I paid a visit to Forno Bravo late in 2017 and got a tour of the factory from the COO. I bought my Casa oven kit in December, 2017, started building it in 2018, and the basic oven was finished in the spring. That led to a full outdoor kitchen, and by 2019, I had built the kitchen. Most recently, I added a bar. I did all the work myself. My next step is to add lighting."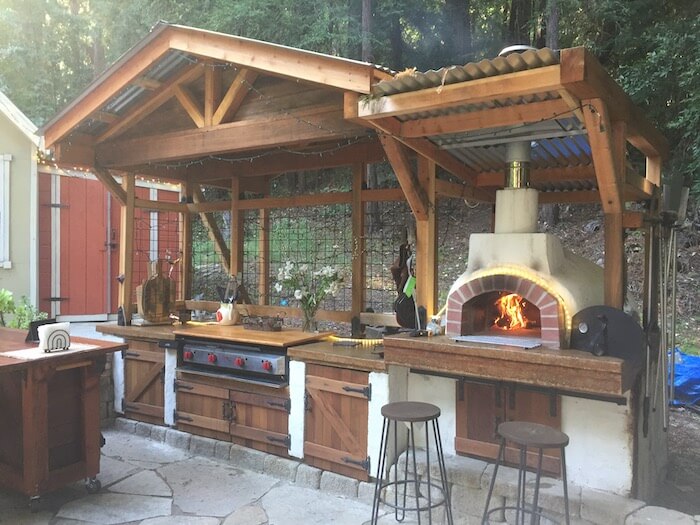 ---
Honorable Mention – Casa2G90 – Alexis Z. – WA
"Along with being a fantastic way to cook and the star of some fun parties, my oven is also a piece of art. Many years ago I took a class from Mike, the Seattle Forno Bravo dealer, on how to use a pizza oven. The class was held on his houseboat and the oven was on his dock. Imagine a sunny evening, the water softly lapping against the dock, the sounds of the fire and the lake as the backdrop for the thrill of forming the pizza, sliding off the peel and turning the pizza.  I was hooked.
It would be several years before I was able to build the oven, but in the meantime, I collected salvage that I envisioned would be used to create the structure. The brick came from a neighbor's teardown, the clay roof tile from a hospital in Colorado, the roof piece an old industrial roof fan (the baffles still turn,) and two Italian terracotta mermaid heads I found at a London shop. In 2015, I demo'd my backyard and created a patio, gardens, and of course, the pizza oven. The stone used to build a retaining wall was cut and fitted by hand to form the top of the oven. The brick was used for the base, and the ledge was stone left over the new garden steps. The mermaid heads were used to hold geraniums. The table in the picture came out of a machine shop and I covered the top with terracotta stained concrete. The table is perfect for staging.
What do I love about the oven? Everything! Yes, you have to plan more time for meal prep with getting the oven up to temperature, and there is some trial and error with new recipes. But really, nothing can be compared to taste and authenticity of food cooked with applewood and knowing you managed your fire.Last weekend, we made Braised Chicken with Meyer Lemon and Fennel with a roasting fire. The chicken fell off the bone. The fennel, lemon and olives were superb. I opened a bottle of rose and put Il Divo on. Life is good."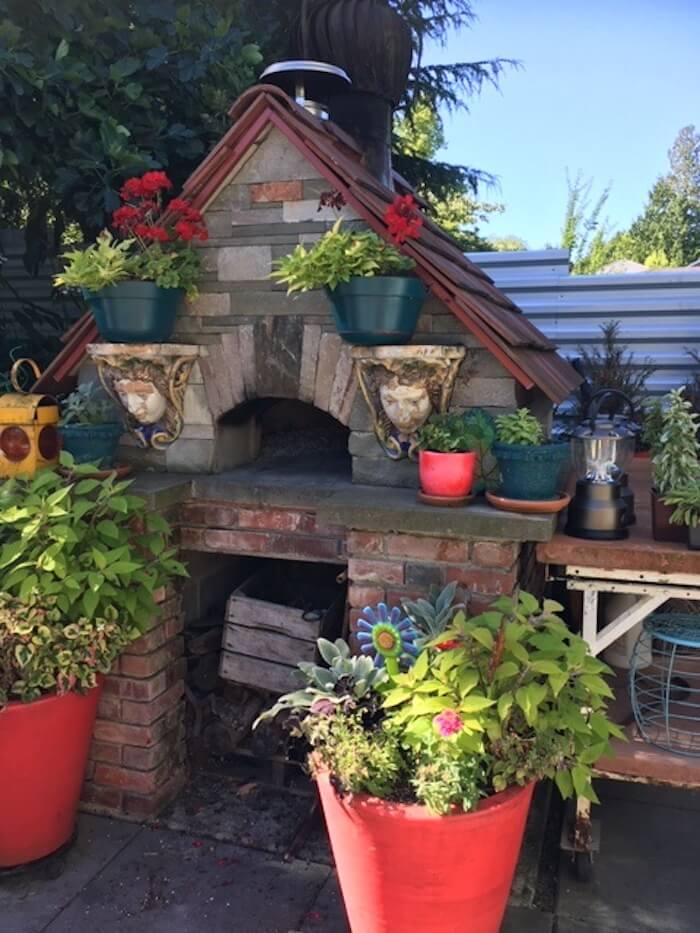 ---
Honorable Mention – Pompeii 42″ – Roger W. – MA
"I grew up eating my grandmother's pizza, which was pure heaven. I've spent decades chasing that remembered taste. My current pies don't match it, but since completing the oven they are heavenly in their own way (objectively, probably better.) I was astonished that the first pizza I made in the wood fired oven was better than any I'd made previously – not just a little better, but by an order of magnitude! My kids and their friends used to come around for what they said was the best pizza in town, now they come in ever larger numbers for what they describe as the best pizza in Boston, or that they've ever had. I know, however, that there are many improvements yet to be made and the best is yet to come.
This oven is, I hope, constructed for the ages. I spent hours in Pompeii, sticking my head into or crawling inside ovens to the extent possible to absorb as much as possible of those oven builders of old. It was built using the Forno Bravo guide and endless help from the Forno Bravo forums. The dome is fire brick, insulated with ceramic fiber. The surround is made from fireproof materials, steel framing and concrete backer board, covered in real stone veneer. The roof is Vermont slate and all the flashings are copper.
We look forward to many pizza events centered around the oven, expanded pizza recipes once the basics are mastered, and additional cooking– so far, there have been a few batches of bread and a couple roasts. Mostly, the oven provides a great excuse to invite folks over for a decent piece of pizza and a nice glass of wine."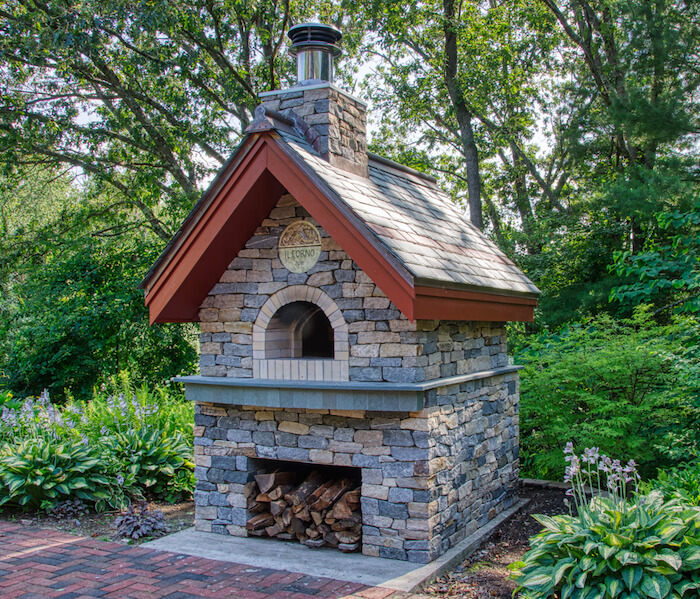 ---
Additional Finalists:
Wood Fired Margherita Pizza and Wine – Jerry F. – NY
"I have an Italian Pizza Party oven. I love being able to share my food passion with friends and family."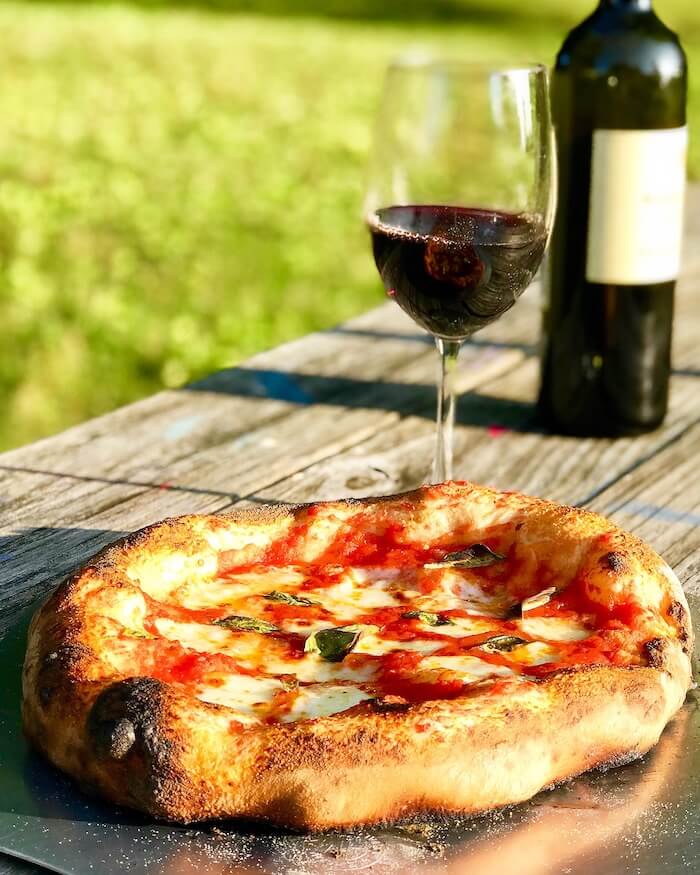 ---
Napolino70 – Julian C. – Canada
"On a trip to Naples, Italy, to spend time with relatives and experience the culture, I was introduced to authentic Pizza Napoletana. Like many others, I am sure, I became obsessed with the idea of recreating the experience back home for my friends and family to enjoy. After looking into what it would take to build my own oven, I learned how much care and craftsmanship goes in to making these beauties, and so I decided to order a custom oven from the pro's at Forno Bravo instead.
I designed the outdoor countertop at my family's lakefront cottage with a beautiful view of the lake. The decorative tiles which have been strategically placed between the stones were brought home from Spain. The saying 'O Sole Mio comes from the famous Neapolitan song and translates to "My Sunshine," which is very suiting of our oven, being the centerpiece of our family gatherings and providing us with so much joy, as well as frustration for me, as I attempt to master the art and science of making pizza!"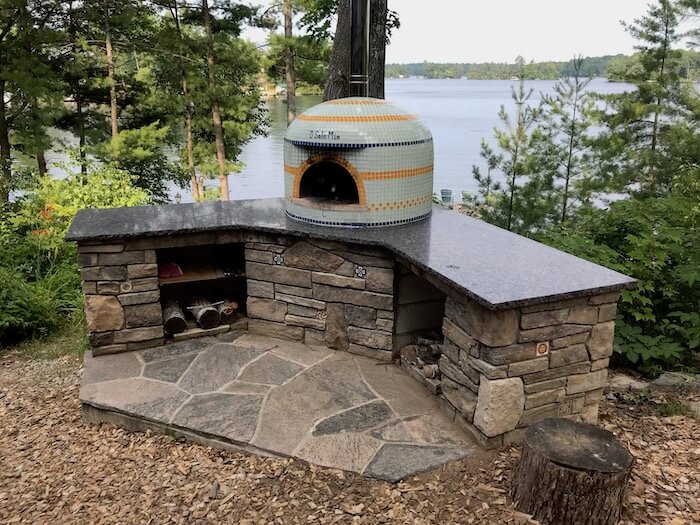 ---
Vesuvio110 – Steven L. – NY
"My backyard isn't even done yet and I fired up the oven this weekend for the first time. Ran the gas for 5 hours as my preheat, then I turned it off and did wood. Was unbelievable! Next day I got the oven back up to temp with wood in just 1 hour. The versatility is unmatched. I cooked whole eggplants right on the hearth, followed by pizzas, and then wings."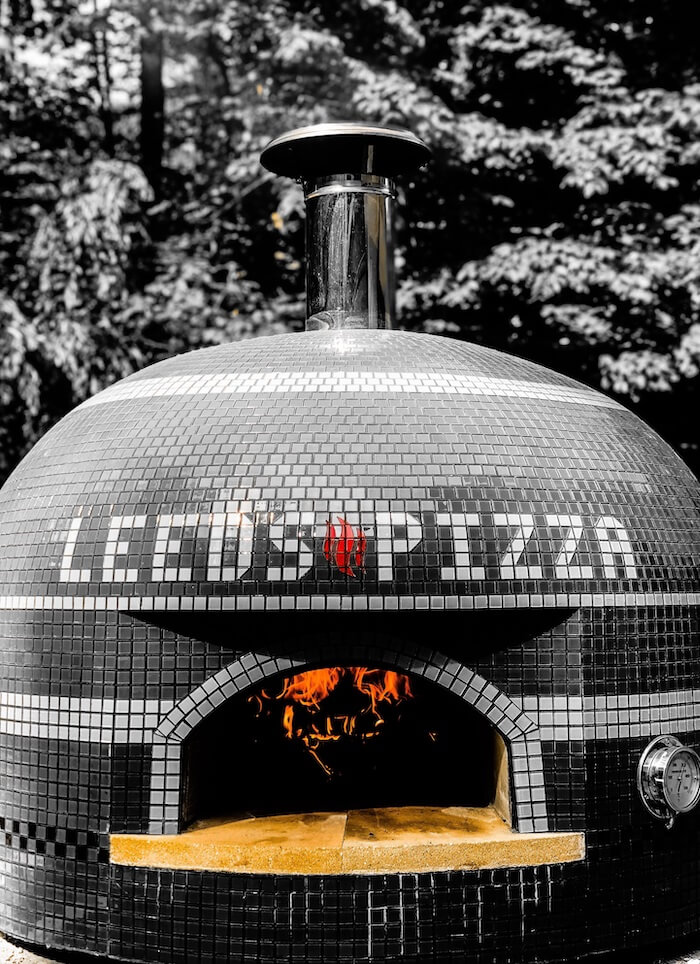 ---
Cedar Plank Salmon in a Brick Oven – Doug G. – TX
"We cook pizzas mostly…. Salmon, Steaks, Cobblers, and Roasted Veggies are my go-to items!"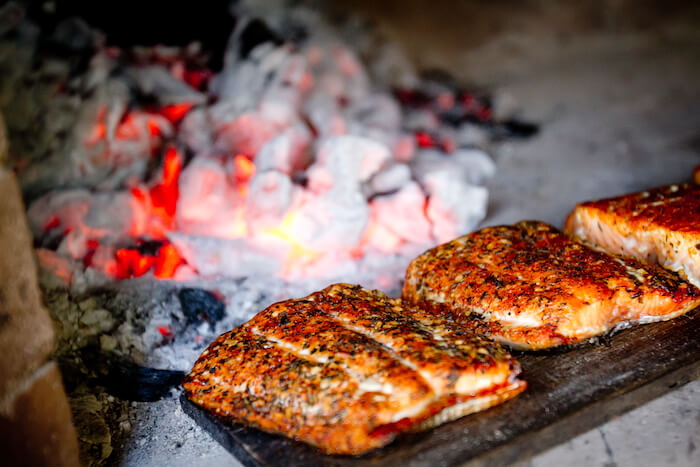 ---
Custom Pompeii 36″ – Timothy R. – FL
"I was inspired by Forno Bravo's plans and all the ideas from the forum. I love the way my sourdough bread turns out with a little smoky flavor when I leave some coals and a little wood in the oven while baking. We enjoy doing homemade cinnamon rolls in our oven as well."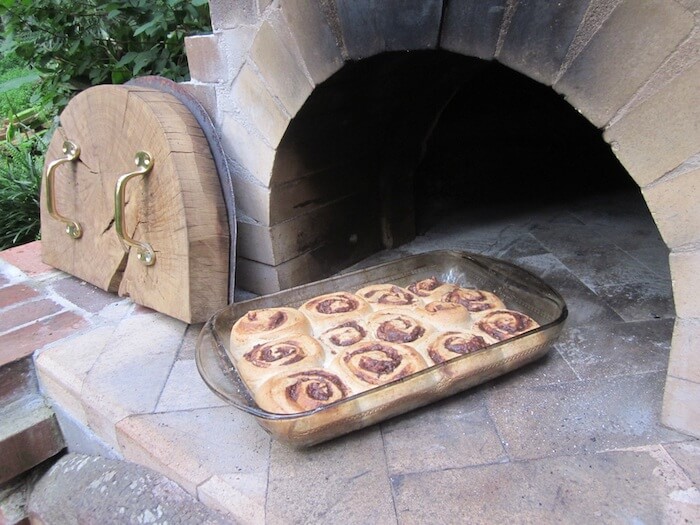 ---
Beef Brisket Pizza from a Casa2G – Chad Z. – TX
"I've been enjoying my Forno Bravo pizza oven for about 5 years now. I enjoy experimenting with it and this is a photo of a pizza I made with beef brisket that I smoked for 14 hours on a wood fired offset smoker, topped with red onion, and fresh jalapeños from my garden."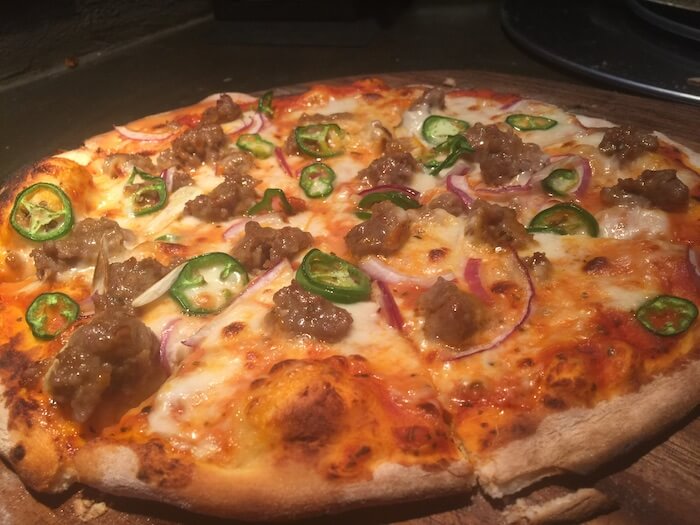 ---
Margherita Pizza from a Vesuvio80 – Lisa and Reno N. – NJ
"The love of pizza, family and friends inspired the enclosed outdoor kitchen, highlighted by our pizza oven. The Forno Bravo oven delivers pizza that is restaurant quality. In fact, many nights, we send our guests home with take-out boxes of pizza to enjoy the next day! Thanks for a quality product that is perfect in many ways. Mangia!!"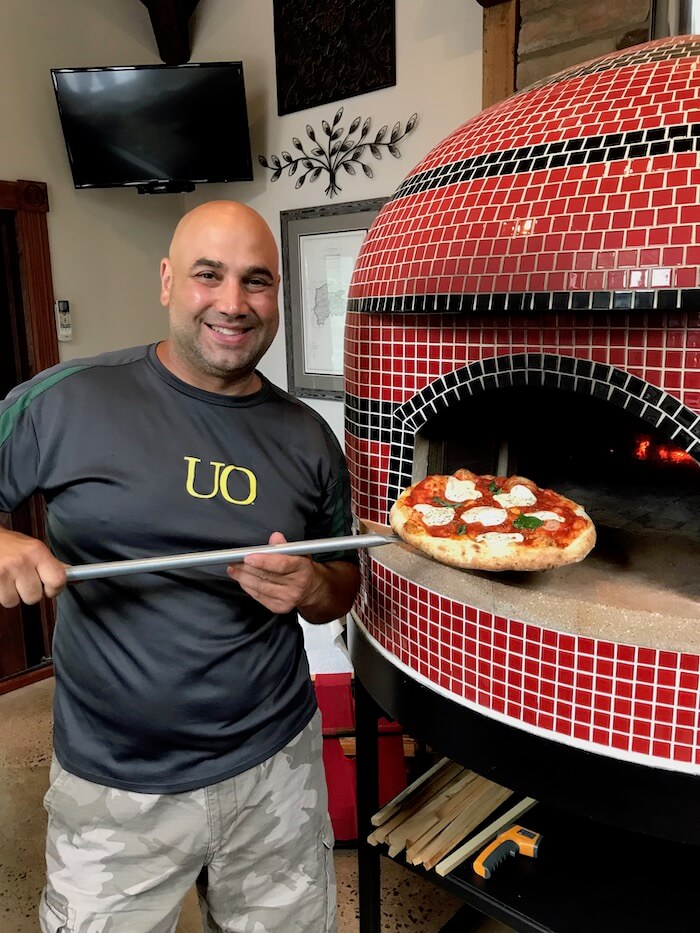 ---
Pompeii Brick Oven – Thomas C. – NJ
"I wanted to take on a project that was different and something that would bring my large family together. Everyone looks forward to coming over and making their own favorite pizzas."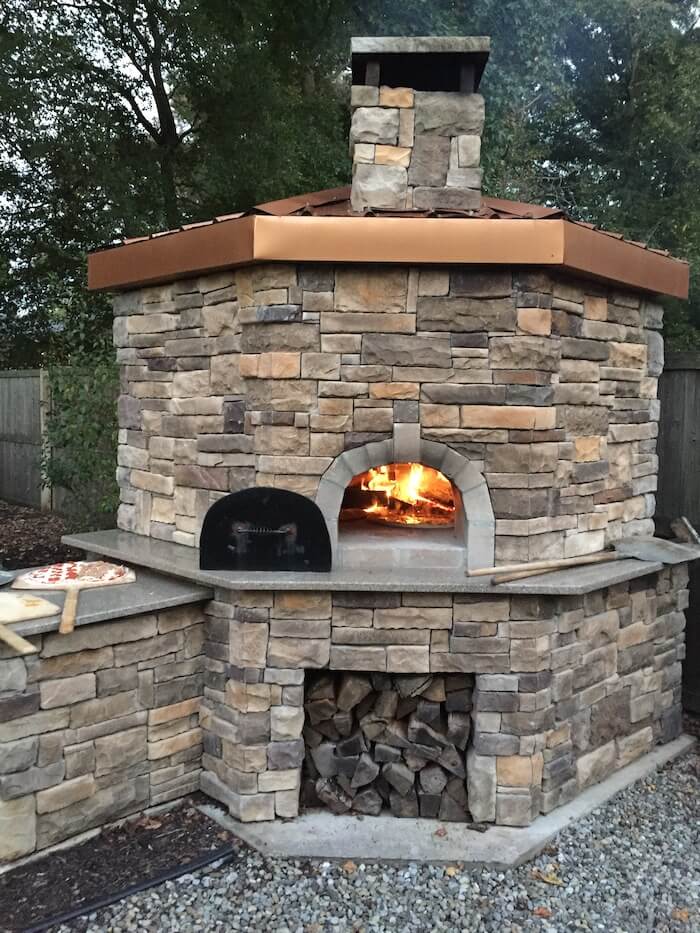 ---
Casa2G – Brad R. – PA
"The oven and 'The Gang.' We enjoy doing things other than pizza – wings, steaks, veggies, bread, and appetizers. But most of all, we love it being the centerpiece of our country home's patio!"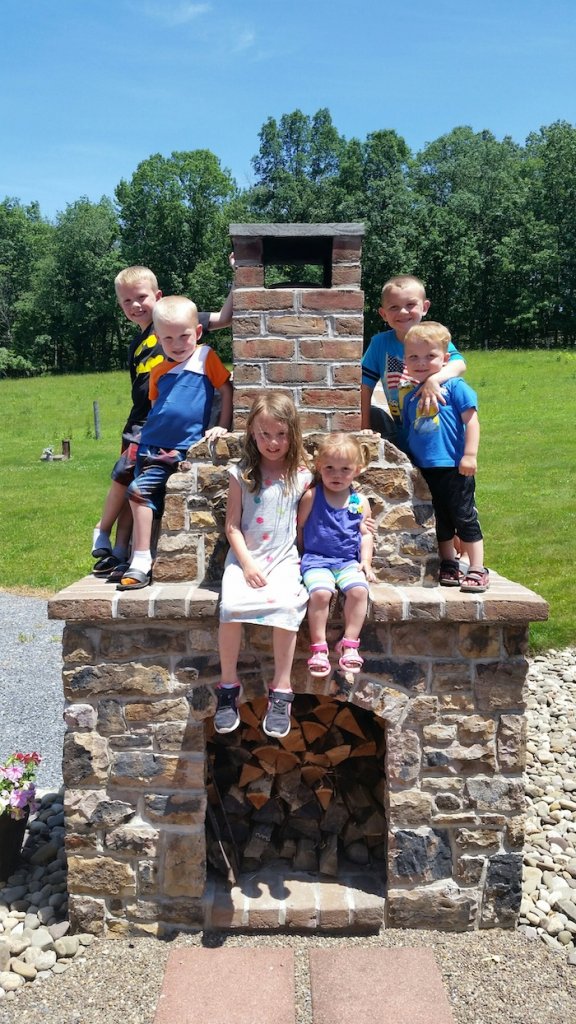 ---
Indoor Casa2G – James L. – AZ
"My inspiration is being able to invite friends over for wood fired pizza. They never say no. Next is baking artisan breads. I use pecan wood almost exclusively. It's 7 years old and going strong."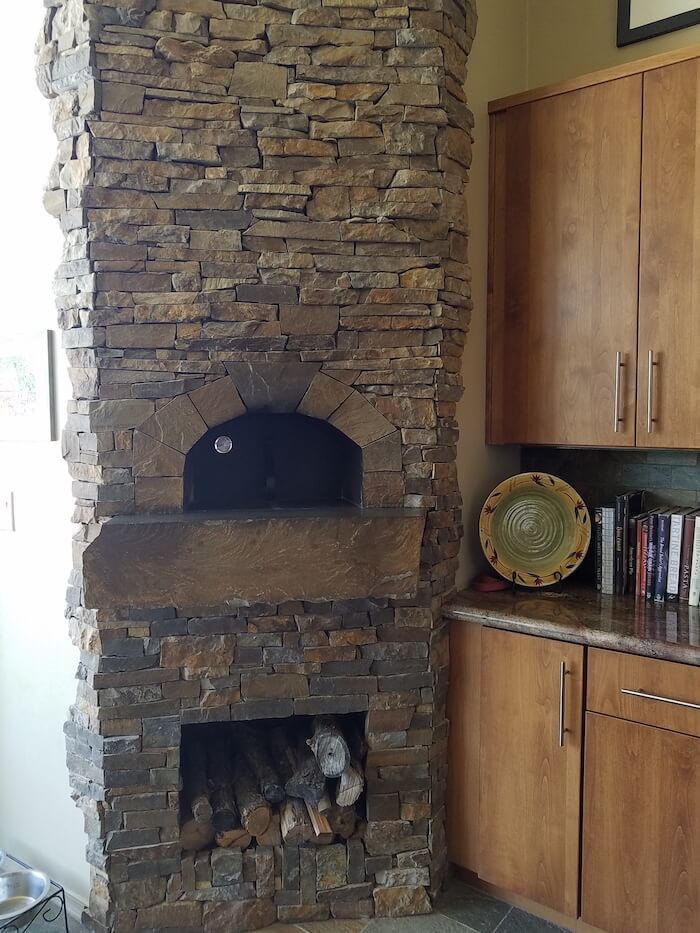 ---
Casa2G90 – Clayton T. – CA
"Our Forno Bravo Casa2G90 oven is a focal point for our back-patio area. It inspires me to challenge my cooking limitations and try new things. So far, it's been wood fired pizza and chuck roasts, but we have a vision of doing breads and hopefully oven-cooked steaks, fish and Mediterranean recipes in the future.
The most heartfelt appreciation I have for the Forno Bravo oven is that it brings family and friends together. When it's pizza night, the warmth of the oven and the goodness that comes out of it is the formative inspiration of many conversations and candid moments of love, life, and happiness."