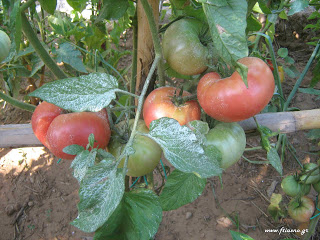 Stale Bread, Panzanella, Dutch Tomatoes and the EU
Mar 31, 2013
Posted by Forno Bravo
I was writing about food waste and bread storage the other day and mentioned that many traditional recipes call for stale bread — including Panzanella. Like many wonderful Italian dishes, it relies on a short list of high-quality ingredients. In this case, tomatoes, bread, extra virgin olive oil, balsamic vinegar and salt. If each ingredient is great, then the dish is great; it's only as good as the weakest links, etc.
So while I was making Panzanella this evening, I found myself thinking about tomatoes. It's barely spring in the northern hemisphere, so the outdoor tomato crop has not kicked in, and we (on the west coast of the USA) have to rely on what seems to be an improving supply of hot house tomatoes from Mexico, California, and Holland. Yes, Holland. Cold, wet, northern Holland. The land of gouda, windmills and Heineken. I had been wondering for a while why Holland was such a large supplier of tomatoes, and I finally found the answer. Basically, good IT and good business practices. The story behind the Dutch tomato business was covered in the European edition of Time Magazine that I read on an airplane, and while I cannot link to the article itself — here are two Blogs that covered the article.
Believe it nor not, Holland is Europe's largest tomato exporter. From Greek Reporter:
When comparing the tomato production and export of the Mediterranean countries (Greece, Italy and Spain, which have traditionally been the largest European producers and exporters of the product) it's Holland which has managed through the use of technology and good organization to become Europe's largest tomato exporter.
The report prompted the European south to imitate Holland in order to become more competitive. The Dutch producers use high-tech greenhouses, electronic temperature, humidity and carbon dioxide control systems. This is why they have managed to produce 70 pounds of tomatoes per square meter, at the same time when a producer from southern Europe produces at most seven pounds, 10 times less.
As an interested spectator of international business, the EU, the Euro, Italy, Spain, Greece and Holland, the European north-south divide, and food, Panzanella with Dutch tomatoes is the great intersection. Hopefully Spain, Greece and Italy (and perhaps Cyprus) can get their collective acts together, and we can see even better tomatoes in the US that were grown in the Mediterranean.
Meanwhile, you can still buy Italian Extra Virgin Olive Oil and Balsamic Vinegar imported directly from the producer in Italy through the FB Store. Our dinner tonight was wonderful. Great Extra Virgin Olive Oil hides many food-related sins.