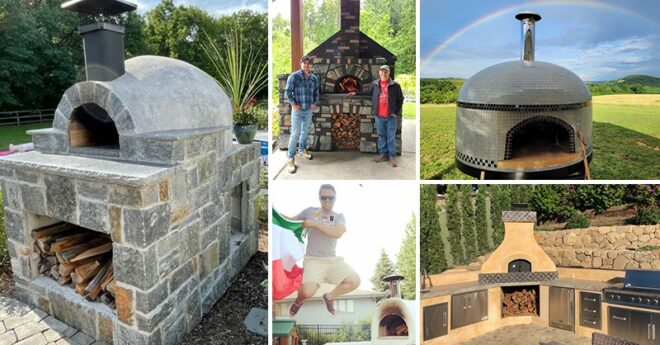 Sneak Peek of the 2021 Summer Photo Contest Entries
Jul 29, 2021
Posted by Forno Bravo
With this year's crop of 2021 Summer Photo Contest submissions rolling in, we wanted to pause and show you a few beautiful builds and fun shots that we just can't keep to ourselves! We've received hundreds of photos of ovens finished in stucco, tile, and stone; mouth-watering pizzas, excited owners, and artsy "fire in the night" shots too! Preview a few of these entries below for inspiration, and then take your phone or camera out and try your hand as a wood fired creative. We can't wait to see what images you capture.
For a chance to win one of our fabulous prizes!
Contest Prizes and Deadline:
First Place: $400 Credit for merchandise from the Forno Bravo Online Store
2nd Place:  $250 Credit for merchandise from the Forno Bravo Online Store
3rd Place:  $100 Credit for merchandise from the Forno Bravo Online Store
Honorable Mentions: High quality/super soft Forno Bravo T-Shirt
All entries must be received by midnight on August 8, 2021. Store credit may not be exchanged for cash.
Ty W. of Texas – Casa2G 90
Excerpt from Ty's Submission Form:
"…We wanted to create a Santa Fe feel with the cooking island, thus our use of earth tones and the Saltillo and Talavera tiles. We just finished the build, so I am still in the curing process and haven't cooked in the oven yet. When I do, I'm sure what I love about the oven will change on a daily basis. Right now, I just get giddy even looking out the window at it…"
Russ P. of Illinois – Giardino 70
"…We installed our Forno Bravo pizza oven this Summer and are loving it! We have finally been able to properly replicate the pizza we had in Florence (our inspiration) and share it with our family and friends!"
Heather L. of Delaware – Napolino 70
"Our oven has inspired us to get together with friends and be creative with cooking… "
Clifton W. of California – Casa2G 90
"We love the beauty of a wood-burning fire…We enjoy each other's company, drinks and of course the delicious food. Thanks, Forno Bravo, Bon appetite, and cheers!"
John R. of New Lowell, Ontario, CAN – Casa2G 90
"…Now that I have my own pizza oven, family dinners are even more special."
Doug E. of Castle Hot Springs Resort, Arizona – Modena2G 120 Kit
Enjoy this sneak peek? What to see more photos and stories?
Sign up for our Newsletter and see the contest winners in the August 2021 edition.