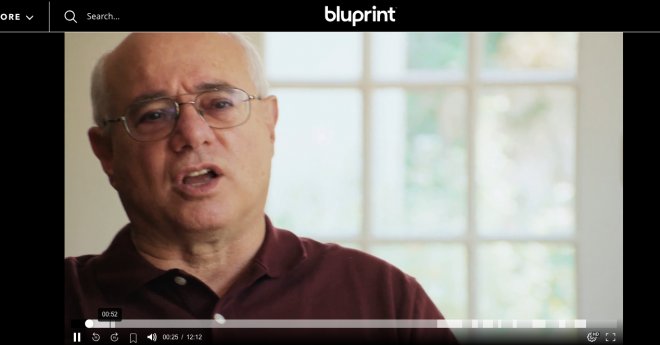 Pizza Quest Expands to Bluprint
Nov 19, 2018
Posted by Forno Bravo
** Update 12/10/18: We are now 4 weeks into the launch of Peter's new Pizza Quest series on myBluPrint.com and it's going very well. The word is getting out and folks are starting to find the show. Thanks for helping us by sharing the link, watching the free episodes, and even signing up for the free trial subscription! We would love to bring you a "Season 2." 🙂
♦ ♦ ♦ ♦ ♦
Bravo first started hosting Pizza Quest with Peter Reinhart back in 2010. What a magnificent journey of discovery it has been! With articles from pizza makers across the country, recipes, blogs, and tips from Peter, along with well-filmed interviews with interesting guests, we have enjoyed following Peter's quest to find the perfect pizza. We've certainly learned a lot along the way! While Pizza Quest will continue to have a home with Forno Bravo, we are excited to announce that it can now also be found in a slightly different form on myBluprint.com, the new sister company to Craftsy.com. Forno Bravo is a proud sponsor of the series, and we are thrilled to see Pizza Quest brought to an even larger audience!
Watch Free Episode on myBluPrint.com
The Show
MyBluprint.com is a website for watching, learning, and trying new skills. It features both creative courses and "edu-tainment" pieces on topics ranging from cooking to knitting, dance to drawing. This version of Pizza Quest is both a course and a series, making it a great fit for the site! Peter describes the series he created for Bluprint the following way:
"In this seven-part series, we travel the California coast — stopping in Colorado — in the pursuit of perfect pizza and the fascinating people who make it. Each episode centers on artisan techniques and recipes, from the traditional Italian to gourmet spins using local ingredients, and explores the powerful emotions that pizza gives rise to (pun intended)."
Specifically, the project is a focused series of educational webisodes drawn from both earlier Pizza Quest adventures and interviews, as well as expanded content and new guests. The series will expose many more people to the Pizza Quest odessey and Peter's gift for teaching about artisan bread and pizza making through his commentary and insightful questions. We are happy to congratulate Peter on his new reach!
Free Episode and Bonus Content
Like Craftsy, Bluprint is a subscription service, though it offers a short free trial for folks to give it a try. However, the introductory episode of the series is completely free, to let people get a taste of Pizza Quest for themselves. You can watch the first video in the series for free. It is an active interview with Tony Gemignani, a multiple-time World Pizza Champion and Napoletana Pizza Maker extraordinaire!
These videos are not just a bunch of talking heads! They are filled with images, tips, and techniques of the art and science of good pizza making, as well as great stories about the people involved in the craft. There is also a free bonus video about the Forno Bravo Pizza Expo, which was held in the California Wine Country, where Peter talks about his vision for Pizza Quest and his guests discuss the heart of good artisan pizza in general. The visuals are so good, you can practically taste and smell the dough! Click on the link or photo below to get started.
Watch The First Free Episode Here

Please tell your friends and family. Let's pass the word about this exciting series and support the hard work of Peter and his team. The subsequent episodes are engaging and fun to watch, and well worth the subscription fee!