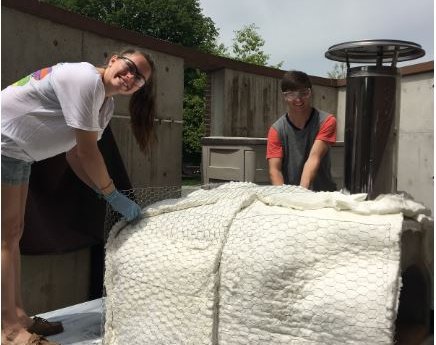 Pizza Ovens Go To School
Mar 20, 2020
Posted by Forno Bravo
With a renewed focus on the value of the trades, more schools are incorporating the culinary arts into their curriculum. Cooking teaches incredible skills across disciplines in a unique, organic (and delicious) way. Just some of the disciplines and skills involved are math, chemistry, history, sociology, communications, business, fine motor control, creativity, planning, and organization. Forno Bravo is excited to have worked with several schools across the country to place our ovens in their institutions for their students to learn to use.
In this article, we will highlight a few of these schools and projects for you to enjoy! Help us spread the word. We would love to partner with even more schools this coming year!
Dartmouth College, Thayer School of Engineering, Hanover, NH
In the spring of 2017, students in the Structural Analysis program at Dartmouth College's Thayer School of Engineering needed a practical project to test ideas they had been studying in class. They decided to design and build a mobile pizza oven to be used at events at the Dartmouth Organic Farm (which serves the community and other students.) They selected the Casa2G100 Modular Kit Wood Fired Oven as the core of their project.
The students used various CAD (computer assisted design) programs to plan the trailer and base, and then got to work on the build itself. By using a Forno Bravo kit for their oven instead of doing a complete DIY project, they were able to save a lot of time, but were also be able to trust that the final results would be reliable and high performing for their "clients." It was all hands on deck for this build, and involved the engineering students learning many new practical skills like how to use mortar, and install insulation and stucco, but it came together beautifully and the students and teachers were thrilled with the final results!
Kaua'i Community College, Lihue, Kauai, HI
While community colleges provide many academic programs, they also fill a special niche in helping to support students who want to grow their skills for jobs available in the trades. Kaua'i Community College is one of these schools. They offer a full culinary arts certification program, as well as an Associate degree in Applied Science.
For the 2019 school year, the school added a Modena2G 120 Wood Fired Oven to their stable of equipment used in the "Hands-on" laboratory training portion of the course. The opportunity to cook on real, commercial-grade equipment reinforces theoretical knowledge and helps prepare graduates for positions in professional food service careers. Forno Bravo loves supporting the next generation of great chefs!
Stevenson School, Pebble Beach, CA
The Stevenson School is a premium co-ed day and boarding school in California's Central Coast, for students in preschool through twelfth grade. It offers a values-driven curriculum and community, with a global sensitivity which welcomes many international students and encourages exchange trips.
Traditionally, the senior class at the Stevenson School comes together to get a gift for their school and for the other classes coming after them. In 2018, the class chose a Vesuvio110 Pizza Oven as their gift to the school. To celebrate it's installation, the administration brought in an Italian chef to demonstrate how to use the oven fully and make to a pizza lunch for the students. It turned out to be a beautiful sunny day for the occasion, and both the demonstration and meal were enjoyed by everyone who attended! It will exciting to see the many different ways and kinds of events that the oven will be used for in the future.
Villa Esperanza, Managua, Nicaragua
Villa Esperanza, which means, Village of Hope, is a residential girls school in South America run by Forward edge International. It serves vulnerable and abused young women (aged 8 – 19) with a continuum of care and education opportunities, offering them a safe place to heal and grow, along with a way out of poverty for the girls and their families.
Recently, Villa Esperanza was gifted a Bella Grande36 wood fired oven to use at the school. It will be used to help expend their training and nutritional programs, as well as being used to serve fun, delicious food to the girls and volunteers who come to help at the campus. They love its portability, making it convenient to move it around the property depending on the application and event. A senior program officer for the school's parent organization reported, "The oven will be used to train our girls and others on how to make quality pizzas, providing experience and the skills to help them in their future goals." We wish them all the best in their work!