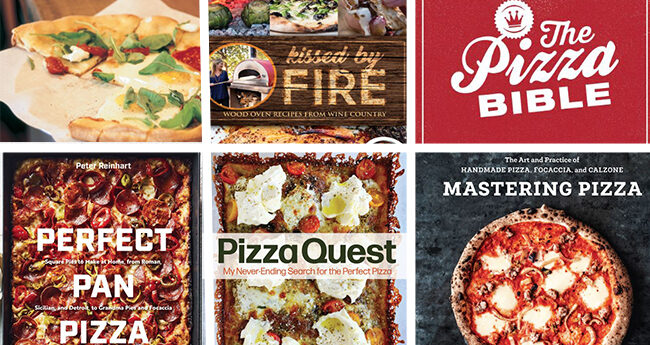 Pizza Cookbook Gift Ideas
Dec 19, 2022
Posted by Forno Bravo
Looking for a last-minute gift idea for your favorite home pizzaiolo or chef? Pizza-focused cookbooks are always a hit! Explore the books below for great ways to enhance your pizza-making chops. These books include recipes and contributions from some of the best of the best in the field.
They are available through Amazon and many other local booksellers. Just click any of the photos below to be connected directly to the books.
Note: You can always check out the Forno Bravo online store for other great accessories, cooking tools, and ovens too.
Peter Reinhart
Peter is a multiple James Beard award-winning cookbook author, culinary instructor, baker, and chef. He is the host of the Pizza Quest website – the home of interesting interviews, recipes, and blogs related to pizza, good food, and much more. He has also been a contest judge and featured speaker at several national pizza and bread expos around the country.
Pizza Quest: My Never-Ending Search for the Perfect Pizza
Peter's newest book is Pizza Quest: My Never-Ending Search for the Perfect Pizza. In it, he profiles the most exciting pizzaiolos working today and their signature pies, sharing over 35 tribute recipes that will give readers a taste of the best of what the pizza world has to offer for both wood-fired ovens and conventional kitchens. From classic New York Style to Detroit Style to Bar Pies, these pizza recipes will take you on a journey around the pizza world—a delicious travelogue that will kickstart your own pizza quest at home.
Perfect Pan Pizza: Square Pies to Make at Home, from Roman, Sicilian, and Detroit, to Grandma Pies and Focaccia 
This cookbook explores the "deep" side of pizza. Starting with recipes for three master doughs using commercial yeast or sourdough starters, Perfect Pan Pizza illustrates how to make several styles of pan pizza including Detroit-style "deep pan" pizza, focaccia, and schiacciata, plus Roman and Sicilian styles as well, all with beautiful, step-by-step photographs and detailed descriptions. Appropriate for both beginner and novice bakers.
American Pie: My Search for the Perfect Pizza
In this early work and perennial favorite from Peter (2003,) he covers both the stories and the history of pizza, as well as the practical how-tos of making it. Traveling through both Italy and USA, Peter covers the background and development of several pizza styles, and then gives a master class on pizza-making techniques, providing more than 60 recipes for doughs, sauces, and toppings, and the pizzas that bring them all together. Part travel log, part history, part future trends, part cookbook, this classic is a fun read for any foodie.
Tony Gemignani
Tony Gemignani is a 13-time World Pizza Champion, restauranteur, instructor, and TV personality. He's considered by many to be the GOAT of the pizza world! Tony lives and works in San Francisco, but is chef and owner of nearly 30 restaurants in Northern California and Las Vegas. He also consults, judges, and teaches around the world to elevate the art of pizza making.
The Pizza Bible: The World's Favorite Pizza Styles, from Neapolitan, Deep-Dish, Wood-Fired, Sicilian, Calzones and Focaccia to New York, New Haven, Detroit, and More
Tony's classic and comprehensive book covers 9 regional styles of pizza. In it, he teaches the ins and outs of starters, making dough, assembly, toppings, and baking, how to rig your home oven to make pizza like the pros, and all the tips and tricks that elevate home pizza-making into a craft.
Marc Vetri
Residing in Philadelphia, but trained in Italy, Marc spent his formative professional kitchen life in Bergamo, Italy, working alongside some of the region's most noted chefs, Marc has become known the world over for bringing a bold, contemporary sensibility to classic Italian cooking. He is a restauranteur, author, and co-founder of Vetri Community Partnership, a non-profit enterprise that connects underserved youth to good food and food education. He also won the 2005 James Beard Award for "Best Chef Mid-Atlantic."
Mastering Pizza: The Art and Practice of Handmade Pizza, Focaccia, and Calzone
With transporting imagery from Italy and hardworking step-by-step photos to demystify the process, Chef Marc brings fabulous dough recipes and topping ideas to your kitchen. Covering multiple hydration levels, his different dough recipes allow home cooks to achieve the same results with a regular kitchen oven as they would with a professional pizza oven.
Brigit Binns
Author of 30 cookbooks and editor of many more, Brigit Binns lives and works in the wine country of Central California. She has been a long-time consultant to major companies including Williams-Sonoma and Weber Grills. She co-owns and runs the stunning culinary learning center and vacation rental retreat, Refugio Paso Robles.
Kissed By Fire: Wood Oven Recipes From Wine Country
This fantastic ebook features beautiful photography and delicious recipes, including pizza, to help you take advantage of all of the benefits of a wood-fired oven. The recipes were all tested in Brigit's Bella Grande 36 pizza oven and are mouth-wateringly good! It includes five tasty chapters featuring 39 Recipes in total, each one with at least one stunning photograph.