Pizza and Food Trucks
Apr 27, 2012
Posted by Forno Bravo
There was a nice article on a Food Truck with a Forno Bravo oven the other day, it is got me thinking about Food Trucks, pizza, France, rolling pins and the feudal system.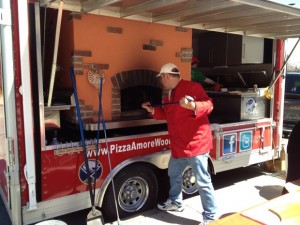 Food trucks are hot. The best foot truck companies have loyal customers who track their movements on Twitter and follow them where ever they go. There are food truck maps on the Web that will tell you exactly where your favorite food truck will be at lunch and dinner today and where you can find them this weekend. You can search by food type and chef, and the food trucks have great names—like Shrimp Pimp Truck, Curry Up Now, and Chairman Bao Bun Truck.
Of course food trucks and pizza are a match made in heaven.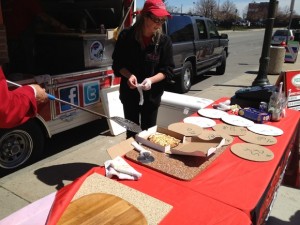 It is one of those moments that reminds me that there is nothing new under the sun. Takeout food was a staple in ancient Rome (though I don't think there is any evidence of food trucks, or any type of truck for that matter), and there are numerous medieval wood blocks and prints of portable wood-fired (of course there weren't any alternatives) bread oven carts. Don't you think that freshly baked bread out of a wood oven rolled up to your house in 1412 would have been a lot nicer than a loaf of Save Mart bread in 2012? haha.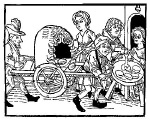 Pizza ovens and food trucks are a perfect fit. We've been lucky enough to have had a number of summer vacations in Provence, and you see Renault vans outfitted with wood pizza ovens all over the place—at the daily rotating markets in the mornings and for lunch, and then in popular town squares in the afternoon and early evening. While the pizza isn't as good as real Italian pizza (haha again), it's the thought that counts. Interestingly, french pastry techniques—such as rolling pins—are not good for pizza (in that case it is actually bad), and the flour is different. You see a lot of pizza with Comté, a traditional French cheese that is similar to Swiss Gruyere, which is very nice.
Once, we really wanted flatbreads to go with the appetizers and wine we had collected during the day, and I had the hardest time convincing the chef that I really just wanted a flatbread with olive oil, salt, and a little oregano. If you tried to do that in Italy, it would have been simple! I did get there in the end (but even the dough isn't up to Italian standards).
There are many Forno Bravo ovens installed on either in trailers or in Food Trucks all across the US and Canada (hundreds of them). We maintain a list of Portable Wood-Fired Catering ovens through the Forno Bravo Via directory, but the number of companies using our ovens for mobile catering is growing so fast, our directory is well behind.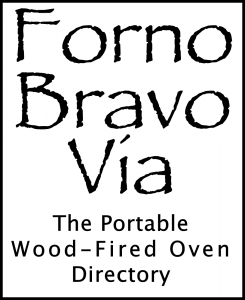 Our partner for mobile catering ovens is the Fire Within. We have been working with them on portable ovens for years, and they do a great job. They sell beautiful trailers and trucks, and moreover, they provide training, seminars, classes and publications on how to run a successful (and profitable) wood-fired catering business.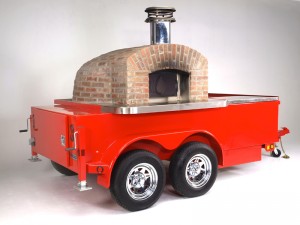 With spring upon us, we are looking forward to hearing about more new wood-fired catering companies, and to reading lots of fun newspaper and web articles on where wood-fired trailers and trucks are popping up at markets, fairs and festivals.