Pain Pascale
Apr 24, 2012
Posted by Forno Bravo
We are lucky to live within a few miles of the Trader Joe's in Pacific Grove, CA. I really don't know what we would do without it, as I often (and only somewhat jokingly) think our local Supermarket (Save Mart) is out to kill its patrons with artificial additives, preservatives and partially hydrogenated oils. Our favorite markets in Florence were the Co-op on Viale Europa, which is a wonderful big box retailer featuring an on-site bakery, cheese shop, butcher, salumeria, and a great fish shop, and the Penny Market in Bagno a Ripoli, something of a European version of Trader Joe's. Penny Market stocks only one brand of most items, if they can't get a good deal they don't stock it, they get great special buys, and the store is small, and stocked to the gils. You can buy a week's worth of groceries in a couple of minutes. haha. Really, my kind of store.
One of my favorite items at Trader Joe's is their really darn good Pain Pascale organic, whole wheat demi miche. I don't know who bakes it for them, and how many other TJs stock the item, but if you are a TJs shopper, you should look out for it. Our store went through a period where they have it some days and not others, but for the past few months they have had it consistently. Our teenage daughter even likes it.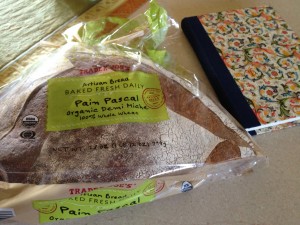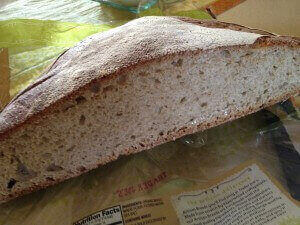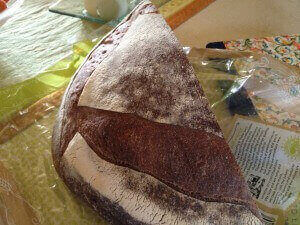 I've been lucky enough to have eaten quite a bit of Pain Poilane in Paris, and I have been into a few of their bakeries and have even been allowed to watch them work with one of their wonderful wood ovens in the basement of the bakery. So while Pain Pascale is not the same as the original—what is? I have heard stories about movie stars paying private jets to deliver Pain Poilane to movie sets. I think it might be worth it. Pain Poilane with french butter for breakfast. Ahhh.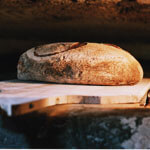 Both loaves are a Miche. To quote Wikipedia:
Pain de campagne ("country bread" in French) is typically a large round loaf ("miche") made from a natural leavening similar to, but not as sour as, American sourdough. Most traditional versions of this bread are made with a combination of white flour with whole wheat flour and/or rye flour, water, leavening and salt. For centuries, French villages had communal ovens where the townsfolk would bring their dough to be baked, and the miches weighed from four to as much as twelve pounds. Such large loaves would feed a family for days or weeks, until the next baking day.
I have been complaining about factory and supermarket bread for as long as I can remember—they not only taste awful and have terrible crust, they have a huge list of artificial additives.
But not Pan Pascale. Here is the list of ingredient:
Organic whole wheat flour
Filtered water
Sea salt
Enjoy! (If you can find it).