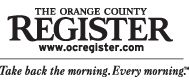 Orange County Register
Aug 10, 2013
Posted by Forno Bravo
Make Pizza Like a Pro At Home
By NIYAZ PIRANI
The Orange County Register
PIZZA AT HOME: This is one style of Forno Bravo pizza oven.
FORNO BRAVO
It's not delivery. And now it doesn't even have to be DiGiorno. That delicious pizza can be cooked in your own home pizza oven.
Forno Bravo can turn your home into a pizzeria with a first – a new line of authentic Italian wood-fired ovens designed for home use.
The ovens can be installed inside or outside.
The ovens are handcrafted in Italy. Orders are shipped to a customer's home from a warehouse in Northern California. The ovens come in different styles, depending on a user's needs. But choosing the oven that best suits your preferences is easy with Forno Bravo's online Oven Selection Wizard. The company says, "installation can readily be done by a non-professional homeowner." Or you could hire a contractor.
After you go through styles and sizes, you get a price list with specs. Ovens start at $1,950, with the top model costing nearly $5,000. Shipping to Orange County will cost $200 to $400.
Forno Bravo also sells tools such tools as log holders ($60), pizza peels ($40) and a thermometer accurate up to 932 degrees Fahrenheit.
For foodies, the store offers kits featuring quality ingredients. For example, gourmet pizza kit No. 2 features Caputo pizza flour, San Marzano tomatoes, extra virgin olive oil, oregano, imported anchovies, capers, tuna and pesto. Do we wish we had one of these babies to crank out pies for the big game Sunday? Oh yes.
For more information visit www.fornobravo.com or call (800) 407-5119.