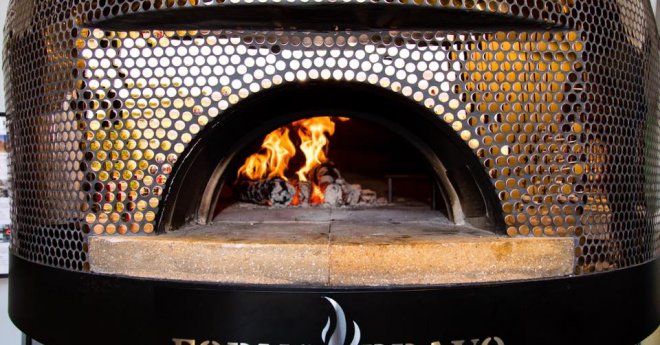 North American Pizza and Culinary Academy Takes on Curbside Pickup and Other Projects
May 19, 2020
Posted by Forno Bravo
With in-person classes currently on hold until June, the team of chefs at NAPCA have switched gears and returned to their roots. What do you do when you have a gorgeous commercial kitchen, and state of the art dough and oven rooms? You cook!
Utilizing the skills they have gained from working in restaurants around the country and the world, including extensive menu planning practice, co-founders, Master Instructor Leo Spizzirri and Chef Anthony Iannone, selected some of their favorite pizza styles and Italian comfort-food dishes, and made them available to the public through curbside pickup.
The Menu and More
The menu ranges from main courses like NY and pan pizzas (pepperoni, sausage, or cheese, plus a weekly special) to lasagna, chicken parmesan, soups, chicken salad, and antipasto. They are even offering finishing treats like chocolate banana bread and take and bake cookies. Finally, they added a curated selection of wines to round out the meal. Yum!
Since quality ingredients are in short supply at many local markets, the chefs also increased their line of support items available for sale through their website. Flours, spices, tomatoes, yeast, and home pizza making kits are among the many offerings. They are even selling 1 oz containers of their sourdough starter to get folks up and running on one of the hottest baking trends!
Not stopping at just food, they also assembled a collection of specialty pizza peels, baking dishes, and even countertop ovens that might be harder for clients to find. As a bonus, every product offered has been tested at the school, so they can confidently recommend them from first hand experience.  
So if you are in the Chicago area, check out their website HERE for the full list of options available for pickup. (Baking equipment, accessories, and non-perishable items can also be shipped. Just contact the school directly at info@pizzaculinary.com or by phone for a quote.)
Online Connections and Instruction
To continue their passion for teaching during this time of social distancing, the chefs have increased their social media outreach and YouTube presence to stay connected with their students and fans. Chef Leo regularly posts demos, photos, recipes, and even just chats on pizza and all things food on the school's Facebook and Instagram pages.
In an exciting milestone, one of Chef Leo's videos, "Chicago Stuffed Pizza from Scratch!" recently reached 1.2 million views! The crazy thing is he did the entire 19 min video in 1 take! Flawlessly! Chef Leo has a real gift for live demos, which is why we love having him cook and teach at our Forno Bravo booth for trade shows.
Click below to watch this popular video of how to make an incredible, regional pie.