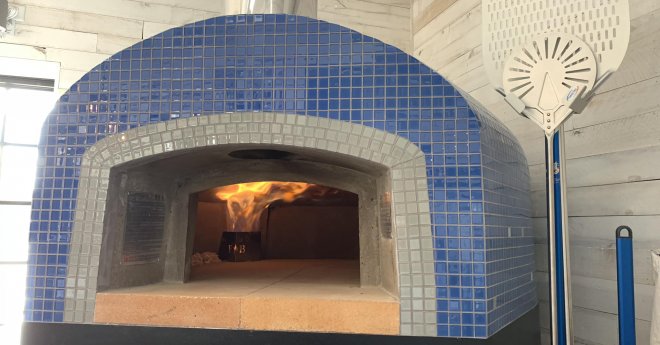 Fire It Up! Forno Bravo's New Modulating Commercial Burner
Jul 23, 2019
Posted by Forno Bravo
While some of our commercial customers prefer the 'Go Wood or Go Home' traditional cooking approach in their kitchen, many chefs choose to also install a gas burner in their ovens for maximum flexibility and convenience. Forno Bravo has been offering gas and gas/wood combo options in our commercial ovens for the past 4 years. While our old burner performed well, we felt we could do better. After a lot of research and testing, we are excited to announce our new and improved, 5:1 modulating burner for our commercial ovens. It is fully UL/CSA Certified and has been rocking it in the field, with outstanding performance and rave reviews from our chefs. This burner is not just a "gas-assist," but can truly replicate the characteristics of wood fired cooking in a refractory oven!
Powerful Flame
To begin with, the new commercial burner is powerful. It comes tuned from the factory to a maximum of 100,000 BTU.* This volume of flame means that the the oven will operate with very similar cooking characteristics to running full-out with wood fire only. For example, it can heat up one of our large Napoli120's from room temperature to 600°F+ in only 1.5 hrs. Once the oven is at baking temperature, the oven itself is so well insulated, that with the burner off and the double-walled door in place, the temperatures will only drop by a few hundred degrees overnight; it takes little to no time (or fuel) to bring it back up to full temperature the next day to get started baking pizzas again.
The powerful flame also helps maintain consistent temperatures during a the meal rush. The flame is designed to work with a domed oven to maximize both conductive heating (from the floor) and reflective heating (from the dome.)
At the International Pizza Expo in Las Vegas, we really put the burner through it's paces to test it's ability to handle a rush. With the help of Master Instructor Leo Spizzirri of the National Pizza and Culinary Academy, 4 master pizzaioli, and some hopping Italian pop music, we put out over 60 pizzas in about 35 minutes! The chefs reported back that the floor temperatures didn't budge from start to finish! (And the crowds loved the delicious results.)
Modulating Flame for Energy Efficiency
On the other side of the spectrum, keeping fuel costs low in a kitchen really counts. A well-made refractory oven is pretty easy to heat up — not over-heating it for your recipes can often require more skill and attention. With our new modulating burner, the chef sets his or her desired temperature on the easy-to-use, electronic controls, then lets the burner do the work to keep it at that set point. The  digital display shows both the target temperature and the actual oven temperature. With a 5:1 ratio, if extra heat isn't needed, the burner will throttle itself all the way down to 20,000 BTUs. This allows for stable temperatures, 'always-on' light in the oven to reduce food waste, but substantial fuel savings during slow service times.
The burner also provides its own air for up to 30% greater efficiency, compared to atmospheric burners; more power from less fuel saves you money!
Flexible Fuel
Speaking of savings (time and money,) our burners are designed to operate with either natural gas or liquid propane, to match the way your kitchen is currently plumbed. Just let the sales staff know your preference, and we will set up the burner with the right nozzles and configuration to match your restaurant. Moving or need to change it later? No problem. Just let tech support know, and they can send you the new parts and walk you through the exchange.
For even more flexibility, our gas fired ovens can also be used as wood only or with a combination of gas and wood! The sensitive thermocouple probe keeps track of the heat levels and adjusts the burner as needed. A sturdy, stainless steel ash guard with a stylish laser cut out helps protect the burner and keeps wood and ash away from the nozzle. The addition of gas makes managing your temperatures easier, but still allows for the flavors, smells, and ambiance of a wood fired pizza oven.
Durable Construction and Easy Installation
The burner is built from a die cast aluminum housing for precise alignment of parts. A cast iron Venturi provides superior mixing of gas and air for maximum efficiency and control. Finally, a sturdy mounting bracket provides peace of mind that the burner will stay where it is intended and placed.
Do you have a strong preference for which side of the oven you like to bake in? Let us know. The burner comes pre-assembled and can be mounted in three different locations for your baking pleasure. We'll adjust the oven's floor to be ready for your requested spot. Our manual has step-by-step installation instructions, but we do recommend you use a licensed plumber and electrician, as a dedicated 20 Amp, 120 VAC circuit is required, and any gas work will need to be signed off by a plumber for safety, as part of the permit process of most municipalities.
International Certifications
Our commercial oven cores and burner have been tested by Intertek, an experienced and reputable third-party testing firm. They are certified as compliant to the following international safety and performance standards for Wood Fired and Gas Fired Ovens for indoor and outdoor restaurant use in the United States and Canada:
 UL737-2011,
UL2162-2014,
NSF-4,
ANSI-Z83.11-2016,
CSA 1.8-2016,
ULC S627-2000,
ULC/ORD 2162-2013.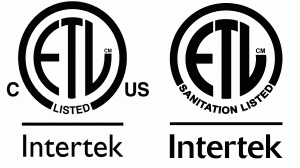 *The burners are currently configured to a high of 100,000 BTU (20k BTU low) for the optimal balance of performance and fuel efficiency, though our burner and ovens were tested and passed certification at a much wide range of BTU levels, as noted in our manual and official listings.
To learn more about our new commercial burner and its specs: CLICK HERE
To learn more about our certifications and what they cover: CLICK HERE