Mussel Pizza
May 03, 2012
Posted by Forno Bravo
From the NY Times, in the "Recipes for Health" column. To quote the author, "One bite of this and I'm transported to a seaside town in Italy or Provence". Nice.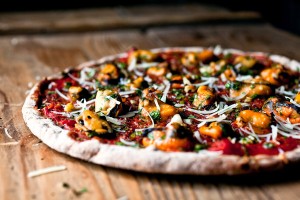 If you've been reading FornoBravo.com for a long time, you will have heard that Pizza Frutti di Mare is one my favorites.
This recipe even calls for whole wheat pizza dough. Here's to taste and health; it can be done.