More Bread from Belgium
Aug 18, 2012
Posted by Forno Bravo
Here are a couple of additional photos of the wonderful whole grain bread bought at the Stokell street market — a nice, upscale village just outside of Brussels. Lots of diplomats and career foreign service people to be found. The dark bread was an 8 grain, loaf leavened with yeast. It was light and moist considering the whole grains, and it worked really well as fresh bread with a cheese and salad lunch, and after a couple of days, it was still fresh enough for breakfast toast. The bakery had an automatic slicer, so our 1/2 kg came out in perfect slices.
The boule in the right front was a whole wheat levain. We also had this pre-sliced and it was a nice, rustic hearth loaf. The whole wheat flour, pre-ferment and sourdough culture gave the bread a complex and well-developed flavor and texture, along with a thin, but very crunchy crust. This was the loaf where the bottom of the bread was darker than the top (an issue that I can relate to).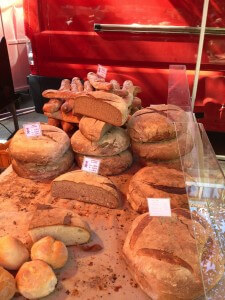 Last little bit. I really liked their waxed paper bags. They worked well in helping keep the bread fresh, and they had a nice traditional feel.
All in all, a nice part of the European market experience.