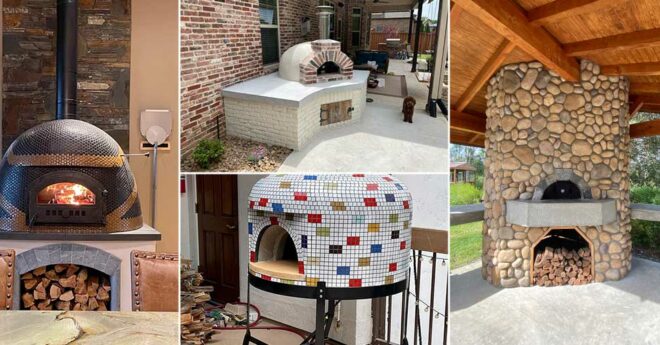 Memorable Oven Builds
Oct 27, 2022
Posted by Forno Bravo
Scroll down to get inspired by these beautiful residential pizza oven builds submitted to our annual photo contest. They are great for helping you to plan future projects, or even to take advantage of the nice fall weather to get started on your build now.
Mike Keller of Arkansas – Premio2G100 Modular Oven Kit
This build features a classic domed stucco finish and a custom brick oven mouth embellishment for personality. The Premio is ideal for larger gatherings and longer heat retention, making it great for baking bread the next day after the oven temperatures have come down a bit. (We've had reports of this model holding a gradually descending heat for up to 50  hours after it is fully charged!)
"I love wood fires and really enjoy wood BBQ cooking. This oven was something we have always wanted to add to our backyard living space and it works amazingly. Just finished the oven in June and have used it multiple times with great results. What I love most is the experience the kids have being a part of the making of each pizza and watching them cook. We are in Italy now, and I can honestly say these pizzas hold their own to pizza from Rome and Florence."
Firespeaking, LLC of Eugene, OR – Casa2G90
Firespeaking, LLC is an installation and architectural company in Oregon. It is currently represented by Max and Eva Edleson and Samuel Jervey. The team is dedicated to combining the inspiration of beauty with the precision and engineering of function, in order to create magic and a continual reminder of the sacredness of daily life in their client's homes and public spaces. Among other projects, their work includes quality indoor and outdoor wood-fired oven installations.
"We built this oven for clients who wanted a functional wood-fired oven in the middle of their kitchen for all-season use. We blended the project with the existing materials in the house and added a custom door."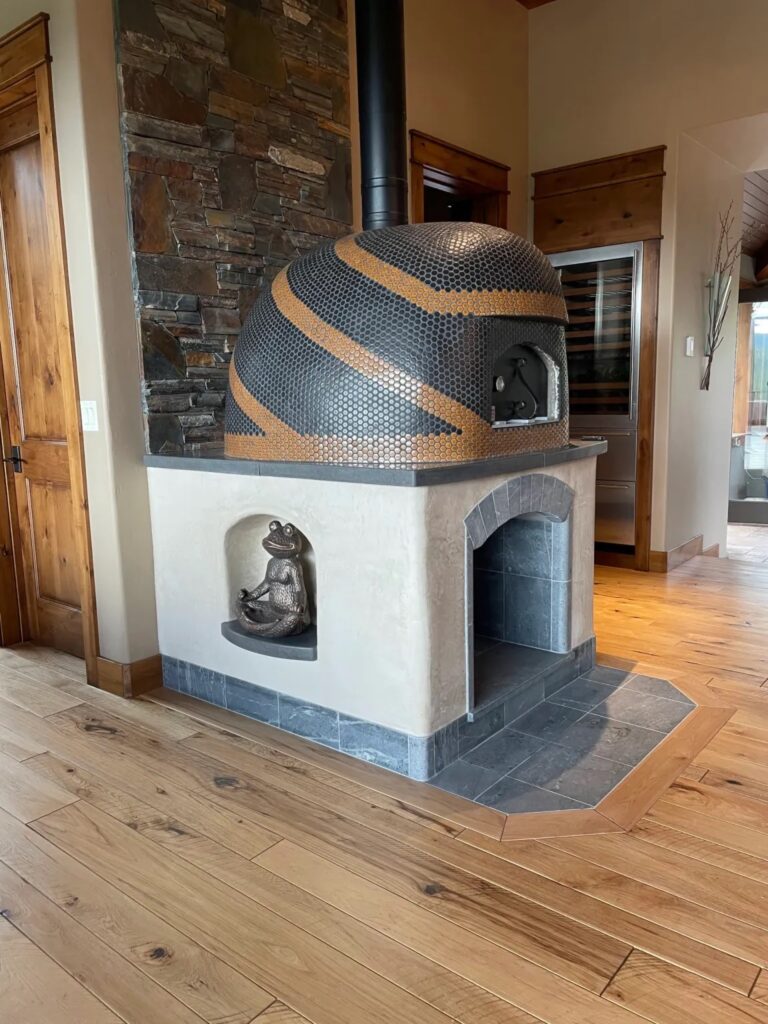 The fun accent swirl and space for artwork in the base gives this build character.
Skipp Bringmann of Soldotna, Alaska – Modena Oven Kit
The Bringmanns selected a commercial-grade oven kit for their Alaskan cabin. The extra thickness of the dome, cooking floor, and insulation is perfect for the extra cold winters at their northern home. We love the impressive river rock finish and the covered prep space that keeps the oven accessible for year-round cooking.
"We needed something special for our Kenai River cabin. We love it, as we are always entertaining all summer."
Scott Leibow of California – Napolino70
The Leibows ordered a custom-tiled Napolino for their home, and then embellished it with a very personal nameplate for fun. We love the joyful look of the final product.
"The inspiration came to me while looking at the shape of the oven, and I immediately thought "Cupcake". I wanted our oven to look like a white frosted cupcake with colored sprinkles. We named it Giulietta (Amy's dog is Juliette). The nameplate is from an Alpha Romeo Car.

I love wood fired cooking. It is very fulfilling to start a fire, control the fire, cook on that fire, and then eat the meal. I love making dough and being part of the process in every step. We even grow our own basil! You say in your documents to be prepared to have more friends….. that is the truth.  Whenever I make pizza, there are guests!" 😃
More Resources: