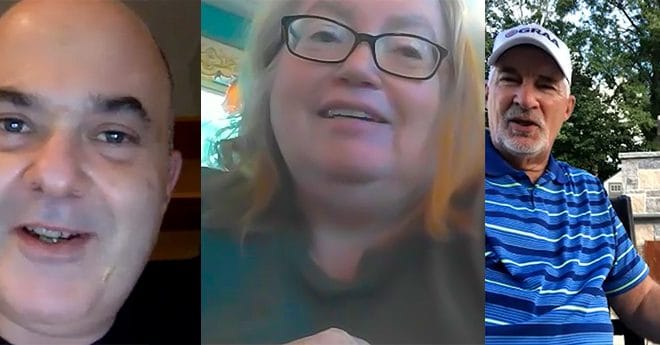 Meet Forno Bravo Wood Fired Enthusiasts and Their Builds
Oct 28, 2020
Posted by Forno Bravo
Meet Joe T, Brad L, and Alexis Z! All three are Forno Bravo oven owners and wood fired enthusiasts. Recently, we connected with them to learn more about their builds and their stories. We enjoyed doing zoom interviews with them so much, that we shortened up the conversations into zippy, 1-2 minute videos to share with you! Check out these beautiful, diverse builds, and enjoy the show.
Joe T – Wallingford, CT – Casa2G100
Joe and his wife renovated their back patio and added a pizza oven. They shared with us:
"We've enjoyed using it 2-3 times a week and have mastered pizza (for example: pear, pesto, pine nuts, mozzarella, and arugula), muffins, bread, lasagna, steak, chicken supreme, cheesy potatoes, risotto, berry crisp, and much more!

We have expanded beyond pizza. Spiced pork roast and roasted elephant garlic are now our friends' favorite. In the days of Covid, outdoor eating has been our saving grace to enjoy our family and friends …and of course, we stand a pizza peel apart. Lol!"
Click below to meet Joe!
Brad L – Stamford, CT – Primavera70
Bradley first encountered Forno Bravo through our free Pompeii oven plans several years ago. He used the plans to successfully build a brick oven with a friend and they had a blast using it. When it was time to get an oven for himself, he chose a fully assembled Primavera instead of going the DIY route again. It has been the perfect size for his home and style of entertaining.
Click below to meet Brad!
Alexis Z – Seattle, WA – Casa2G90
Alexis is an artist at heart. The exterior of her oven is one of a kind! With collected materials from all over the world, she and her contractor created a masterpiece!
"Along with being a fantastic way to cook and the star of some fun parties, my oven is also a piece of art. I took a class on how to make wood fired pizza, but it was several years before I was able to build my oven. In the meantime, I collected salvage that I envisioned would be used to create the structure. The brick came from a neighbor's teardown, the clay roof tile from a hospital in Colorado, the roof piece an old industrial roof fan (the baffles still turn,) and two Italian terracotta mermaid heads I found at a London shop.

In 2015, I demo'd my backyard and created a patio, gardens, and of course, the pizza oven. The stone used to build a retaining wall was cut and fitted by hand to form the top of the oven. The brick was used for the base, and the ledge was stone left over the new garden steps. The mermaid heads were used to hold geraniums. The table in the picture came out of a machine shop and I covered the top with terracotta stained concrete. The table is perfect for staging.

What do I love about the oven? Everything! Yes, you have to plan more time for meal prep with getting the oven up to temperature, and there is some trial and error with new recipes – I burned the heck out of a focaccia last week, but the inside was good! But really, nothing can be compared to the taste and authenticity of food cooked with applewood, and knowing you managed your fire. My neighbor recently gave me a nice chunk of salmon he had just caught. I roasted it on a piece of cedar in the oven with a rub. Fabulous to say the least. I opened a bottle of rose and put Il Divo on. Life is good."
Click below to meet Alexis!