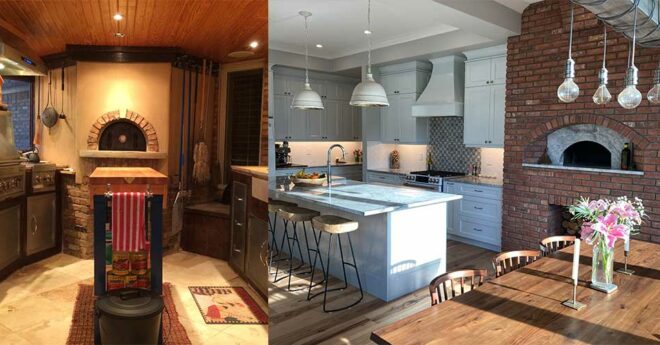 Idea Center: Indoor and Outdoor Oven Options
Jan 31, 2022
Posted by Forno Bravo
Wood fired ovens can be found in both indoor and outdoor kitchens all over the world. While outdoor settings are more common, they are far from the only place to install this style of oven. Peruse below to see several favorites submitted by customers and installers in a variety of settings and styles. These samples will help get your thinking cap going as you consider upgrades and extras that can be added to your home, patio, or yard this year.
Indoor Kitchen – Alberta, Canada – Casa2G110
Installing an indoor oven in a residential or commercial kitchen requires additional attention and specific accommodations for venting and clearance to combustibles, but they gain many benefits in terms of long-term convenience and year-round usage. This kitchen from Alberta, Canada features a 44″ cooking floor (Casa2G110 oven core) and a full brick facade. With a marble oven mouth and landing that mirrors the countertops, and the brick tying into the color of the table, the oven is a beautiful blending element between the old and new styles present in the room.
Enclosed Patio – Florida – Pizza Oven Kit
This family sent in before and after shots of their enclosed patio kitchen. They enclosed the TV, added light-colored stone trims and finishes, moved the refrigerator, and added the pizza oven, decorative supports, and wood storage areas to make the area complete. What an upgrade and comprehensive cooking space! Photos courtesy of @justgrillin (Just Grillin Outdoor Living).
Outdoor Patio and Pergola – Primavera70
Patrick M. and his dog Brody love the extra shade that the pergola provides their entertaining outdoor space. Always be aware of following the required distance to combustibles in this setup, but it is a lovely way to get the best of both worlds and the feel of an indoor-outdoor space.
Enclosed Patio Kitchen – Amarillo, TX – Custom Pizza Oven (Kit)
Tracy T. says they drew much of the inspiration for their space from fornobravo.com website and Forum. She wrote, "It makes everything! Pizza, smoker, ribs, brisket, bread, desserts, whatever you can think of." The big windows and screen door can be opened in the summer or closed up in winter to allow for practical enjoyment in any season.
Enclosed 4 Seasons Patio – Twin Cities, MN – Premio2G120
This is another example of a screened-in porch that is perfect for 4 seasons of entertaining. Storm windows protect it in the winter from the cold, and then open up for warmer weather enjoyment. Paul M. shared, "We were inspired by our travels in Italy, where we saw wood-fired pizza ovens being used for a variety of food preparation, not just pizza. We incorporated our Forno Bravo Premio2G 120 into a four-season addition, which allows us to cook with friends and family in an interactive way all year round. We use it every weekend. We absolutely are enjoying it."
Covered Dining Area – Lakeland, MN – Vesuvio90
John L.'s family positioned their tile-covered Vesuvio outside of the dining area for proper venting, but close enough for handy baking and serving. It keeps smoke away from the table, but lets everyone be part of the action. It is a smooth compromise that he says brings friends and family together for great food and lasting memories.
Full Outdoor Entertaining – North Carolina – Casa2G100
Tina S. opted for the full outdoor experience for their oven. With a large stone enclosure, lots of prep counters, and an added Argentinian Grill, this setup is party central! They love it and have turned outdoor eating and entertaining into a regular lifestyle for their family.
To learn more about Forno Bravo wood fired and gas fired residential ovens, check out our catalog! We would love to assist you with your design ideas and questions. DOWNLOAD RESIDENTIAL CATALOG