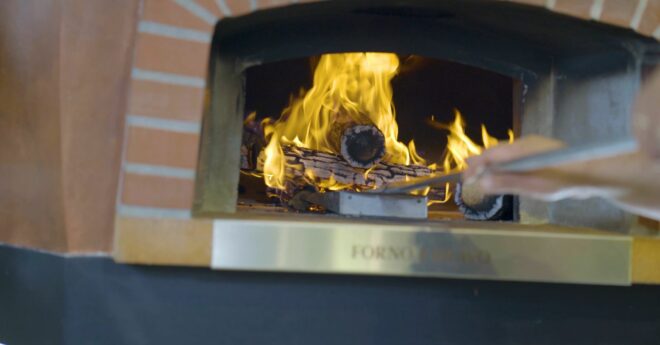 How to Light a Fire in Your Pizza Oven with Chef Anthony Iannone
Sep 29, 2021
Posted by Forno Bravo
In this video, Chef Anthony of the North American Pizza and Culinary Academy takes us through his method for starting a fire in a wood fired oven (commercial or residential.) Using a combination of materials like fire starters, dried, cut wood, specialty pressed beech wood, (and a fun, but ferocious propane torch,) he gets the fire burning merrily away quickly and easily. Check out his tips and tricks to make lighting your oven easier too.
Watch the Video
Fire Starting Principles:
Use only dry, non-pitchy wood. (What are the best types of wood for pizza ovens? CLICK HERE to find out!)
Place the wood in the front third of the oven, stacked in a criss-cross manner to allow room for air to flow through.
Create your starter of either sawdust, commercial fire starters, or a combination in a paper bag and place it under the wood.
Carefully light the starter with a match or torch.
Once the wood is burning well, push the whole stack back to the center of the oven using a steel shovel and allow the dome to heat up until it turns white. (Black soot will burn off.) Add additional wood as needed.
When the oven is ready and at the desired temperature, push the whole stack of wood to the back wall or back corner.
Brush residual ash off of the cooking floor with a copper brush or an extra piece of dough. (DO NOT use a towel – wet or dry.) Begin cooking!
Pro-tip: You can pre-warm additional pieces of wood by placing them in the oven one at a time on the far side away from the fire, and then moving them onto the stack with tongs or a peel when you are ready to use them. (Pre-heating the wood reduces smoke and keeps the fire size more stable with a consistent flame.
The heat-up time required for your oven varies depending on the oven size, dome composition and thickness, insulation quality and volume, type and amount of wood, and the desired temperature. Forno Bravo residential ovens typically take 30 min – one hour+ to fully charge. Forno Bravo commercial ovens initially require 2 – 3 hours+, but retain their base-level heat much longer overall.