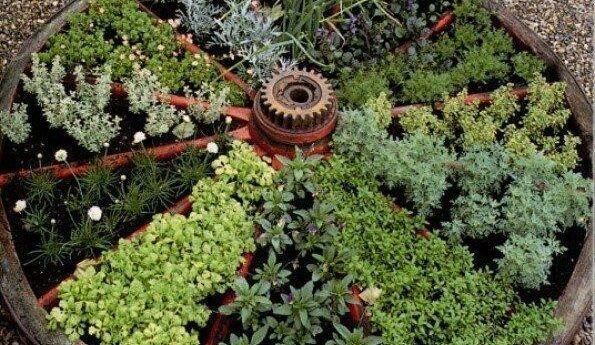 How to Grow a Pizza Garden
Aug 31, 2021
Posted by Forno Bravo
Yum, pepperoni, fresh off the vine. Ripening cheese, growing straight and tall. Anchovies, ready for picking. Okay, so that's not what they mean when they talk about a pizza garden. Still, many of the toppings we love on our favorite pizzas can be grown right outside our kitchens, even if we don't know our asparagus from a hole in the ground.
As more homeowners try to put a unique stamp on their decks, patios, and backyard entertaining areas, outdoor pizza ovens are steadily gaining in popularity. Using either wood-fired or gas-powered technology, modular brick ovens are becoming staples of outdoor kitchens, transforming the patio into a pizzeria and turning Chef Dad into a pizzaiolo.
Of course, a pizza artist is only as good as what goes into and onto the masterpiece being prepared for the oven. So, a natural outgrowth of the popularity of backyard pizza ovens is the search for the freshest ingredients, preferably locally sourced. It doesn't get more local than your own garden.
Getting Started
As long as you're in pizza mode, how about a pie-shaped garden? You can repurpose an old kiddie pool filled with potting soil. A decorative wooden wagon wheel has the right shape, and its spokes provide the "pie" sections separating the plants you decide to grow. Or, you can use some flexible metal or plastic to create your garden's outer edge, then section with wood for the "slices." One of the best things about a pizza garden is that it doesn't require much space.  A circle with a 6-foot diameter works well for the space your plants will need as they grow, but you can go smaller. You need a sunny spot with well-drained soil and a sense of your lawn's gardening zones. Add compost, seedlings, and water, and get ready to watch your pizza garden grow.
Pick Your Toppings
Is there really anything that you can't put on a pizza? That may depend on how much you like to argue about what belongs on a pizza. The Great Pineapple Debate has been raging for years. In Sweden, banana slices and curry powder are a thing. Brazilians pile peas onto pies. Costa Ricans love coconut on their pizza. The only limit on toppings seems to be imagination and what you can realistically grow in a backyard pizza garden.
Boldly declaring that one ingredient or another is "the best" when it comes to pizza is asking for a fight, but there are some basics that would get few arguments. Tomatoes; you need them for the foundational sauce that goes on most traditional pizzas, plus they're a great topping on their own.
For a "white" pizza, plant basil you can use to make a pesto base. Oregano, parsley, onions, cilantro, spinach, arugula, bell peppers, garlic. They all have their place on a pizza, and they can all be part of your pizza garden. Be adventurous! Maybe you've never thought of asparagus as a pizza topping, but an internet search will yield plenty of recipes. While it may take two or three years to really get established in a garden, once asparagus takes hold, it returns year after year.
Outside and Inside
For some pizza growers, a satellite garden in the kitchen is a handy way to have herbs and other ingredients right at their fingertips. A kitchen windowsill is a great place to grow tomatoes, and small containers can easily accommodate herbs like basil and chives. These herbs love diffused light. Depending on the orientation of your house and kitchen window, do be aware of radiant temperatures and the afternoon brilliance coming through an east-facing window — you do not want your plants to bake in their own pots!
All in the Family
With more people choosing to grow some of the food they eat, a pizza garden is a great project for the entire family to do together. Kids have so many options available through things like social media that it can be tough to get them out of the house and engaged in something that sounds suspiciously like work. The secret ingredient is fun. Kids love to dig in the dirt, and when the point is to grow something that they actually like to eat, you might want to get out of their way. Just keep reminding them they're not growing vegetables and herbs, they're growing pizza!
Article written by Pat Woodard
Pat Woodard is a freelance writer who takes occasional breaks from high country hikes in Colorado to chase golf balls, rainbow trout, and full-bodied red wines. He's also a longtime radio and television broadcaster, documentary producer, and runner-up on "Jeopardy."
For help with additional gardening and lawn care needs, visit LawnStarter.com