Have Food Trucks Gone Too Far?
May 11, 2012
Posted by Forno Bravo
I got a real kick out of this first-class rant by Los Angeles public radio commentator and performer Sandra Tsing Loh.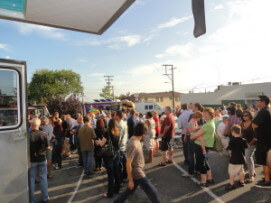 This comes from www.altadeno.patch.com. It's just true and funny. It reminds me of the "beer flavored beer" ads that featured Denis Leary.
Tsing Loh's radio piece, which aired on Pasadena's KPCC station can be heard here, or you can read a transcript of the piece.
Her complaints included:
God bless my native city of Los Angeles, and its pulsing norteno reggaeton beat, but I think sometimes there can be TOO much hipness, TOO much multiculturalism, TOO much blending. Do we really NEED a Korean Mexican short rib minicrepe with mandarin oranges and coconut shavings with a side of jicama slaw marinated in Red Bull, handed through a tiny window by a tattooed Cal State Northridge student who's reading a book on French symbolism and charging three dollars for smart water? I mean how smart is our smart water supposed to be? If it was that smart, I wouldn't ALSO be trying the kimchi on a stick.
And:
Unfortunately, the welcoming visual mandala of food trucks will represent the height of your lunch experience. Because when you actually read DESCRIPTIONS of what is offered, now comes that familiar smoggy cloud of CONFUSION. It's like attending an alumni REUNION of things you've never met. We have what the LA Weekly voted, in 2011, to be "LA's most beloved Bacon chocolate" truck, hand-pulled venison sliders, kimchi on a stick, crazy uncle po'boy lobsterooni and those four simple letters, BOBA. I don't know what boba is– I don't want it– I want people to stop insisting on my getting to know it– I can barely run the SAFARI app on my Iphone– I want boba to go away.