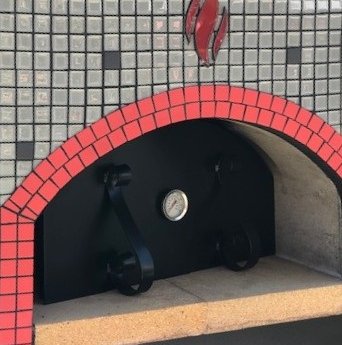 Forno Bravo Slings Pizza at the 2019 Salinas Valley Food and Wine Festival
Aug 16, 2019
Posted by Forno Bravo
Forno Bravo was happy to jump in and be a part of the Salinas Valley Food and Wine Festival on August 10th in Salinas, CA. Held in Oldtown Salinas, just a mile or two from the Forno Bravo factory and showroom, the festival was a fun way to introduce participants to Forno Bravo ovens and the delicious wood fired pizza they produce! Forno Bravo was a Platinum level sponsor of the event, as well the host of a very popular booth, where we baked over 60 tasty pizzas in our wood and gas fired oven, serving them to the hungry crowds as quickly as they came out of the fire.
The Festival
Now in its 9th year, this regional event highlighted 24 local vintners, 10 brewers, and 18 restaurants, chefs, and produce providers, plus a variety of live music, art, and cultural activities. Run by volunteers, a portion of the proceeds go to charity. This year's funds recipient was "More Produce in Schools," a program of the Grower-Shipper Association Foundation, that helps bring salad bars to under-served schools to improve student health.
The Oven
Showing off the exceptional tiling skills of our craftsmen, the team brought a custom-finished, wood and gas-fired oven on a powder coated steel tray and stand.
The firebrick floor recharges quickly, and the high-tech refractory dome holds its heat for hours! While the oven was primarily running on gas at the festival for consistency and simplicity, the oven was also able to burn supplemental wood. Like popcorn at a movie theater, the smell of the wood smoke helped draw in the crowd, as well as adding wonderful flavor notes to the pizzas as they baked.
The Food
Speaking of pizza, the Forno Bravo team took turns prepping, baking, serving, and visiting with customers. They made a variety of pizzas to show the oven's versatility — from classic Margheritas, to pepperoni, sausage, and peppers, plus dessert pizzas with Nutella and fruit toppings. They even some baked some Italian sandwiches with fresh bread made from the the dough balls on hand. Several of the guests suggested that the team open their own restaurant! High praise indeed from this gathering of foodies, and a testimony to the fact that simple ingredients, solid recipes and technique, and an amazing oven can help elevate the skills of even the most novice chefs.