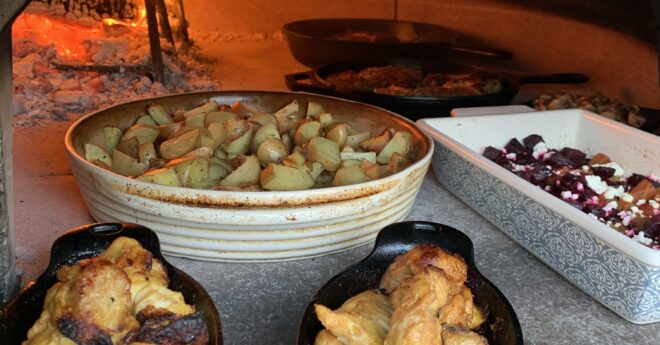 Favorite Wood Fired Foods and Pizza Toppings
Nov 18, 2021
Posted by Forno Bravo
October 2021's Community Question was all about favorite wood fired foods and pizza toppings. The creativity you can display in a wood fired oven is almost endless.  Below, you will find several responses from our community to help spark your imagination and stretch your comfort zone as you move beyond the typical pizza box to a whole new world of deliciousness. (They came up with some pretty delightful pizza topping combos too!) 
Favorite Pizza Toppings from Our Survey 
BBQ Pulled Pork Pizza
One of our favs is a basic barbecue pulled pork pizza. We start with adding barbecue sauce (not too spicy) to the spread dough, add plenty of precooked pieces of BBQ pulled pork along with smoked Gouda cheese and top with fresh cilantro upon taking it out of oven. Always a favorite of our guests! Our other go-to pizza is fresh cooked Italian sausage, onion, fresh cut tomatoes, and garlic, along with marinara sauce & mozzarella cheese!
~ Tom A.
Thai Peanut Chicken
Hands down, our favorite wood fired pizza is Thai Peanut Chicken. We marinate chicken chunks in Thai peanut sauce, then build the pizza with Thai peanut sauce on the dough, followed by blended pizza cheese, then topped with the chicken chunks, shredded carrot, green onions and peanuts. Cilantro is scattered over the top at end of baking. Spicy and savory!
~ Kevin A.
Clams and Bacon Pizza — Oh, my!
Our most favorite is red sauce, mozzarella, fresh sliced garlic, fresh cooked clams, and homemade bacon chunks.
~ Stephanie
Pizza and Steak
Pizza is my favorite food that comes from my oven so far, with a nice 2″ steak coming in 2nd. But to be honest I've only finished my oven this last July and haven't had time to try a lot of things yet. 🙂 My favorite toppings are cheese, sausage, mushroom, and onions.
~Thomas Z.
Other Wood Fired Favorites
So Much Variety
With lots of experimenting, the Crawfords have taken wood fired cooking to a fabulous level. Here are just a few of their favorite dishes: Corn and chicken and beef empanadas, Cornish game hen and wild rice, braised leeks with Serrano game and sherry vinegarette, cassoulet with duck legs, sausage and vegetables, pork roast and lamb shoulder, and even tandoori chicken, pot roast, and a "simple" meatloaf. Wow!!!
We love our oven. We use it for almost everything now. It adds so much dimension and flavor.
~ Shelly & Alan C.
Steaks on a Tuscan Grill
Cooking in a smoking hot oven on a grill over coals is the perfect combo for a quick sear and slow roast. It does steaks just right!
We love the fact it brings our family and friends together to experience amazing pizza and other fine foods like steaks and chops. It creates an entertaining and fun environment to experience an evening filled with good food, fine wine, and great company and leaves our guest with a memorable experience wanting to come back for more.
~Mark O.
Clams Casino and Fresh Herbs
Our oven is the focal point of our backyard hardscape. Built into a garden embankment and surrounded by heirloom tomatoes and herbs (always picked fresh for immediate usage), it is so much more than a pizza oven. We use it multiple times per week all summer to cook everything from chicken wings to striped bass, clams, garden vegetables and, of course, pizza!!
~Rich Z.
Roasted Cauliflower
Roasted vegetables and vegetarian dishes also cook beautifully in the oven.
Loving my oven so much. Here are some pics of the past year. Thanks! Keep up the great oven craftsmanship. It's making a lot of people very happy. 🙂
~Peter T.
The Mother of All Fishes
Baked in a Toscana wood fired oven, this fish was over the top awesome!
This was a 28 lb pink grouper that baked in the pizza oven. We set him on a bed of vegetables and poured in a bottle of white wine. He cooked for 55 minutes, in an oven that had cooled down from baking bread,but we did start a small fire and raked the hot coals off to both sides. We served him as part of the Feast of Seven Fishes on Christmas Eve to about 3 dozen guests and there were no leftovers!
~Mark F.
More Resources
Visit our extensive, free Community Cookbook or purchase Brigit Binns Kissed By Fire Wood Fired eCookbook for wonderful recipes and many more ideas!