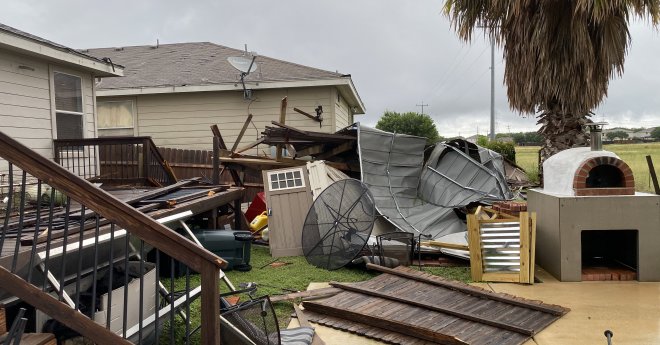 EF1 Tornado Couldn't Topple a Forno Bravo Oven
Jun 22, 2020
Posted by Forno Bravo
Over the memorial day weekend, life got "interesting" for Billy Bradley and the residents of San Antonio, TX. An EF1 Tornado hit the NW side of the city, bringing with it heavy rain and 100 MPH winds, knocking over trees, and causing property and roof damage, according to the National Weather Service (NWS) for San Antonio.
It also did quite a bit of damage to Billy's back yard. The tornado took out his pergola, fences, deck, and storage unit, but his Giardino70 modular pizza oven kit did not move! Flying debris cause a little damage to the fireboard on the base, but the oven itself escaped unharmed. 
Billy reported, "My street was the only street that had damage. My Forno Bravo Pizza Oven did not move at all. I built the oven as per specs, and I was just getting around to adding the bricks on the sides. It was not anchored down either. I believe the weight of the oven and the (domed) shape kept it from moving during the tornado…All and all no one was hurt, just property damage. Thanks again for making a great product! All my neighbors are jealous!"
Thanks for sharing your story, Billy. We're so glad you are safe! You and your pizza oven are certainly Texas tough.