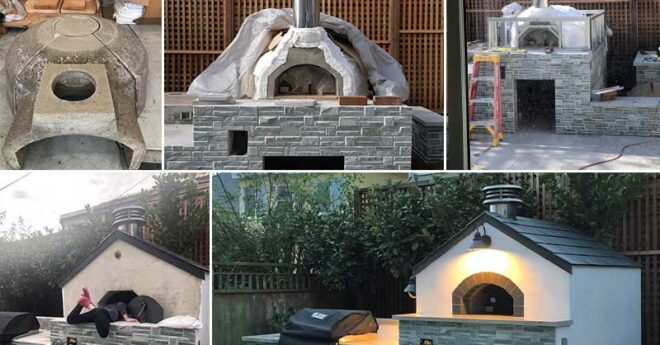 Community Tips for Building or Installing your Wood Fired Oven
Oct 29, 2021
Posted by Forno Bravo
In September 2021, Forno Bravo launched a new feature in the Woodfired Newsletter called the "Community Question." This is a place where experienced oven owners and chefs (home or commercial) can share their wisdom with the larger community. Our goal is to help everyone improve their skills and be inspired in their wood fired journey! The first question we asked was, "What are the best tips you learned when building or installing your oven?"
Answers from our survey and other customer contributions 
Be aware of which way the wind or breeze blows at your location for the opening.
~ From Randy M.
I think what I have learned is to control anxiety. I couldn't wait any longer to prepare my favorite recipes !!!! It took me forever to finish it !!!!
It was fascinating to watch each day progress. Building your Forno Bravo oven teaches you not only how to do it but also knowing the exquisite Italian culture since I read a lot about Italian culinary customs, the different ovens, and regions. And I keep building it …
~ Freddy H.
Get the kit! Loving our Casa2G 100 with gas!
~ Rob M.
Don't be afraid to integrate non-traditional components into your finish if you are building a DIY Pompeii oven or using a kit. It will make it uniquely your style.
I integrated many other features on the fly for my build, for instance, while shopping at tractor supply, a fender jumped out at me for the entrance, I just made it rust quickly with peroxide, salt, and vinegar.
(He also used a piece of corrugated steel, red fireplace dragon glass, a salamander art piece, and an angle iron in his build.)
~Michael S.
Remember, it is ok to do your project in phases.
Got the original plans from the Forno Bravo Forum. Lots of great advice from the community. A part time build that is now at 8 years. Before enclosing it, it was very functional with just the exposed dome.
~ Mark V.
Think about your space, your cooking and entertaining flow, and any installation limitations. The Sales Team is always available to help with ideas!
We installed our oven using a cane to lift it up and over the house! Worked like a charm.
~Ken L.
More Resources
Do check out our website and Forum for more helpful building and planning tips.
You can also download our 10 Things to Know Before Buying an Oven ebook for more helpful tips to consider when you are buying or building a wood fired oven.