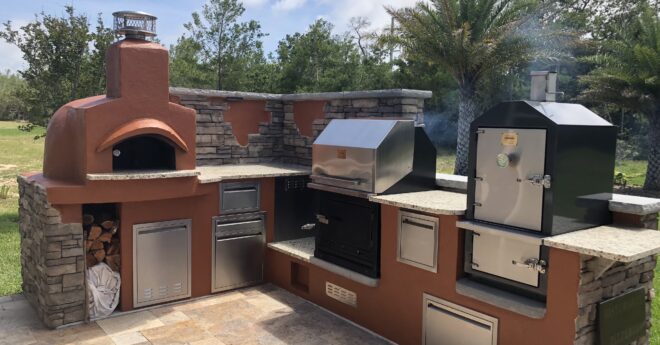 Community Question: What is Your Oven Inspiration?
Dec 17, 2021
Posted by Forno Bravo
Our November 2021 Community Question was all about oven inspirations. What inspired you to buy or build your wood fired pizza oven? We received several responses from previous customers and have included a few other responses we've received from our social media inputs, testimonials, and contests as well. The overall sense of what we heard was 'Don't be afraid to dream big,' and that 'love of food' and 'Italy' have been the sources of many fun and crazy building projects over the years.
Enjoy the stories below and let us know if we can help you fulfill your wood fired imagination with a  kit or fully assembled wood fired oven of your very own.
Submit Your Oven Inspiration and Photos
Noel Nickels – DIY Pompeii Pizza Oven
Noel's story:  "A trip to Italy created the first spark to my wood fire cooking journey. Never had I tasted a pizza cooked in a wood oven so smokey, so crispy and light and so good. No comparison to the heavy, soggy pizzas that were coming out of my kitchen oven.
I came back did some research on types and styles of ovens. There was clay, rammed earth, house bricks, fire bricks, domes, tunnels, barrels, and igloos. I decided on a barrel shape fire brick oven, found a plan, and set about gathering materials. It took 8 months of working only weekends to construct. Did we get the smokey, crispy light pizzas on the first firing? No way! Getting the oven to the temperature for the food you are about to cook takes time and experimentation. But there is nothing I can cook in the kitchen oven that cannot be cooked in the wood oven. The difference is the added flavour.
The wood oven has become a drawcard at our parties. Guests are fascinated about what we can cook, and we get their hands dirty with 'build and cook your own pizza' nights. We wouldn't be without our oven!"
Skip Di Massa – Artigiano 100
Skip's Story: "My true inspiration comes from my mother's passion for cooking and my parents' love of entertaining — our home was always one where family and friends congregated.  (My mom was from Stella Cilento (Salerno) and dad from Solopaca (Benevento) Italy.) My wife and I moved into the home about 12 years ago, and we were determined to carry on my parents' traditions.
We actually have two "Forni Bravi"; one inside our home and one in our outdoor kitchen, so we can use our wood-burning ovens every day!  I love the versatility of the ovens, and have learned how to moderate the temperature inside to bake homemade lasagne alla bolognese, parmigiana di melanzane and even our Thanksgiving turkey! One of our good friends is a pizzaiolo from Naples, and he has been wonderful in teaching me recipes and techniques for making authentic Neapolitan pizza."
Radivoje Bradic – Casa2G100
Radivoje's Story:  "My inspiration for this beautiful project was my beloved wife, who I lost a year ago. I know she would love my Tuscany-style design and the creativity I put in it. I wish she is here with us to share this moment. My love towards cooking and exploring new ways to do tasty food will take me to new adventures, with this amazing product you made. I love the goodness of both heat sources, gas and wood are an incredible combo and could lead to unlimited sources of inspiration to cook."
Dan Stoddard – DIY Pompeii Pizza Oven (Hybrid)
Dan's Story:  "The original inspiration was a visit to Pompeii, Italy, and viewing the bakery brick oven still standing after hundreds of years. After a little research, Forno Bravo's free plans sealed the deal. Building from scratch was a source of great satisfaction. I built a hybrid oven slightly taller than a pure pizza oven to allow for cooking flexibility. It has been a source of family fun for 8 years."
Patrick Reed – Casa2G90
Patrick's Story: "My inspiration was an Italian vacation where I saw this look of old-world ovens. What do I love about it? Everything!
First off, this is a kit and it comes with everything you need to get it up past the insulation part. From there, it is up to you to finish the exterior design. I choose stucco. The second thing I loved is the price.
The oven will get to what I call a "clean white roof" in about 1 1/2 hours (or 750 degrees F on the floor.) I can cook my pizza, clean out the hot coals, then use it as an oven for bread, meat dishes, or slow roasting overnight. The heat lasts for 8-12 hours. Everyone I know loves this oven."
Michael Rivera – DIY Pompeii Pizza Oven & Fireplace
The Riveras' Story:  "My husband is totally blind and together we built the custom pizza oven together. We built the pizza oven over the fireplace, which is very rarely done. It took a lot of extra work, but now we have a built-in smoker as well- added bonus! Definitely a labor of love. We just love our pizza oven and personalized it to make our own with Vatican sculptures and Mexican tiles. Forno Bravo and the Forum users offered much-needed advice throughout the process. Thanks Forno Bravo."
Nathalie and Michael Byrne – Napolino 60
The Byrnes' Story:  "We are loving our Forno Bravo pizza oven here in Nashville, TN. Our inspiration is the pizza we ate on our honeymoon in Italy- it took some practice, but we think we have finally been able to replicate the taste. The thing we love the most about our oven is our Saturday night ritual of lighting the oven and making a delicious pizza together- it fosters togetherness and is quickly becoming one of our favorite activities to do as a family.
As you can see, our Golden Retriever Lou has joined in on the fun and is an eager receiver of any and all table scraps."
Jason B. – Vesuvio 100
Jason's Story:  Jason had such a great college experience, that he decided to get special permission from his alma mater, and had the Forno Bravo team create a custom tiled, wood and gas fired Vesuvio oven based on Butler University's school's mascot. Go bulldogs! This was definitely a unique build!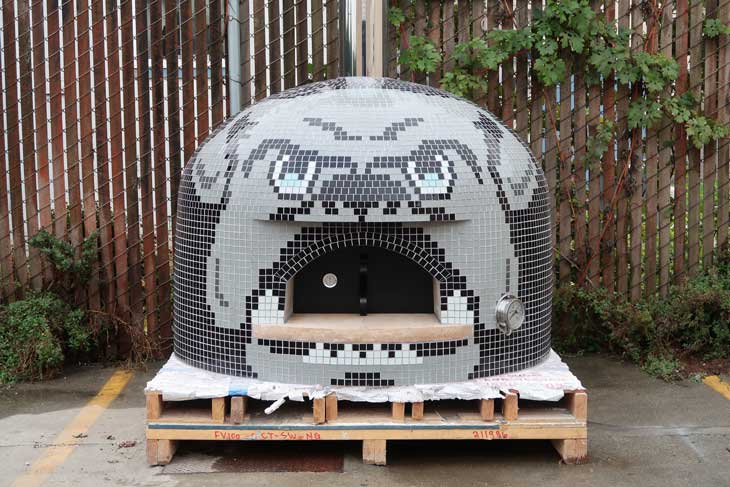 See the all-around view in the video here!