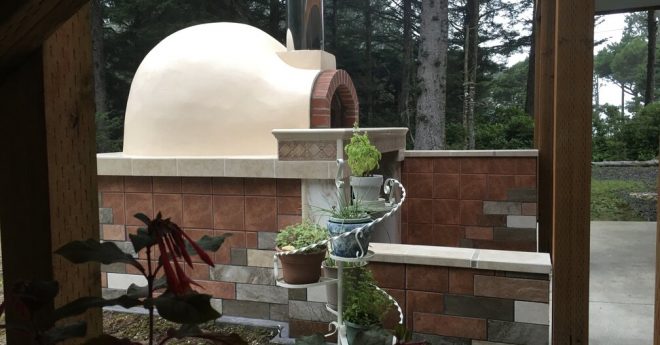 Coastal Connections – The Patton's Premio Modular Kit Build
Dec 29, 2020
Posted by Forno Bravo
Ever thought of building your own wood fired oven, but it seemed too daunting? Well, kits are a great way to tackle the project in a manageable way! Let us introduce you to Tom Patton, his wife, Jane, and his stepson, Clint. This past summer/fall, they decided that a pizza oven would be a perfect family quarantine project that would also help pull their small-town, coastal community together in the future. Here is the engaging story of their kit building journey.
Inspiration:
Over the years, our many visits to small towns in France and Italy introduced us to the world of wood-fired oven cooking. When we retired and purchased a home with two acres on the Oregon Coast, we finally had the space and time to build our own wood-fired oven. All we needed now was the knowledge to build it.
Jane's son, Clint, was visiting us from out-of-town, and we were watching a YouTube series by The Wood Fired Oven Chef (who is a Forno Bravo oven owner himself.) After exclaiming that I wished I had the knowledge to build one, Clint volunteered to visit several more times to help us build an oven, IF we bought the Forno Bravo kit. Inspiration turned into reality!
Build Experience:
While waiting for the oven kit to arrive, we finalized our construction plans, focusing on oven construction and functionality. As coastal weather is generally cool and damp, we chose to locate the oven adjacent to our covered patio to allow year-round use.
I learned how to mix and utilize concrete, mortar, thin set, grout, base coat, and stucco to the tune of over 100 combined bags of cement product. Jane became a master in measuring and cutting tiles. Clint managed the concrete pours and block wall build, mortared and stuccoed the dome, then did his creative thing with the tiles, and appropriately signed his work of art.
Our photographs below attempt to document the appropriate views that visually detail answers to many of the construction questions we initially had in designing our foundation, framing the platform and deck, insulating the dome, applying the base coat, as well as doing the finish and tile work.
Tile and Artistic Touches:
Clint's expertise with concrete and tile turned a difficult work assignment into more of an artistic creation. Despite the challenge of matching the oven's cooking surface with an extended tile hearth, the project went very smoothly. While my concerns centered around simply building a concrete pad and raised platform, we blew past that stage in just a couple of days and the challenging tile design project began.
A friend of a friend donated a big pile of tile in colors that coordinated beautifully with the project's overall tone. The diverse colors of this mostly recycled tile inspired Clint to weave together a wall reminiscent of an old-world Mediterranean building. The results exceeded our expectations, as the tile work became the true opportunity to set this oven apart from the ordinary.
Help from Many Sides:
The input of many people helped to make our vision a reality: The Forno Bravo sales and installation expertise which we tapped for advice, the Forno Bravo Online Forum where great ideas and experiences are shared, and my local Forno Bravo dealer (Bocce e Luce Construction, LLC) who made suggestions on the most appropriate model for our dream wood fired oven (a Premio100.) Networking with community members and wood fired oven aficionados, including a local restaurant owner who built a large commercial oven that stays lit 24/7, brought our community further into the mix.
What Do We Love Most About Our Oven:
Placing the oven adjacent to our covered patio positively change the dynamics of our outdoor living space. We now have room for guests to safely mingle and enjoy each other's company while cooking their personalized pizza or T-bone steak. We can't wait for Covid to pass so we can really start celebrating in groups!
Community Connections:
The "community" aspect of this design/build project quickly became apparent with the assistance of so many people (some we haven't even met yet.) We look forward to learning this new way (for us) of cooking, while sharing recipes and experiences with our friends in our small coastal community.
Recognizing our friends' interest in our new capability to make pizzas and other great culinary delights, led us to our final design change. We decided to smoothly stucco the dome and paint it a color that complements the tile, but allows us to use magic markers to write on the dome…so now, all family and friends who join us for dinner and make their own pizza will be invited to "sign" the dome of our Forno Bravo Signature Oven.
Interested in building your own Pizza Oven using a Forno Bravo Modular Kit?
We would love to help!
CLICK HERE for more information on which oven model would be right for you.