A Forno Bravo Pizza Oven in a 1952 Chevy Pickup Truck
Sep 08, 2012
Posted by Forno Bravo
How cool is this, a Forno Bravo pizza oven in a 1952 Chevy Pickup Truck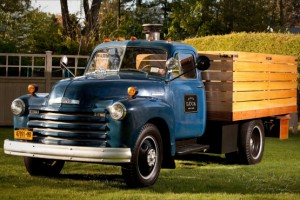 If you look closely, right above the driver's side windshield, you can see the chimney pipe and spark arrestor.
In their own words:
"Pizza Luca offers on-site catering in the tri-state area, including Westchester, Rockland, and Putnam counties, Fairfield, CT, and Northern NJ. We're also available for private engagements in New York City.
We follow all the guidelines for creating truly, authentic Neapolitan pizza set by the Associazione Vera Pizza Napoletana (the association of true Neapolitan pizza) to ensure that every pie we make meets strict quality and authenticity requirements, including traditional techniques and equipment, and specialty ingredients.
As part of our commitment to excellence, we use efficient, aromatic hardwoods in our Napoletana-style oven to impart a unique, delicate flavor. Each pizza is made to order by hand, then cooked for 90 seconds in our 900-degree oven to create the perfect raised edge crust, thin center, and authentic texture and taste other cooking methods can't replicate."
We approve!
That, and they get some really nice char on their pizzas. Here are a few pictures from their website.