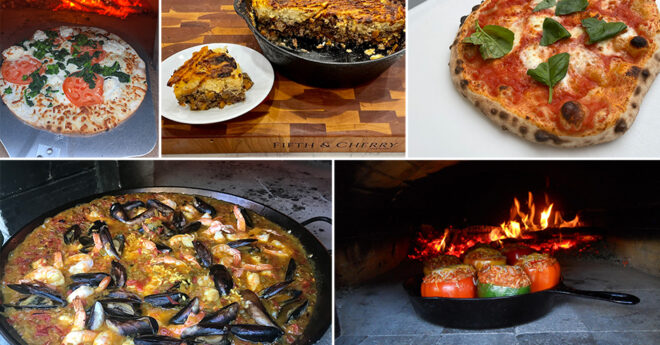 2022 Summer Photo Contest Honorable Mentions: Fantastic Food
Sep 29, 2022
Posted by Forno Bravo
Wood fired cooking can be broad and bold or simple and subtle. Pizza is a common favorite, but it is by no means the only thing you can cook in these ovens. Our 2022 Summer Photo Contest Honorable Mentions have captured just a portion of the spectrum of dishes you can prepare to delight the pallet and satisfy your appetite. Read on to discover more wood fired favorites.
Special congratulations to this year's Honorable Mentions in the (unofficial) food category.
Patrick Tracy of Washington – Seafood Paella
"The oven brings people together. Mainly it's used for pizza, but a friend applied his skills by making seafood paella in it." Made in a custom wood fired oven.
John O'Neil of Texas – Beef and Potato Pie
"Food is transcendent. It can bring together people and places, who become bonded through the flavors and smells. Food can help us travel through time or over vast distances, taking us back to times and places from our past, or transporting us to another part of the world with ingredients and taste. The Bella Grande 32 wood-fired oven gives me the ability to create a wide variety of dishes and flavors for breakfast, lunch, and dinner. Honestly, with this oven, what you can make is only limited by your imagination.
For the Summer Photo Contest, I chose to make a cast-iron beef and potato pie. This is an Argentinian recipe, traditionally cooked in a wood-fire oven. Similar to a shepherd's pie, the flavors of this beef and potato pie are more deep and earthy. The addition of dry mustard and olives provides a smoky, complex, savory flavor that pairs very well with red wine, especially one from Argentina." Made in a Bella Grande32 steel wood fired oven.
You can see more of John's great dishes on his Instagram page HERE.
Ed Bard of Oregon – Margherita Pizza
"Having just completed construction on our outdoor kitchen and living area, we are most excited about our Forno Bravo Vesuvio! It's been a dream of ours for several years to have our own pizza oven, and so far the pizzas, pita breads, main dishes, vegetables, and desserts that we have made have all received rave reviews. We can't wait to try to make more recipes and learn more about this great oven!" Made in a Vesuvio tiled oven.
David Porter of New York – Stuffed Peppers
"Wood fired food is fun, delicious, and entertaining." Made in a custom wood fired oven.
John DePuma of Conneticut – Pizza 2 Ways
"The Casa2G 90 makes wonderful pizzas. Two of John's favorite pizzas are the kale, mozzarella, and tomato white pizza, and the sausage, kale, and burrata pizza. The topping combination possibilities are endless!" Made in a casa2G90 oven kit.
Find more delicious wood fired recipes in our COMMUNITY COOKBOOK
Learn helpful wood fired cooking tips and techniques HERE