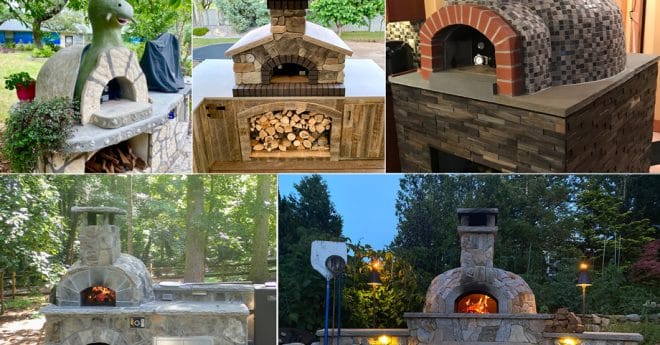 2020 Summer Photo Contest Sampler
Jul 23, 2020
Posted by Forno Bravo
Kits, tiled, stucco, and stone! We have received oven photos of them all as part of this summer's photo contest. It's not too late to participate! The photo submission deadline is Friday,  July 31, 2020 and we'll announce our winners in the August newsletter.
We are giving away 3 prizes to the top 3 photos. Winners can choose one option from 3 quality accessories for their oven: a steel Tuscan Grill, Spanish Terracotta Pan, or a professional Pizza Peel. 
Enter Contest
To inspire your entry, check out the video and a small sample below of a few of the many photos and stories we have received so far. 
All of the ovens shown in this video are photos that were submitted for the contest. We love these diverse kit installations!
Verbija S. of New York – Casa2G80
"Our family has always loved pizza, I mean who doesn't? When we decided to renovate our yard, the one thing we all discussed as a family that was a "must have" was a pizza oven. The simplicity in having a gas and wood burning pizza oven is one of the things we love most about having a pizza oven, besides being able to cook pizza in your own backyard of course."
Kevin D. of Michigan – Toscana80
"We installed our Toscana80 in our party barn. We incorporated it into our rustic farm decor and it fits perfectly! We love having friends and family over and making great pizzas for everyone!"
Gerald R. of Indianola, WA – Primavera70
"We designed and built our pergola this winter. We hoped to have many pizza parties this summer. Well…the parties haven't happened for reasons we all understand, but our weekly bake day has.
It's taken us a bit to learn how to fire the oven and time our dough so that it's ready when the oven is, but we have figured it out, and we are getting great results. On a typical bake day – we can bake a couple batches of Naan while the oven cools, then have plenty of heat left for at least two batches of bread. Our oven performs beautifully. We haven't bought a loaf of bread this year!"
Paul G. of Michigan – Pompeii with 42″ floor
"I downloaded the plans probably 12 years ago and my son decided last summer that we should take on the project. It was a lot of work, but well worth it. Have to thank all the information from the plans and the forum site, couldn't have done it without it. Cooks like a dream, everyone we know wants one."
Peter T. from Seattle, WA – Primavera70
"Hey there! I'm an ecstatic Primavera owner. Loving my oven so much. Here are some pics of the past year. Thanks! Keep up the great oven craftsmanship. It's making a lot people very happy. :)"
Enter Contest