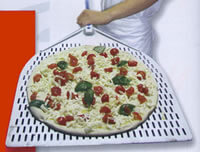 The Best Pizza Peels
Forno Bravo sells a complete range of high-quality pizza peels, oven tools and other accessories, from several suppliers, including Italy's premier pizza oven peel and tool producer. We offer wood fired oven tools and pizza paddles for sale for the home pizza oven owner, home chef's using a Pizza Stone, and restaurants and pizzerias. You can find just about everything you could imagine for your pizza oven or pizza baking—including the hard to find long handle wood pizza peel. To learn more, check out our Anatomy of the Perfect Pizza Peel page.
Or, read our Pizza Peel Technique page to see how to correctly use your pizza oven peels.
Click on one of the graphics below for more product information, or jump to the Forno Bravo Store to order.
Residential Pizza Peels and Oven Tools
Commercial Pizza Peels and Oven Tools
Terracotta Pizza Oven Bakeware
Start Shopping